PM approves plan on UKVFTA implementation
The Prime Minister has approved a plan for the implementation of the UK-Vietnam Free Trade Agreement (UKVFTA).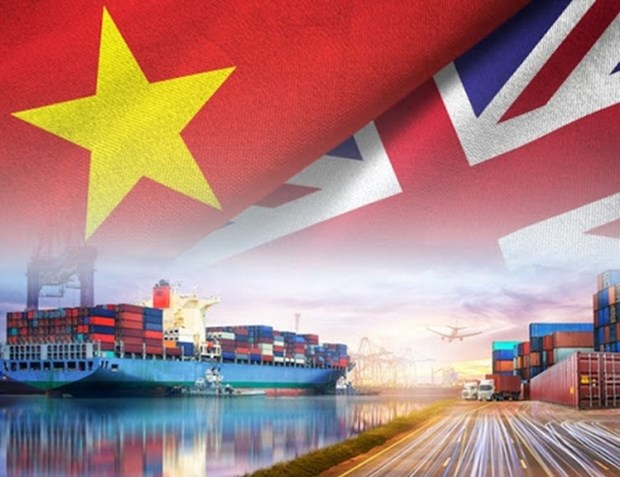 The UK-Vietnam Free Trade Agreement (UKVFTA was signed in London on December 31, 2020. Photo: VNA
The plan aims to assign tasks and responsibilities to relevant agencies and organisations, and decide on direction measures and others to implement the deal fully and effectively, according to the Vietnam News Agency (VNA).
To that end, the Government leader requested ministries, sectors and localities to step up the dissemination of information about the UKVFTA as well as the British market, build laws and institutions, enhance the competitiveness and develop human resources, and improve social welfare, environmental protection and sustainable development policies, along with carrying out regular and assigned tasks.
It is necessary to popularise information about the agreement and the British market to relevant persons, especially farmers, fishermen and workers via different means of communications to raise their awareness of the deal's commitments as well as work that needs to be done towards effective enforcement.
The PM also asked ministries, sectors and localities to speed up the organisation of trade and investment promotion programmes in the UK, and continue perfecting necessary institutions to enforce the agreement, improving the competitiveness of industries and businesses, especially micro-, small- and medium-sized enterprises.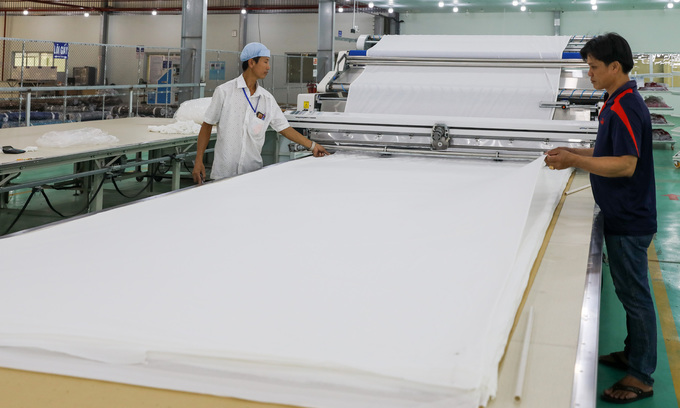 Workers at a textile factory in Vietnam's southern province of Long An, February 2020. Textile is on the list of industries expected to benefit from the new free trade deal between Vietnam and the U.K. Photo: VnExpress
Attention should be paid to assisting Vietnamese enterprises in joining production networks, and value and supply chains which see the participation of British businesses to take advantage of the agreement, while encouraging British-invested companies to connect with domestic partners to form and develop supply chains.
The plan also aims to promote mutual recognition of assessment results of conformity with the UK, especially for Vietnam's key products exported to the country.
The agreement was signed in London on December 31, 2020.
Under the agreement, the UK will abolish import taxes on 99.2% of tariff lines within six years, equivalent to 99.7% of export turnover of Vietnam to the country, VnExpress reported.
Export industries expected to benefit greatly from this agreement include seafood, rice, textiles, wood, vegetables and footwear.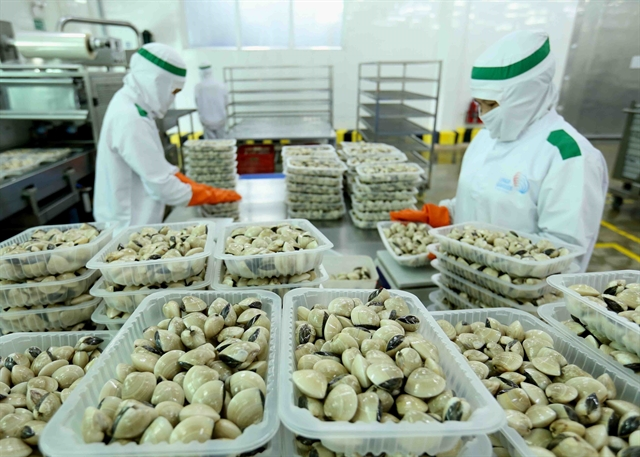 Clam processing at Lenger Seafoods Vietnam Co. Vietnam and the UK saw impressive growth in their two-way trade though exports faced formidable challenges caused by the COVID-19 pandemic. Photo: VNA
In return, Vietnam will remove 48.5% of tariff lines, accounting for 64.5% of import turnover as soon as the agreement comes into effect. After six years, 91.8% of tariff lines will have been abolished, equivalent to 97.1% of the import turnover, and this will further increase to 98.3% of the tariff lines (accounting for 99.8% of the turnover).
In addition, the agreement also includes commitments on rules of origin, customs and trade facilitation, food hygiene and safety measures, and on technical barriers to trade and services, investment, trade defense, competition, state-owned firms, government procurement, and intellectual property.
Last year, export-import turnover between the two countries reached $5.64 billion, in which Vietnam's exports to the UK reached $4.95 billion, resulting in a trade surplus of $4.27 billion. The UK continued to be Vietnam's third-biggest trade partner in Europe, behind Germany and the Netherlands.
By December last year, the U.K. had 411 investments projects in Vietnam with a total registered capital of $3.84 billion, ranking it 15th among countries and territories investing in Vietnam. Important projects include those regarding finance, banking and renewable energy./.