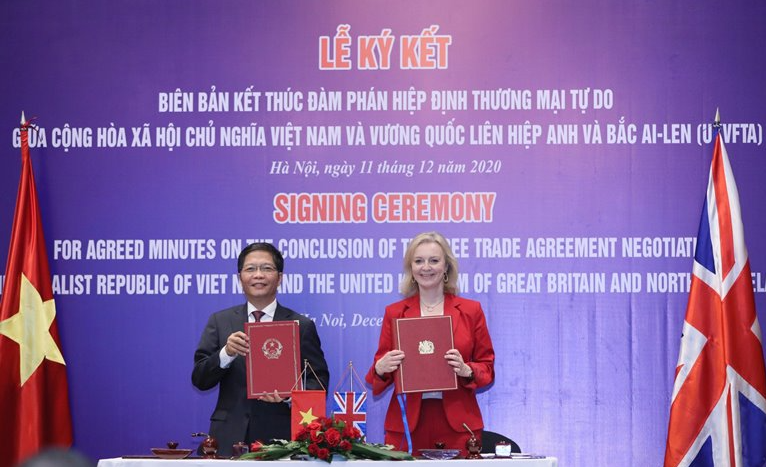 On December 11, 2020, Vietnam Minister of Industry and Trade Tran Tuan Anh and UK Secretary of State for International Trade Elizabeth Truss signed a Memorandum of Understanding on the conclusion of the UKVFTA Agreement negotiation. (Photo: MOIT)
The book is a collaboration between market experts from the Vietnamese Embassy in the UK, the Vietnam-UK Friendship Network, and the Vietnamese Association in the UK. The book is expected to help Vietnamese enterprises grasp the import demands of the UK market, export opportunities for Vietnamese products as well as rules regarding business in the UK, distribution channels, payment methods, and trade dispute resolution procedures in the country.
Addressing the ceremony, Ambassador Tran Ngoc Anh said that Vietnam and the UK have exchanged official notes announcing the coming into full effect of the UK-Vietnam Free Trade Agreement (UKVFTA) from May 1, 2021, after the deal was signed by the two countries in late December 2020. The UKVFTA is a significant milestone in the bilateral relationship, marking an important development in trade and investment between the two countries. In the first two months of 2021, bilateral trade revenue increased by 20% after the signing of the UKVFTA, Anh said.
Deputy Minister of Foreign Affairs To Anh Dung and British Ambassador to Vietnam Gareth Ward exchange notes confirming the effective date of UKVFTA. (Photo: VNA)
However, Ambassador Tran Ngoc An said that the two countries still have room to strengthen bilateral trade cooperation as Vietnam's export revenue only accounts for about 1% of the UK's imports. He expressed his hope that the book will be useful, helping Vietnamese enterprises to better understand the UK market, and promoting the potential for trade cooperation between the two countries. He also believes when the UKVFTA officially takes effect, it will create a strong driving force for economic-trade cooperation between the two countries in the future, Nhan Dan cited.
The UKVFTA was negotiated based on principles of commitments of the EU-Vietnam FTA with necessary adjustments to ensure the deal conforms with the Vietnam-UK bilateral trade framework. Accordingly, the deal includes nine articles, one Appendix revising some articles of the EVFTA, one Protocol, and one bilateral exchange letter between Vietnam and the UK.
As it inherits the EVFTA, the UK-Vietnam Free Trade Agreement will create a comprehensive, long-term, and stable economic-trade cooperation framework between the two countries, thus contributing to deepening their multifaceted cooperation, especially when the two sides just extended the maintenance of bilateral relations at the strategic partnership level, said Vietnam Investment Review.
Vietnam and the UK set up diplomatic relations in 1973. Over the past 47 years, bilateral ties have unceasingly developed. According to the General Department of Vietnam Customs, two-way trade reached 6.6 billion USD in 2019.
Valerie Mai