PM concludes official visits to Romania, Czech Republic
Prime Minister Nguyen Xuan Phuc arrived in Hanoi at noon of April 18, concluding his official visits to Romania and the Czech Republic.
Farewell ceremony for PM Nguyen Xuan Phuc at Vaclav Havel international airport, Prague (Source: VNA)
During his stay in Romania from April 14-16 and in the Czech Republic from April 16-18, PM Phuc had a busy working agenda with nearly 30 activities.
In Romania, Phuc held talks with host PM Viorica Dancila, and met President Klaus Iohannis, President of the Senate Călin Popescu Tăriceanu and President of the Chamber of Deputies Liviu Dragnea. He attended and delivered a speech at the Vietnam-Romania Business Forum, and talked with representatives of Romanian localities cooperating with Vietnam.
At the talks, the two PMs agreed to step up delegation exchanges, and continue implementing existing cooperation mechanisms effectively, especially the joint committee on economic cooperation. PM Viorica Dancila affirmed that Romania, with its role as the Chair of the European Union in the first six months of 2019, will do its utmost to boost the early signing and ratification of the EU-Vietnam Free Trade Agreement (EVFTA) and the EU-Vietnam Investment Protection Agreement (EVIPA).
In the Czech Republic, PM Phuc held talks with his host counterpart Andrej Babis, during which they agreed to foster bilateral collaboration in numerous fields, especially education-training, agriculture, science-technology, environment, culture and tourism, and support the early opening of a direct air route linking Hanoi and Prague.
The Vietnamese Government leader met representatives of the Vietnamese community living in Romania and the Czech Republic.
On this occasion, a number of cooperation agreements between Vietnam and the two countries and between their enterprises were signed.
The success of the official visits not only contributes to consolidating and tightening Vietnam's traditional friendship with the Central European nations, but also helps speed up the signing and ratification of the EVFTA and the EVIPA in order to open up new cooperative opportunities for Vietnam and the EU in general, and Romania and the Czech Republic in particular./.
VNF/VNA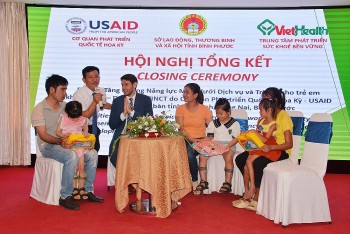 Viet's Home
USAID joined local officials, partners and beneficiaries in celebrating the completion of a six-year project that supports early detection and intervention for children with special education needs, promoting inclusion and creating greater opportunities for them in three southern provinces of Vietnam.