PM Phuc shares losses caused by coronavirus with Japan
Prime Minister Nguyen Xuan Phuc on March 23 sent a letter to his Japanese counterpart Shinzo Abe, extending his sympathy to the Japanese people over the losses caused by the COVID-19 outbreak.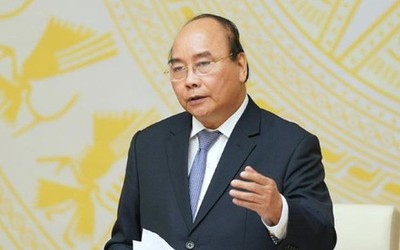 Prime Minister Nguyen Xuan Phuc.
He stated his appreciation for the efforts by the Japanese Government and people in the epidemic fight, and proposed stepping up cooperation in this regard.
In the spirit of the Vietnam-Japan extensive strategic partnership and in Vietnam's capacity as a coordinator of the ASEAN – Japan relations for 2018 – 2021 , the ASEAN Chair 2020 and a non-permanent member of the United Nations Security Council for the 2020 – 2021 term, PM Phuc suggested both nations continue working hand in hand to strongly develop the ASEAN- Japan ties, and effectively enhance Vietnam – Japan cooperative relations across politics, diplomacy, investment, trade and people-to-people exchange, as well as at regional and global forums.
Japan has so far escaped a surge in domestic infections, but the number of cases has topped 1,800, including about 700 from the formerly quarantined Diamond Princess cruise ship.
But the total number of cases has risen steadily, with some "clusters," or groups of infections, found in parts of Japan. Urban areas have seen cases of infection grow.
With over 100 cases reported in Tokyo alone, Gov. Yuriko Koike said the Japanese capital is in a "critical phase." The metropolitan government will continue to ask organizers to refrain from holding large events until April 12, the governor said.
"We are trying to avoid an explosive increase in cases that would trigger a lockdown. The request may cause inconvenience, but we'd like to ask for cooperation," Koike said at a press conference.
As a large number of people from across the country travel to and from Tokyo, Koike warned that a large-scale cluster, should it appear in the Japanese capital, could spread easily to wider areas of Japan.
Globally, the number of infections has surpassed 350,000, with deaths passing 15,000 as of Monday./.