House cleaning tips to get rid of Coronavirus
It takes only a few minutes, but cleaning high-traffic surfaces once a day can make a difference in preventing the spread of infection. 
(Video: New York Times)
Coronavirus is mainly transmitted from person to person via tiny droplets of saliva or other bodily fluids that float in the air after a cough or sneeze. Contaminated objects and surfaces can also be important in the transmission of the disease. It's not entirely clear what role they play in transmitting the new coronavirus, but they play an important one for related viruses such as SARS and MERS.
However, it makes sense that something contaminated with the virus could pass it on, for example if a person touches it and then touches their nose, mouth or face.
So, if someone at risk of having the virus has been in your home, cleaning to reduce the amount of contamination on surfaces may help cut down your risk of further transmission of coronavirus. (It will also cut the risk of transmitting other pathogens).
What's the difference between cleaning and disinfection?
Cleaning means physically removing organic matter such as germs and dirt from surfaces. Disinfection means using chemicals to kill germs on surfaces.
Cleaning is very important, because organic matter may inhibit or reduce the disinfectant's ability to kill germs.
Hands are often responsible for transferring pathogens from one place to another, so items that people often touch are at greatest risk of being contaminated.
What could be contaminated in my house?
Frequently touched items may include TV remotes, fridge doors, kitchen cupboards, kitchen surfaces, taps and door handles. And of course, there are devices such as phones and iPad.
If a surface becomes contaminated or you think it could be, cleaning it with a common household disinfectant will kill the virus. Remember to wash your hands after cleaning (or use an alcohol-based hand sanitiser) and avoid touching your eyes, mouth or nose.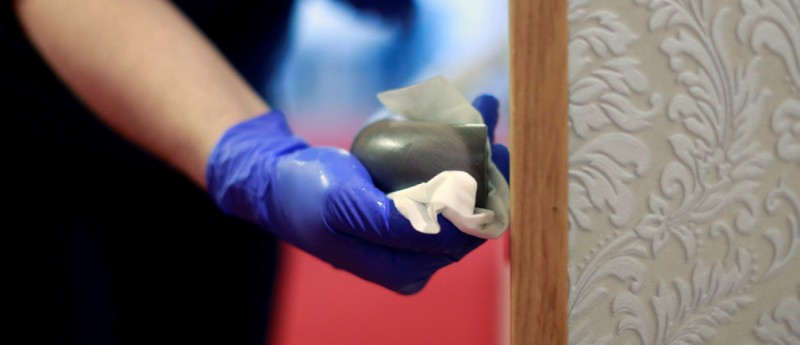 Door knobs are among the coronavirus-contaminated potential inside your house (Photo: Reuters)
Contaminated surfaces
There are many options for what to use to clean, including paper towels, cloths or disposable wipes.
How you clean is important. You don't want to "recontaminate" surfaces while cleaning. Working from one side of a surface to the other helps with this, using an "S" shape to clean.
If you are reusing a cloth, remember to wash it afterwards and let it dry. Laundering cloths in the washing machine with normal washing liquid is also likely to kill the virus, particularly on a hot wash.
Dishes and cutlery
Washing with hot water and detergent is fine for dishes and cutlery. A dishwasher is even better, because it can use hotter water than your hands will tolerate.
Clothing and linen
Use the warmest setting possible to wash contaminated laundry and make sure you allow it to dry completely. You may not want to ruin clothing or other materials, so always look at the manufacturer's instructions.
Laundry from someone who is sick can be washed with other people's items. If you are handling contaminated items such as towel or sheets, avoid shaking them before washing, to reduce the risk of contaminating other surfaces.
And remember to wash your hands immediately after touching any contaminated laundry.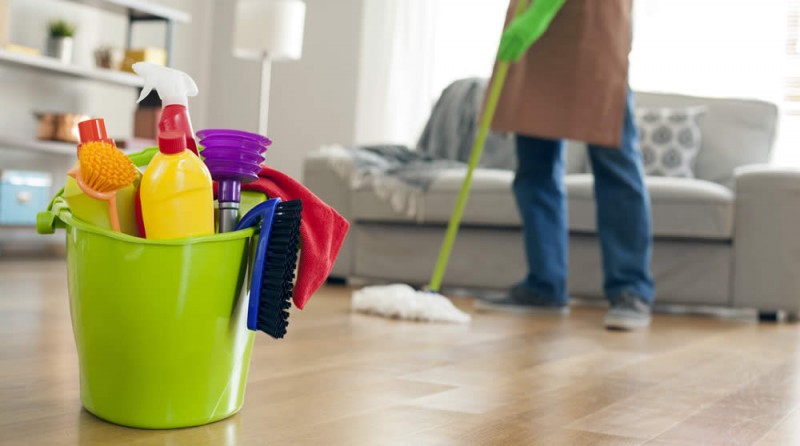 Regular house cleaning is crucial amidst COVID-19 outbreak, but be mindful to do it properly. (Photo: Pinterest)
Do I need to wear gloves?
Gloves are recommended for home cleaning, but if that's not practical, just be sure to wash your hands before and after you clean.
If I'm using gloves, do I really have to wash the gloves afterward?
Yes, if you're going to reuse them. (Use separate gloves for the bathroom and the dishes.)
Once you're done cleaning:
• Wash your gloved hands with soap and water.
• Dry them.
• Pull the gloves off and store them.
• Then wash your bare hands.
How else can I be sure my home stays clean?
When you get home, take off your shoes, hang up your coat and immediately go wash your hands for 20 seconds with soap and water.
How to Disinfect Your Devices
If you have them, disinfect an iPhone or Android phone with a disinfecting wipe or alcohol solution (at least 70 percent). Make sure you pay special attention to the screen, the buttons, and anywhere dust and pocket lint tend to get trapped. Also make sure you remove any case that's on your phone or tablet, clean underneath, put it back on, and clean the outside. Following the CDC recommendations for other high-touch surfaces in the home, a once-daily disinfecting isn't going to hurt your devices.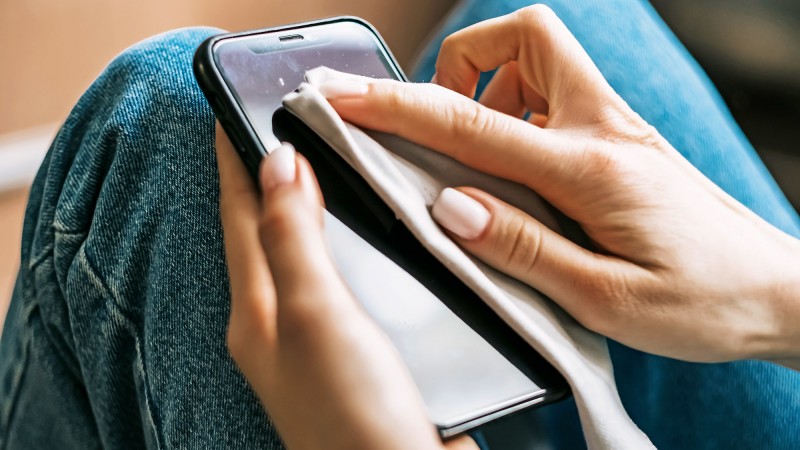 Make sure you pay special attention to the screen, the buttons, and anywhere dust and pocket lint tend to get trapped while disinfecting your phone (Photo: Tom's Guides)
How to Disinfect Your Computer
Laptop displays aren't always made of glass (matte displays are plastic) so avoid using a disinfecting wipe on the screen, just in case. The display should be cleaned with isopropyl alcohol (70 percent) solution and a soft towel. Make sure you wipe down the keyboard, the trackpad, the exterior, and where your wrists rest on the laptop.
Most desktop computers are already in sore need for a cleaning. The best way to do that is with a disinfecting wipe or isopropyl alcohol solution and a soft towel. Again, avoid disinfecting wipes on the monitor, just in case—stick to isopropyl alcohol there. But otherwise, just make sure you wipe down the mouse (top, sides, and bottom), the keys on your keyboard, the exterior of the keyboard, and any mousepad you might have.
Don't Forget Accessories
For any other electronic device, if the exterior is largely plastic (gaming mice, gamepads, TV remotes) it's safe to give them a once-over with a disinfecting wipe or isopropyl alcohol solution.
Prevention is best

Remember that surfaces play a role in transmitting pathogens, so preventing them from becoming contaminated in the first place is as important as cleaning. There are some things you can do to reduce the amount of contamination of surfaces in your house:

– cover your cough and sneezes, ideally with a tissue but otherwise into your elbow, and wash your hands immediately

– wash your hands often, especially after going to the bathroom and before eating.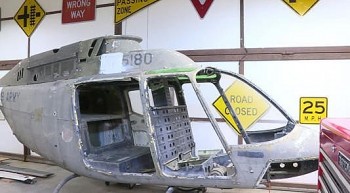 World
A piece of military history related to Vietnam is coming to life with a special project in a small Barton County townm in the US