PM: UK – A Top Economic Partner of Vietnam
Prime Minister Pham Minh Chinh has said the UK is among leading economic partners of Vietnam in Europe.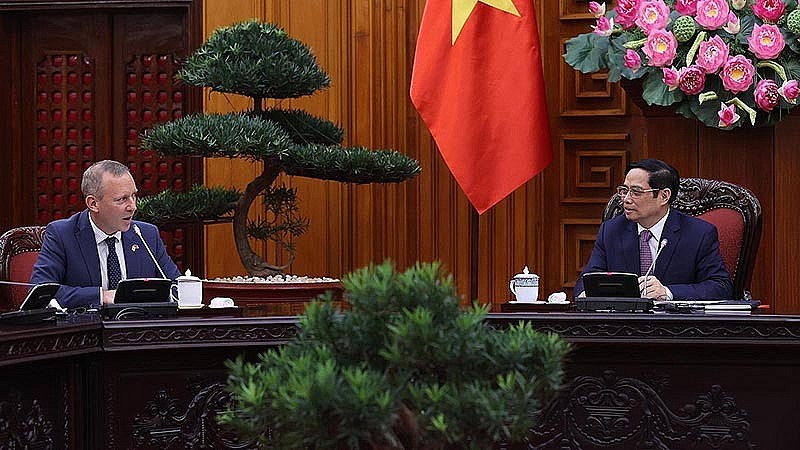 Prime Minister Pham Minh Chinh receives British Ambassador Gareth Ward. Photo: VNA
The UK is a leading economic partner of Vietnam in Europe, Prime Minister Pham Minh Chinh told British Ambassador Gareth Ward in Hanoi on September 30.
The PM expressed his delight at the recent strong growth of the Vietnam – UK strategic partnership in different fields, saying he hopes that the two nations would coordinate closely to deepen the partnership.
He suggested the two countries cooperate more closely to make the most of opportunities brought about by the UK - Vietnam Free Trade Agreement (UKVFTA), VietnamPlus reported.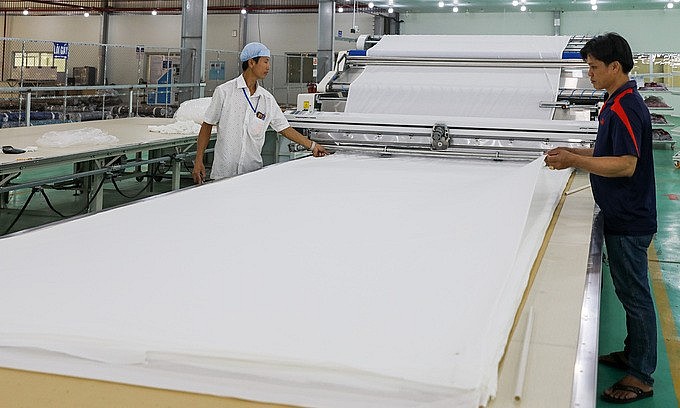 Workers at a textile factory in Vietnam's southern province of Long An, February 2020. Photo: VnExpress
The leader called on the UK to further open its market for Vietnamese exports, encourage British businesses to expand investment in Vietnam, and continue to support and create favourable conditions for Vietnamese expats and students in the UK to do business, study and live.
Appreciating the UK Government's donation of 415,000 doses of AstraZeneca Covid-19 vaccine for Vietnam, Chinh expected the two countries to continue stepping up medical cooperation.
He proposed the UK further donate vaccines and medical equipment and consider transferring vaccine production technology and providing Covid-19 treatment drugs for Vietnam
UK pledges to support Vietnam in different spheres
Ward lauded Vietnam's Covid-19 prevention and control efforts and stressed that the UK Government considers Vietnam an important partner in the region.
Having praised the collaboration between the two nations at multilateral forums, he expressed his gratitude to Vietnam for its support for the UK to become a full dialogue partner of the Association of Southeast Asian Nations (ASEAN).
The ambassador said he will coordinate with competent agencies to encourage British businesses to expand their investment in Vietnam.
The UK is willing to cooperate with and support Vietnam in switching to clean energy and accessing green finance to develop renewable energy projects, he stressed.
A wind farm in Binh Thuan province. Photo: VNA
Agreeing with the Prime Minister's proposal to strengthen bilateral cooperation in education-training and public administration, the diplomat affirmed that the UK will continue to assist Vietnam in high-quality human resources development, increase its government scholarships for Vietnamese students, and intensify joint programmes on research, teaching, and digital transformation in education.
Regarding the 26th UN Climate Change Conference of the Parties (COP26) hosted by the UK in November, PM Chinh stated that Vietnam supports and will cooperate closely with the UK to contribute to the success of the event.
Ward affirmed his willingness to work with Vietnam and the international community in protecting water sources and biodiversity, and ensuring livelihoods for people in the Mekong Delta.
On the South China Sea (Bien Dong Sea) issue, the British ambassador emphasised the importance of ensuring freedom of navigation and overflight, security, and peace in the waters as well as the peaceful settlement of disputes in line with international law, particularly the 1982 United Nations Convention on the Law of the Sea (UNCLOS)./.
The UK-Vietnam Free Trade Agreement (UKVFTA) came into effect on December 31 last year.
Under the agreement, the UK would remove import taxes on 99.2% of tariff lines within six years, equivalent to 99.7% of Vietnam's export turnover to the country.
The EU had already promised Vietnam a tariff rate quota (TRQ) with an import tax of 0% for some products, while export industries expected to benefit greatly from this agreement include seafood, rice, textiles, wood, vegetables and footwear.
In return, Vietnam would remove 48.5% of tariff lines, accounting for 64.5% of import turnover as soon as the agreement comes into effect. After six years, 91.8% of tariff lines will have been abolished, equivalent to 97.1% of the import turnover, and this will further increase to 98.3% of the tariff lines (accounting for 99.8% of the turnover).
In addition, the agreement also includes commitments on rules of origin, customs and trade facilitation, food hygiene and safety measures, and on technical barriers to trade and services, investment, trade defense, competition, state-owned firms, government procurement, and intellectual property, according to VnExpress.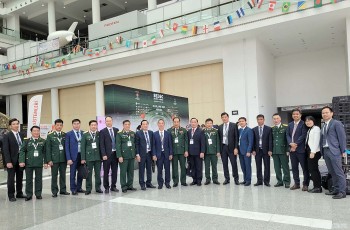 Friendship
Vietnam's presence at the security and defence exhibition SEDEC 2022 in Ankara has been seen as important initial steps to promote the Vietnam-Turkey cooperation.