PM: Vietnam Regards France as an Important Partner
Prime Minister Pham Minh Chinh on September 22 said Vietnam always considers France an important partner in its foreign policy.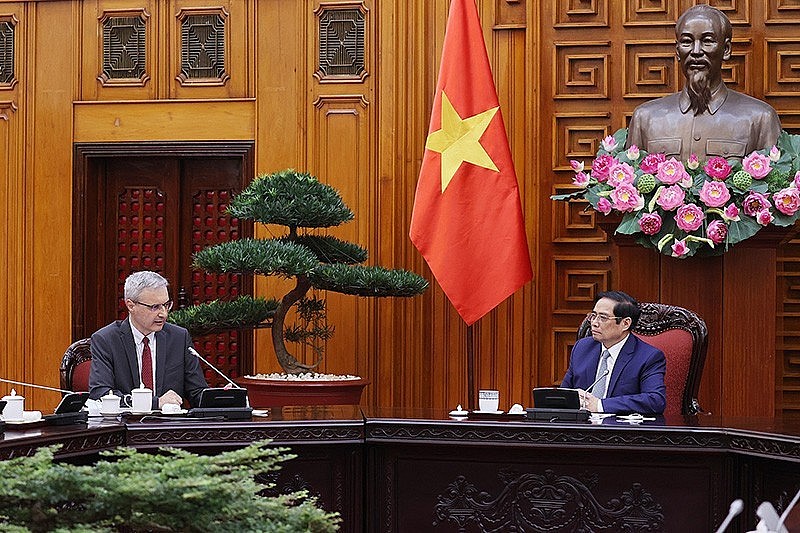 Prime Minister Pham Minh Chinh hosts a reception for French Ambassador to Vietnam Nicolas Warnery in Hanoi. Photo: VNA
During a reception for French Ambassador to Vietnam Nicolas Warnery in Hanoi, PM Chinh once again thanked the French Government and people for their timely donation of Covid-19 vaccines and medical supplies to Vietnam.
Amid the current complicated developments of the pandemic, the PM suggested France continue donating, lending and ceding Covid-19 vaccines and transfer Covid-19 vaccine and treatment medicine production technologies to Vietnam, helping the country improve the capacity of its healthcare system and develop its pharmaceutical industry, Nhan dan (People) newspaper reported.
Toward the 50th founding anniversary of diplomatic ties and the 10th anniversary of strategic partnership in 2030, PM Chinh expressed his wish that the two countries would work closely together to deepen and develop the strategic partnership more effectively, especially in the exchange of delegations at all levels, improving the efficiency of existing cooperation mechanisms and accelerating important projects and those that see the participation of major groups such as Airbus, Total and EDF.
Describing Vietnam as an important partner of France in Southeast Asian and a bridge to promote the France-ASEAN development partnership as well as the European Union-ASEAN ties, Warnery hoped that France's relations with Vietnam will be strengthened more practically and effectively. France will coordinate closely with Vietnam in regional and global issues of shared concern, he said.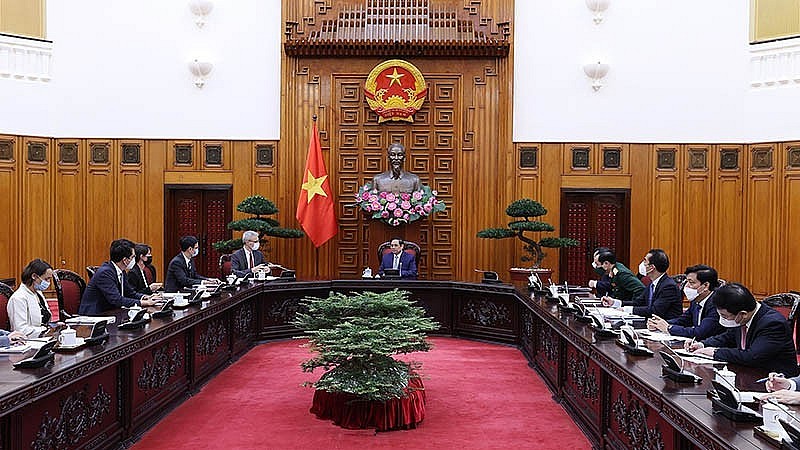 An overview of the reception. Photo: VNA
The ambassador affirmed that a number of French major enterprises and groups such as Airbus, Thales, EDF, Total and Air Liquide want to invest in Vietnam, especially in aerospace, infrastructure, renewable energy, climate change response and high technology.
He promised to work closely with French agencies to speed up the ratification of the EU-Vietnam Investment Protection Agreement (EVIPA), seek ways to donate more Covid-19 vaccines to Vietnam in the near future, and urge the European Commission to soon remove its "yellow card" warning against Vietnam's seafood.
Both sides shared a view that the Vietnam-France relationship within multilateral frameworks has been increasingly tightened and agreed to enhance coordination in the United Nations peacekeeping missions in French-speaking countries.
On the South China Sea (Bien Dong Sea) issue, Warnery affirmed that France wants to maintain peace, stability, security, safety and freedom of navigation and aviation, settle disputes via peaceful measures in line with international law, including the 1982 UN Convention on the Law of the Sea (UNCLOS).
On the occasion, PM Chinh asked the diplomat to convey his invitation to French PM Jean Castex to visit Vietnam.
Vietnam to conduct human trials of France's XAV-19 Covid-19 treatment drug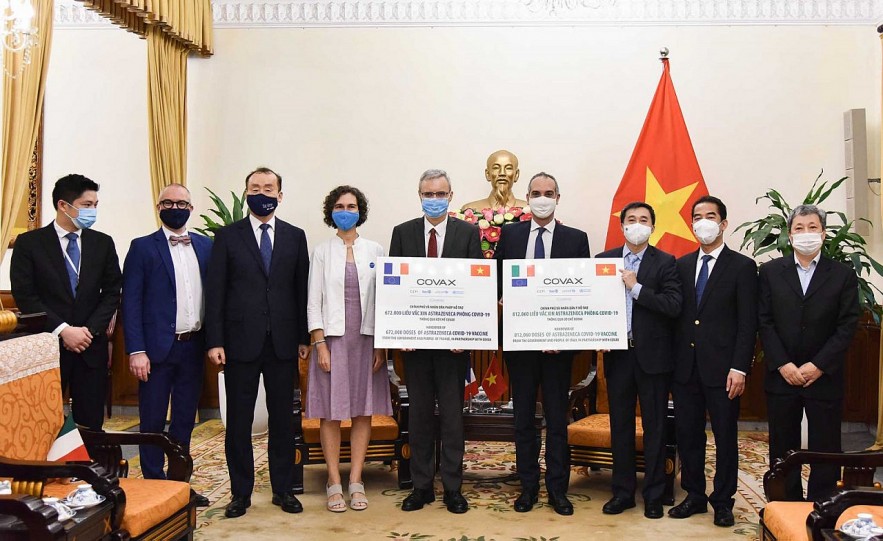 A handover ceremony of 1,484,060 doses of AstraZeneca COVID-19 vaccines donated by France and Italy takes place at the headquarters of the Ministry of Foreign Affairs, Hanoi, September 14, 2021. Photo: VGP
During an online working session with French company Xenothera Xenothera earlier this month, Deputy Minister of Health Tran Van Thua said Vietnam is ready to cooperate with the company in conducting the phase 3 human trials of and transferring production technology of XAV-19 Covid-19 treatment drug.
Xenothera President Odile Duvaux welcomed Vietnam's proposal, saying his company is willing to discuss further on transfer of production technology to help Vietnam proactively produce the drug in the future, according to the Vietnam Government Portal (VGP).
Right after the meeting, a Vietnamese company had in-depth discussions with Xenothera to prepare for the signing of a memorandum of understanding on cooperation in the third phase of clinical trials of XAV-19 and technology transfer.
XAV-19 is a treatment for patients with moderate Covid-19. It is a heterologous swine glyco-humanized polyclonal antibody (GH-pAb) raised against the spike protein of SARS-CoV-2, blocking infection of ACE-2-positive human cells with SARS-CoV-2.
The results of the first and second phases of the clinical studies indicate that the drug is both safe and effective in preventing disease progression, neutralizing the virus, and reducing inflammation in patients.
The third phase of clinical trials has been underway in France and other European countries like Greece, Bulgaria, Romania, and Spain.
On September 14, Vietnam received 672,000 doses of AstraZeneca Ccovid-19 vaccine donated France via the COVAX facility./.
According to VietnamPlus, France is now the third largest EU investor in Vietnam with a total registered capital of more than 3.6 billion USD, mainly in the field of industry, manufacturing and processing, and waste treatment and real estate.
It was the fifth biggest importer of Vietnam in the EU in 2020, with Vietnam's total export turnover to the country hitting nearly 5.38 billion EUR (over 6.3 billion USD).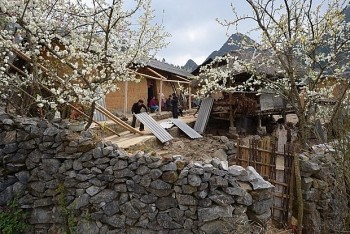 National
Vietnam News Today (Feb. 3): Vietnam and Trinidad & Tobago establish diplomatic ties; Severe cold spells expected to hit northern mountainous provinces late this month; Vietnam among top 10 best places to go for budget honeymoon; Hanoi, HCM City record highest disbursement of public investment capital in January.