Portuguese-Vietnamese Dictionary: Achievement of Vietnam-Brazil Friendship And Cooperation
According to Dr. Nguyen Van Lang, chairman of the Vietnam-Brazil Friendship and Cooperation Association, the Portuguese-Vietnamese dictionary is the Association's long-term contribution to the goal of strengthening mutual understanding of history, politics, science and technology, culture and sports between Vietnam and Brazil, as well as between Vietnam and the community of Portuguese-speaking countries around the world.
12 years of endevour
"In the 1990s, when I was Vice Chairman, then Chairman of Dak Lak People's Committee, I was honored to attend many conferences of the International Coffee Organization, some of which were held in Brazil. After a long process of working and exchanging, when the Vietnam-Brazil Friendship and Cooperation Association was established in May 2010, I was invited to be the Chairman of the Association," he said about the idea of publishing the dictionary.
"In June 2011, during our visit to Brazil, we were given a dictionary by overseas Vietnamese Thai Quang Nghia (owner of Gooc backpack and footwear manufacturer). The idea of building a Portuguese-Vietnamese dictionary originated in us from there. This received support from the Vietnam Academy of Social Sciences.
Currently, Portuguese is used by 8 countries and territories with over 280 million people. This is a common language among the ten most popular languages in the world. Brazil, a South American country with over 210 million people, uses Portuguese as the national language," said Lang.
Chairman of the Vietnam-Brazil Friendship and Cooperation Association (far right) presented the Portuguese-Vietnamese dictionary to Ambassador Nguyen Phuong Nga, President of the Viet Nam Union of Friendship Organizations, and guests. Photo: Thu Ha
Vietnam and Brazil established diplomatic relations in 1989. The friendly relationship between the two countries is increasingly consolidated and developed in many fields, especially two-way trade.
The Association mobilized and gathered Portuguese teaching and research staff at universities, diplomatic agencies, and various organizations to form a group to compile this dictionary.
After 12 years of effort, and overcoming many difficulties and challenges, finally the Portuguese-Vietnamese dictionary was born.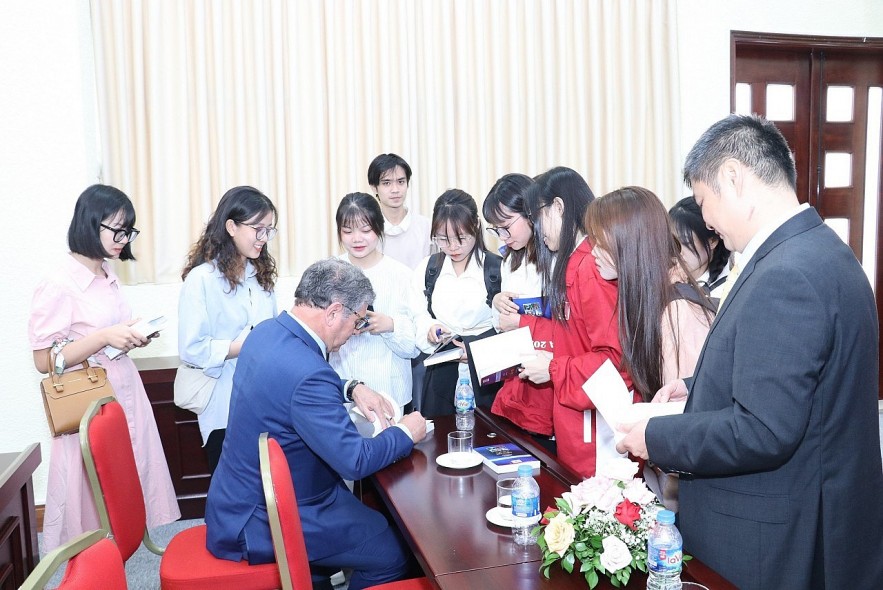 The dictionary is of particular interest to young people who love Portuguese. Photo: Thu Ha
A project with special mission
Different from other dictionaries, the Portuguese-Vietnamese dictionary is compiled using new language and methods, in terms of content, layout, and presentation.
This is a dictionary with 17 communication topics related to the most essential issues of political institutions, economics, society, and cultural life.
Topics are selected according to the principle of practical application to many groups in society. They can be individuals, organizations, businesses, researchers, diplomats, and tourists.
The number of vocabulary in the Portuguese-Vietnamese dictionary may not be high, but they are common words and phrases with necessary examples appropriate to the context of use.
The Portuguese-Vietnamese dictionary serves as a pocket textbook, helping users look up vocabulary like a regular dictionary. They can refer to conversations on each topic, applying them to real situations.
The Portuguese-Vietnamese dictionary is the result of friendship and cooperation between Vietnam and Brazil particularly, and with Portuguese-speaking countries in general, Nguyen Van Lang said.
When the Association mobilized finance to build this dictionary, in addition to the Association's contributions, there were also contributions from Vietnamese and Brazilian businesses and the Brazilian Cotton Growers Association.
Counselors and staff of the Brazilian Embassy in Vietnam gathered to review vocabulary, dialogue, and grammar.
"We would like to give this dictionary to our Brazilian friends and to our friends in other Portuguese-speaking countries. Brazilian football players playing in Vietnam, citizens of Brazil, and Portuguese-speaking countries working in Vietnam can use this dictionary to learn more about Vietnamese.
Through the dictionary, the Association wants to contribute to the goal of strengthening mutual understanding between Vietnam and Brazil, Vietnam, and the community of Portuguese-speaking countries around the world."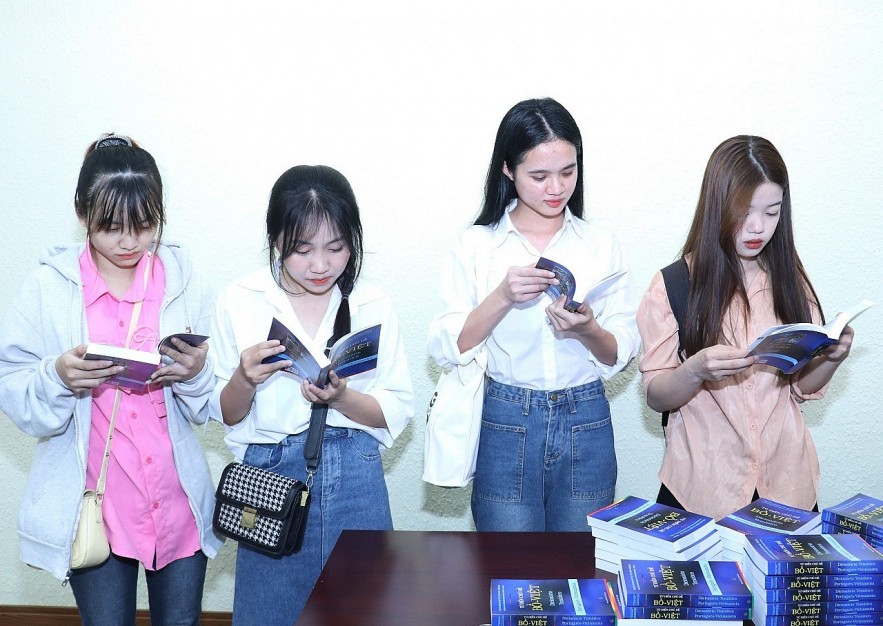 Le Thi Thu Hien (third, from left)
Le Thi Thu Hien, student of the Portuguese department, Hanoi University:
Portuguese-Vietnamese and Vietnamese-Portuguese dictionaries in Vietnam are still modest. Therefore, during the learning process, I often use the online Infopédia dictionary to look up vocabulary meanings, pronunciation, and stress.
This dictionary also has exercises and games for students to practice Portuguese. At the end of 2022, when participating in a student exchange program in Mozambique, I had the opportunity to come into contact with a paper Portuguese dictionary.
I find the Portuguese-Vietnamese dictionary interesting because it is divided into many different topics, including common vocabulary and phrases related to each topic so I can look it up easily. I am interested in the topic of travel, so the conversations about restaurants, hotels, and festivals in the dictionary can be immediately applied to real situations.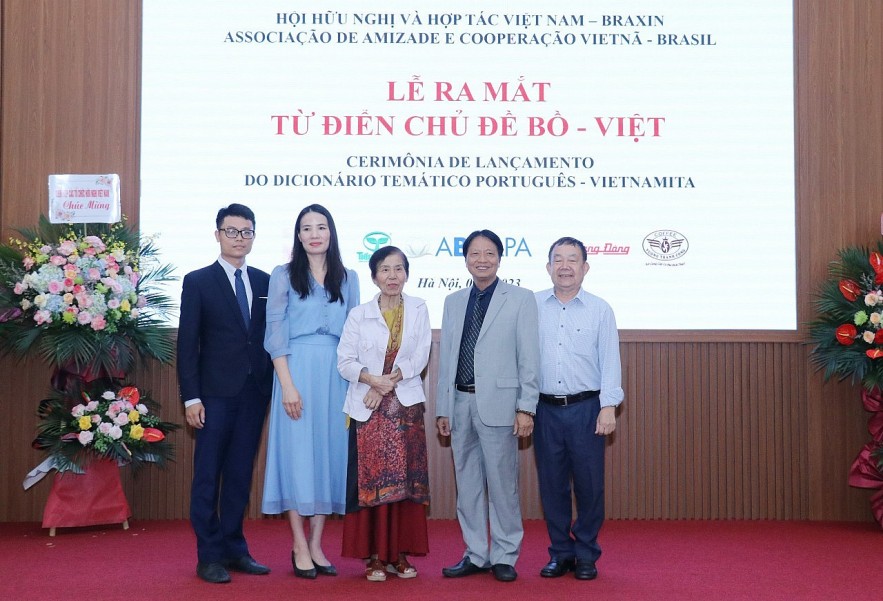 Do Thi Thanh (third, from left).
Do Thi Thanh, former head of the Training Department, University of Foreign Languages (now Hanoi University), co-head of the Portuguese-Vietnamese dictionary Drafting Committee:
The Portuguese-Vietnamese dictionary is applicable and practical for Vietnamese people who want to work, trade, visit, and travel in Portuguese-speaking countries.
In addition to conversations, vocabulary related to the topic, and common phrases used to look up and use, the dictionary also serves as a guide. At the end of each topic, there is often information about each area in Brazil, Portugal, and the world.