President: Highest Priority to be Given to Citizen Protection in Ukraine
State President Nguyen Xuan Phuc on March 6 requested the Ministry of Foreign Affairs and relevant agencies to give the highest priority to protecting Vietnamese expatriates in Ukraine amidst escalating tensions between Russia and Ukraine.
President Nguyen Xuan Phuc (standng) works with leaders of the Ministry of Foreign Affairs and relevant agencies on citizen protection in Ukraine.
Special attention must be paid to protecting citizens to ensure no Vietnamese people in war zones will be killed or injured, and none of them will be left hungry or cold during evacuation, Phuc told leaders of the Ministry of Foreign Affairs and relevant agencies.
He applauded the Government's plan to launch repatriation flights to bring home those stranded in Ukraine, and suggested that the elderly, women and children should take priority.
The President directed the Vietnamese Embassy in Ukraine to proactively plan and ensure the life and property of Vietnamese citizens in their host country. Ministries and agencies were requested to arrange human resources to welcome and support Vietnamese citizens wishing to return home.
According to the Ministry of Foreign Affairs, there are approximately 7,000 Vietnamese expatriates living in Ukraine. About 2,500 of them have fled out of war zones to a safe place, or to neighboring countries such as Poland, Hungary, Bulgaria, Moldova and Slovakia.
The Ministry of Foreign Affairs has worked alongside relevant agencies of Russia, Ukraine, the United Nations as well as countries to which Vietnamese citizens have been evacuated, to ensure the safe passage of human movement as well as timely support in terms of food and accommodation.
By March 6, more than 400 Vietnamese people from Ukraine have evacuated to Romania, and about 1,000 others to Poland, wishing to return to Vietnam.
According to schedule, national flag carrier Vietnam Airlines will bring home 283 Vietnamese citizens from Bucharest (Romania) on March 8. Budget airline Bamboo Airways will fly to Hanoi (Vietnam) from Warsaw (Poland) on March 10 with approximately 270 citizens on board.
Vietnamese in Ukraine Flee to Poland

The work of supporting and helping Vietnamese people fleeing from Ukraine to Poland is being carried out by the Vietnamese Association in Poland.
VOV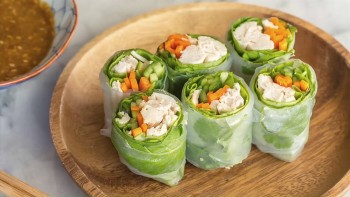 Travel
Rolls are a easy-to-make dish that is loved by many Vietnamese diners as well as Korean stars.