Tet Holiday 2023
Vietnamese Expats Support Those In Needs, Spreading Year-End Positivity
Many Vietnamese living in Ukraine have leave their lives behind to come to neighboring countries, in exchange of security and safety. Along this rough journey, they not only received a shelter but a cozy, heartfelt new community of fellow Vietnamese compariots.
In the year 2022, the Russia-Ukraine caused conflict families, both locals and expats, to flee out of the danger zone and disrupted the ordinary life of many.
Vietnamese expat Nguyen Bich Dao and her family were living bomb bunkers for a long time before becoming refugees in Germany. Also due to the Russia-Ukraine conflict, her 18-year-old daughter Quynh, a freshman at Kharkiv National Medical University (Ukraine), had to leave in the middle of her studies.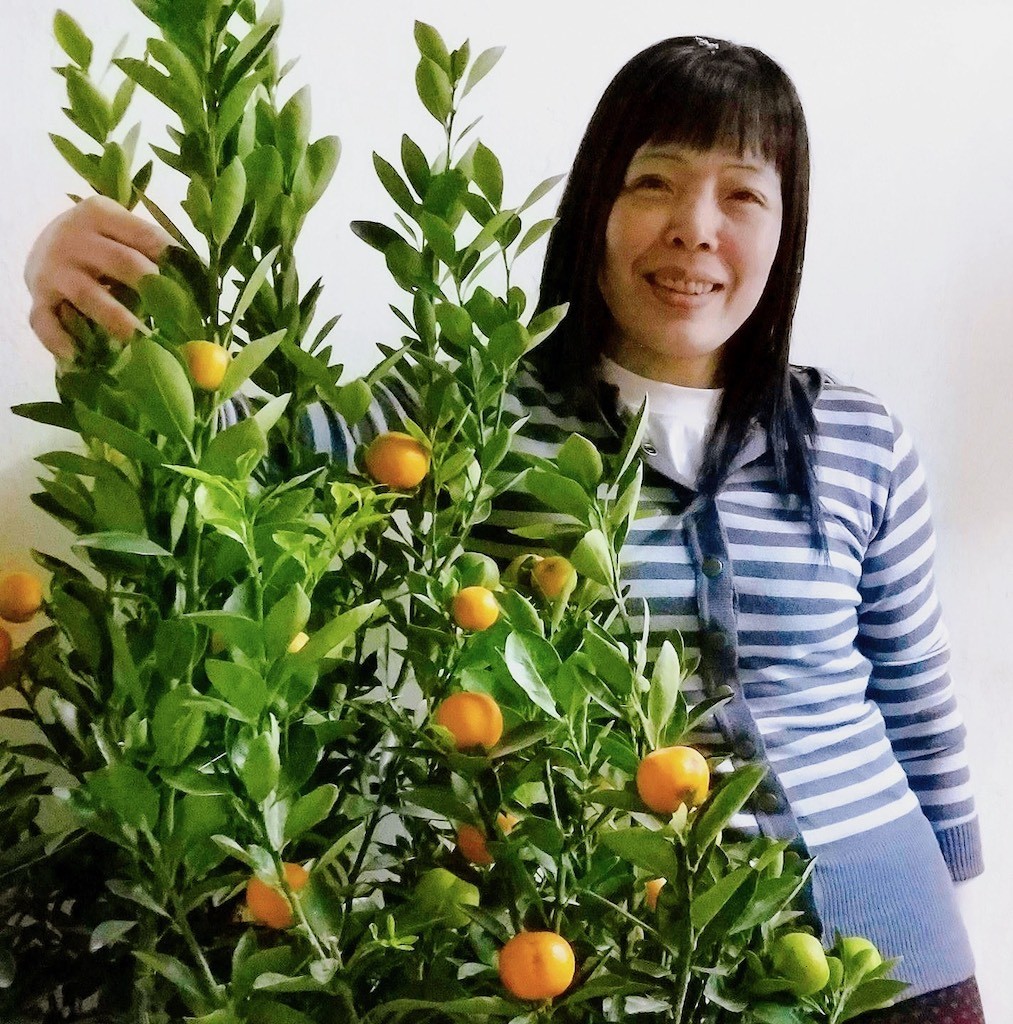 Vietnamese expat Nguyen Bich Dao (Photo courtesy by Nguyen Bich Dao).
Although most of her neighbors had evacuated, the mother and daughter still tried to hold on to their home in Ukraine.
Realizing that they cannot any longer in the bomb bunker as the food and utilities started to run low, Dao and her daughter Quynh set off to German, hoping for a new start.
According to Quynh, the most difficult challenge on their way leaving Ukraine to go to the refugee camp was the bad weather condition. "My mother and I traveled by train and then walked for two days to reach the Ukraine-Poland border. While waiting to enter Poland, I had to stand for hours outside in the cold, dark night," recalls the young Vietnamese girl.
According to Vietnamese Ambassador to Ukraine Nguyen Hong Thach, there are 7,000 Vietnamese people living in Ukraine before the Russia-Ukraine conflict, a majority of which have left their homes in major cities in the east and southeast of Ukraine and around the capital Kiev to come to neighboring countries, in exchange of security and safety.
A surprise help came to this family from Vietnamese expat Mai Ly. She is currently living in Nuremberg (Germany) and is Dao's old highschool classmate. As soon as she learned about Dao's situation, Ly showed her support in many ways to help the mother and daugther in their new life in Germany. She was not the only one.
"I still remember the day I took Dao and her daugther to the Braunschweig camp on Wednesday, April 6, 2022. A highschool classmate initially took them to the Berlin camp but it was closed for overcrowded. Then, they took the two to my house in Braunschweig, about 235 km from Berlin." said Mai Ly.
Mai Ly became a "volunteer guide" for the mother and daughter in the first few months in the new land. She helped Dao's family settle in a comfortable apartment in Wolfenbüttel less than a month after arriving in Germany. To furnish their new home, Dao and Quynh were also able to get second-hand items online like household appliances, and even bicycle, also thanks to Ly.
This helpful compariot was also their translator when Dao and Quynh needed help with documents and procedures in German, like entering the refuge camp, or moving in the new apartment.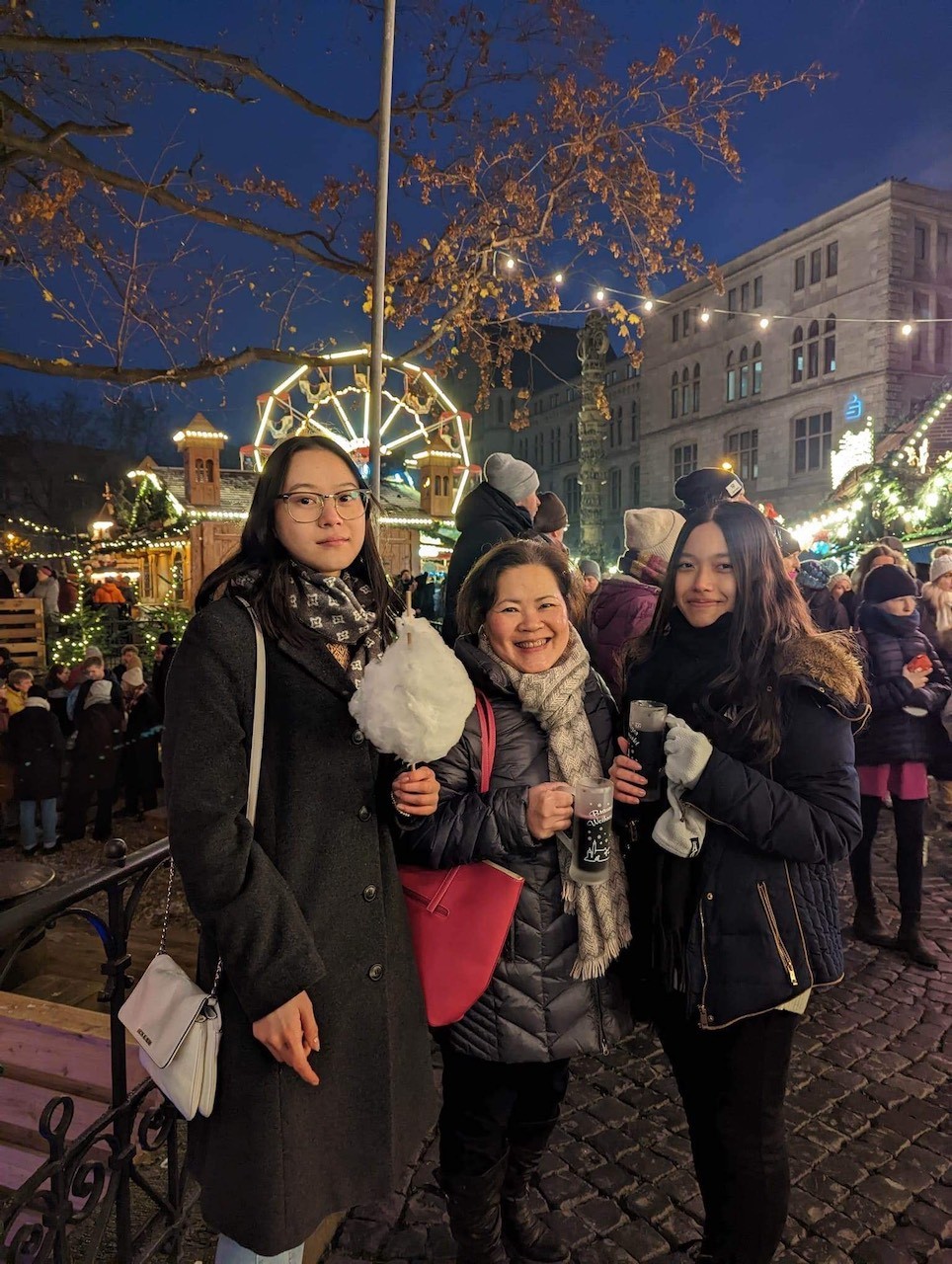 From left to right: Quynh, Mai Ly, Ly's daughter at Christmas fair in Germany 2022 (Photo courtesy of Nguyen Bich Dao).
Dao's family is overjoyed by compatriots like Ly, who are not blood relatives but enthusiastically help them. Because of people like her, overseas Vietnamese from conflict areas can be more comfortable and opstimistic about leading a life the new environment.
"I am very grateful to have been helped by Mrs. Ly since I came to Germany. I know many people who are less fortunate than me, who have been here for a long time and still struggle. I don't know what to do It's even more wonderful that this Lunar New Year, my family is able to welcome a peaceful, warm Tet despite being new to living in Germany." exclaim Quynh.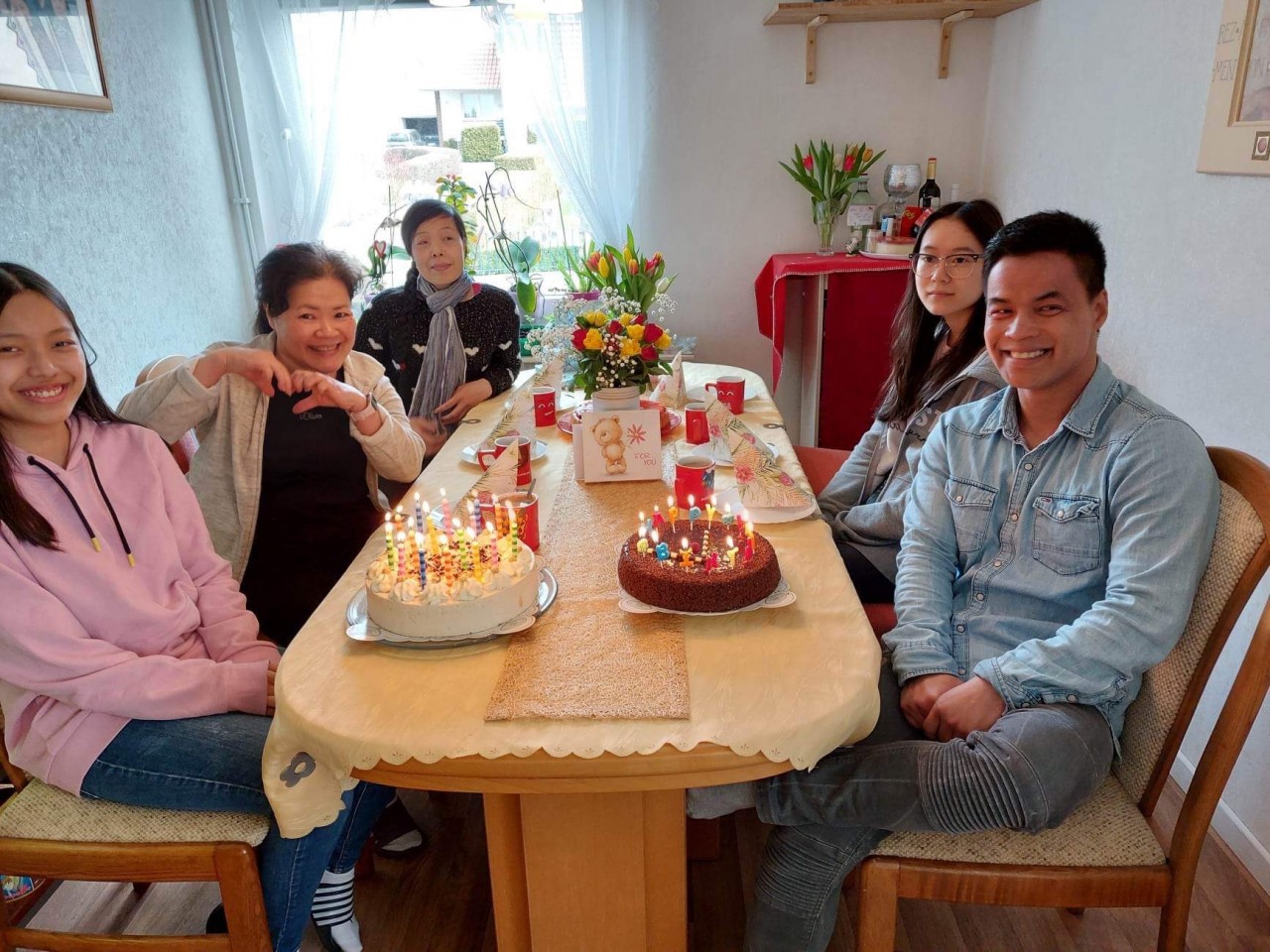 Quynh (first one on the left) on her 18th birthday, photo taken at Mai Ly's home in Germany (Photo courtesy in
Dao and Quynh have been taking free German lessons at the Wolfenbüttel District Education Center daily so they can communicate better with people. They also get weekend jobs to make ends meet. Fortunately, the living costs are not too much of an issue. Many living expenses, medical examinations, and treatment are waiting for refugees. Now, the Vietnamese mother and daughter treat themselves when Lunar New Year arrives.
"This time of the year, my family will prepare signature Tet dishes such as sticky rice cake and spring rolls. I was a freshman at Kharkiv National Medical University (Ukraine) when the conflict happened. I hope this new year will open a new door for me, for my dreams and hope to become a doctor in the future," said Quynh.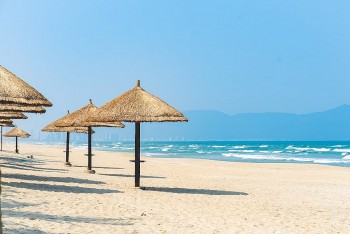 Travel
According to NZ Herald News, Da Nang beach is an ideal place to sunbathe during summer vacation.