Vietnamese Across Europe Unite to Support Countrymen in Ukraine
The lives of Vietnamese people in Ukraine have been turned upside down.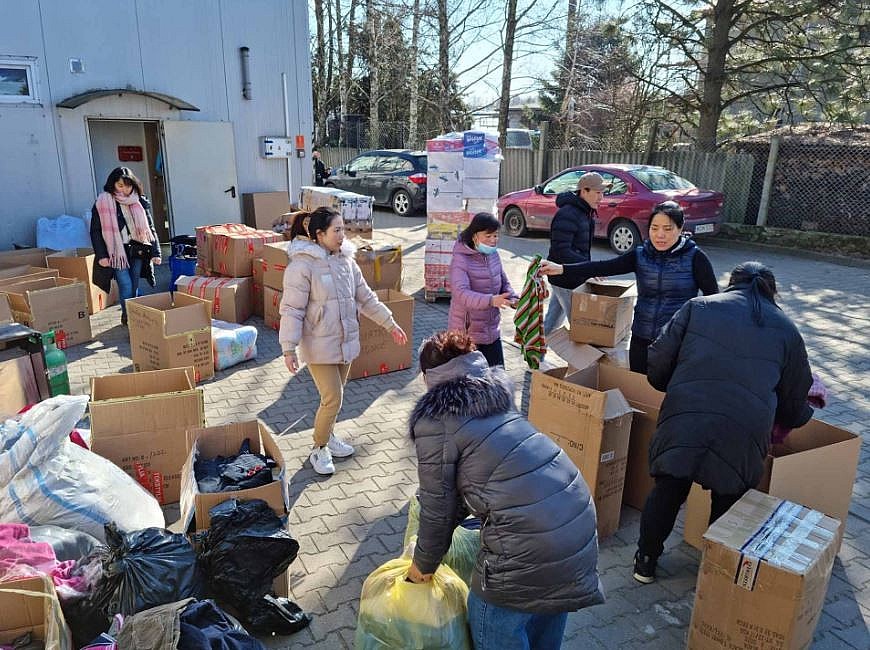 Vietnamese volunteers in Poland gather donations. (Photo: Baoquocte)
Sleepless nights
During his 35 years residing in Ukraine, Ho Sy Truc has witnessed the country's ups and downs, from riots in Kyiv to the civil war that separates the eastern and western regions.
The Vietnamese community in Ukraine has often stood at the edge of war and peace, yet they still stay calm and try to deal with the situation.
Vietnamese teachers such as Ha Thi Van Anh and Do Thi Hoa Ly have experienced sleepiness nights since their schools closed down.
Instead of their students' laughs, the teachers now have to hear the sound of siren.
They have to keep up with the newest information and constantly reply to messages from their relatives and friends from all over the world. They are grateful for the sentiment from the community.
In the past few days, the Vietnamese Embassy to Ukraine has contacted and discussed with Vietnamese expats to provide timely support.
In the face of widespread war, the Embassy directed and assigned the Vietnamese Association in Kyiv to make a list of expats wishing to return to Vietnam, then instructed them how to get back to Vietnam.
The Vietnamese Association in Kyiv has received request from 320 people, mainly children, the elderly, people with serious illnesses, and pregnant women who are needing help.
The association and the embassy have researched how to bring expats to Lviv border gate, then to Poland to fly back to Vietnam.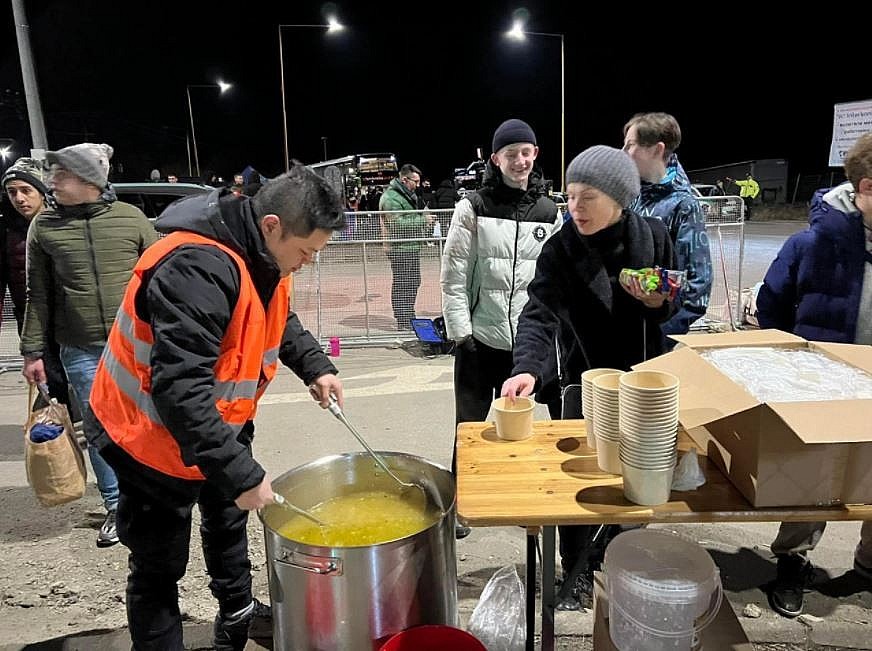 Hot meals cooked for the refugees. (Photo: Baoquocte)
Associations take the lead
As soon as the Russia-Ukraine conflict broke out, the Vietnamese Association in Poland held an urgent meeting to find ways to help the Vietnamese.
After the meeting, this policy was immediately notified to members of the Association and organizations in Ukraine. The Vietnamese Embassy in Poland also held a meeting with overseas people to discuss ways to help people in Ukraine.
Tran Anh Tuan, Chairman of the Vietnamese Association in Poland said: "We are preparing to welcome the first Vietnamese group from Kharkov, and at the same time, cooperate with local authorities to provide material assistance, essential supplies for Ukrainian refugees at reception sites along the Ukraine-Poland border."
"The act will help reduce pressure on the host government."
The Vietnamese Association in Hungary met with the Vietnamese embassy to establish a working group to assist their countrymen in Ukraine.
Standing Vice President Phung Kim San said: "We raising donations to help refugees when needed. In addition, the association established a relief team preparing means of transportation and rent for Vietnamese people from Ukraine."
Meanwhile, Standing Vice President of the Vietnamese Association in Romania Pham Duy Hung said the association had formed working groups to call for help. A communication channel was launched to guide people on necessary safety measures.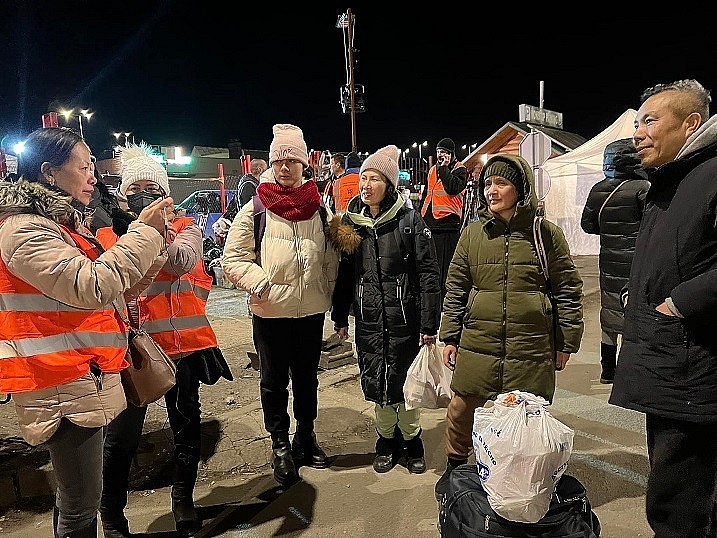 Vietnamese volunteers guide refugees. (Photo: Baoquocte)
Heartfelt gesture of Vietnamese people
Information about countries opening their borders for refugees is quickly and widely spread by Vietnamese on social networks. Helpful information has gained significant attention from the community.
Tran Ngoc Tung, administrator of the Vietnamese Community in Romania Facebook page, said that the group was ready to support countrymen in Ukraine by all the means they could, from offering accommodation to assisting in transportation.
In Poland, a group of more than 10 students supports the Vietnamese with border procedures translation over the phone.
Nguyen May, a Vietnamese in the Czech, Republic, said that her family was willing to bring two to three refugee families into their house and help them find jobs.
Phan Chau Thanh, administrator of Uwaga - Vietnamese in Poland Facebook group, has been calling for support and volunteering to help refugees at the Zosin-Uscilug border gate.
He said: "Many people joint hand in helping Ukrainian refugees. They come from different countries: Poland, Czech, India, Vietnam, Russia. They gather at the gate, waiting to pick up strange refugees and drive them to the shelters. Some even wait all night to help the refugees."
Thanh's group set up canvas tents with basic necessities to serve the refugees at the gate. They also cook hot dishes for those who have passed a long journey to reach the location.
Vu Thuong Giang, an expatriate in Ukraine, said: "Amidst the sound of bomb and gunfires, I can still feel the warmth of Vietnamese compatriots. Many organizations and individuals in Poland have supported us."
"The Vietnamese Association in Hungary is preparing essential entities and will send a delegation to the border to welcome Vietnamese people.
"On behalf of the Vietnamese in Ukraine, I would like to thank the noble acts of groups and individuals and associations who have enthusiastically helped. The meaning of 'compatriots' is even more precious during difficult times like this."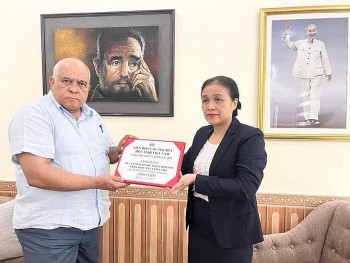 Focus
According to Cuba's News Agency Prensa Latina, on August 16, President of Vietnam Union of Friendship Organizations Nguyen Phuong Nga said that Vietnamese people will always stand by and support Cuba no matter what difficulties our friend is facing.