President To Visit Switzerland, Russia This Week
Vietnamese President will pay official visits to Switzerland and Russia.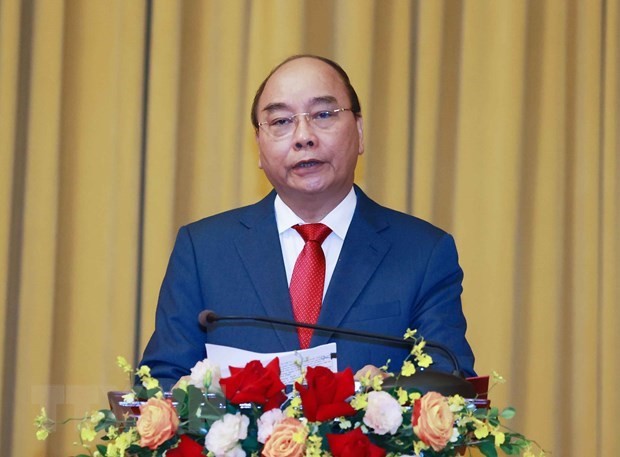 President Nguyen Xuan Phuc. Photo: VNA
President Nguyen Xuan Phuc will lead a high-ranking Vietnamese delegation to pay official visits to Switzerland and Russia from Nov. 25 to Dec. 2, reported VNA on Nov.22.
The visits will be made at the invitations of Swiss President Guy Parmelin and Russian President Vladimir Putin, according to the Ministry of Foreign Affairs.
On Oct. 11, 1971, Switzerland became one of the first Western countries to establish diplomatic relations with Vietnam.
2021 marks the 50th anniversary of the two countries' diplomatic ties and the 30th anniversary of their development cooperation.
The bilateral ties have seen dynamic development in all areas, from politics, diplomacy, trade and investment, to culture, education and training, and community exchange. Development cooperation projects funded by Switzerland have greatly contributed to Vietnam's socio-economic growth and its realization of the UN Millennium Goals and Sustainable Development Goals.
With over 100 Swiss companies present in Vietmam and some 20,000 jobs created in Vietnam, Swiss direct investments in Vietnam currently amount to around Swiss Francs 2 billion (VND 50 trillion).
Switzerland also has donated CHF 5 million (USD 5.4 million) worth of medical supplies to help Vietnam fight Covid-19, demonstrating the solidarity with Vietnam in the time of hardships.
Moreover, the Swiss Ministry of Foreign Affairs will sponsored the building of a world-class conference hall at the Diplomatic Academy of Vietnam, called Geneva Conference Hall.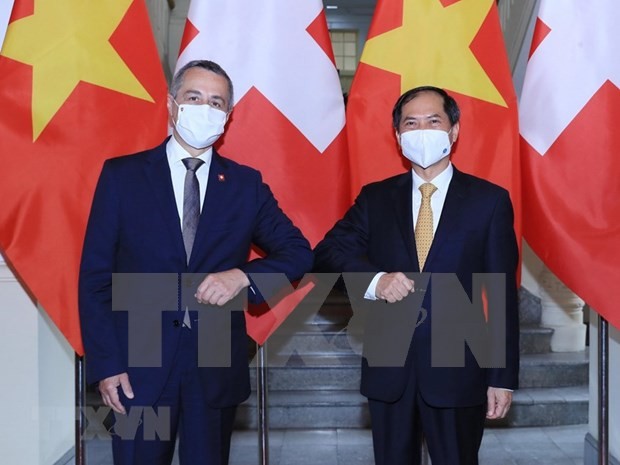 Foreign Minister Bui Thanh Son (R) welcomes Swiss Vice President and Foreign Minister Ignazio Cassis in Hanoi on August 5, 2021. Photo: VNA
Meanwhile, Vietnam and the Soviet Union (now Russia) set up their diplomatic ties on Jan. 30, 1950.
President's visit is due to take place in the context that the two countries recently celebrated the 70th anniversary of bilateral diplomatic ties and the 20th anniversary of strategic partnership in 2021, and are preparing for the 10th anniversary of comprehensive strategic partnership next year.
Vietnamese President paid a visit to the Vietnam-Russia Tropical Centre on Nov. 22 in Hanoi to mark the 104th anniversary of the Russian October Revolution (1917-2021).
With the engagement of many scientific organisations of Russia and Vietnam, the centre has obtained important attainments in scientific research, focusing on tropical ecology, tropical endurance, and tropical biomedicine, as well as personnel training, he noted.
Especially, the centre has effectively applied modern equipment sponsored by Russia in Covid-19 prevention and control activities in many localities.
The centre has successfully built a SARS-CoV-2 testing procedure that has been recognised by the Ministry of Health, said the President.
In September, Minister of Foreign Affairs Bui Thanh Son also paid official visit to Russia at the invitation of Russian Minister of Foreign Affairs Sergey Lavrov, which was the first overseas trip by the Vietnamese Foreign Minister. It was the highest-level visit to Russia by a Vietnamese official in the past two years when the two countries are coping with Covid-19 pandemic.
Russian media have positively evaluated Vietnamese Minister of Foreign Affairs Bui Thanh Son's official visit to Russia from Sep. 25 to 28.
Vietnam is now Russia's top trade partner in Southeast Asia. Two-way trade between the two countries hit nearly USD 4.5 billion annually in the 2018-2020 period, USD 900 million of which was from farm produce.
Since 2018, bilateral trade in farm produce has grown strongly to around or above USD 900 million each year. In the first ten months of this year, Vietnam's export of agro-forestry-fisheries to Russia reached around USD 469 million, up 32.6% annually, mostly coffee, cashew nuts, fruits, tea, wood, rice while importing aquatic products, wheat, fertiliser, wood, recently meat and dairy products.
The two countries' businesses are advised to make better use of benefits offered by the Vietnam – Eurasian Economic Union Free Trade Agreement, under which a number of farm produce enjoy low tariff amounting to 0%.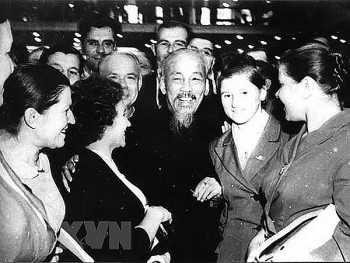 National
Throughout its history Vietnam has come into contact and exchanged with many cultures and civilizations.