Medical Supplies Sent To Vietnam As Covid Infections Soar
International solidarity and emergency medical supplies have poured in to help Vietnam fight the Covid-19 pandemic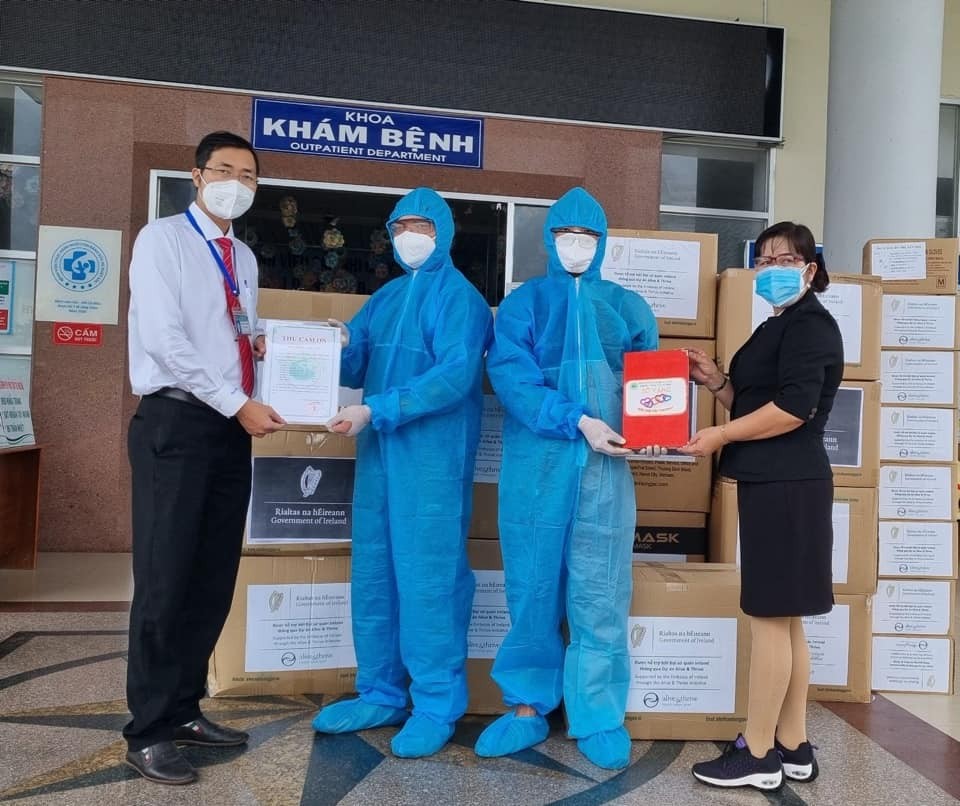 Ireland is supporting Vietnam as it continues to manage the latest outbreak of Covid-19 across the country. Source: Irish embassy
Vietnam recorded 9,531 new cases of Covid-19 in 24 hours on Nov. 20, but vital medical supplies have continued to be sent to localities to serve the Covid fight.
9,518
Ho Chi Minh City still reported the most (1,046), followed by the provinces of Binh Duong (669), Dong Nai (621), Dong Thap (515), and Tay Ninh (495).
The infection tally in Vietnam currently stands at 1,084,625, ranking 37th among the 223 countries and territories.
The ministry also reported 107 new fatalities, bringing the accumulative number of deaths to 23,685.
Ireland is supporting Vietnam as it continues to manage the latest outbreak of Covid-19 across the country, particularly in the south.
Consignments of personal protective equipment, medical supplies and equipment are being delivered to 30 Covid-19 treatment hospitals and maternity hospitals across southern Vietnam this week, procured and distributed by Alive & Thrive with funding from the Government of Ireland.
In total, 4,700 frontline health workers and 22,000 mothers and their newborn infants will be at reduced risk of infection.
In addition, the babies born in these hospitals will be supported to access vital nutrition through breastfeeding support and will be kept close to their mothers even if they are Covid positive.
Ireland is proud to support the brave healthcare workers who have demonstrated incredible resilience over recent months.
Medical at hospitals in Nghe An, Thua Thien Hue, Quang Nam, Quang Ngai, Tien Giang and Ca Mau provinces are receiving masks and protective gear that will guarantee their supplies for the next 2 - 3 months.
Ireland has provided a total of €675,900 to support Covid-19 response and public health efforts in Vietnam since the onset of the pandemic in early 2020.
The Ministry of Health symbolically received the AstraZeneca vaccine donated by the Austrian Government during a ceremony held on Nov. 16.
Deputy Minister of Health Do Xuan Tuyen, on behalf of the Health Ministry, received 50,000 doses of Covid-19 vaccine from Austrian Ambassador to Vietnam Hans-Peter Glanzer.
The assistance is of great importance as Vietnam and Austria will celebrate the 50th founding anniversary of diplomatic ties next year, thereby promoting the countries' friendship and cooperation, Tuyen said.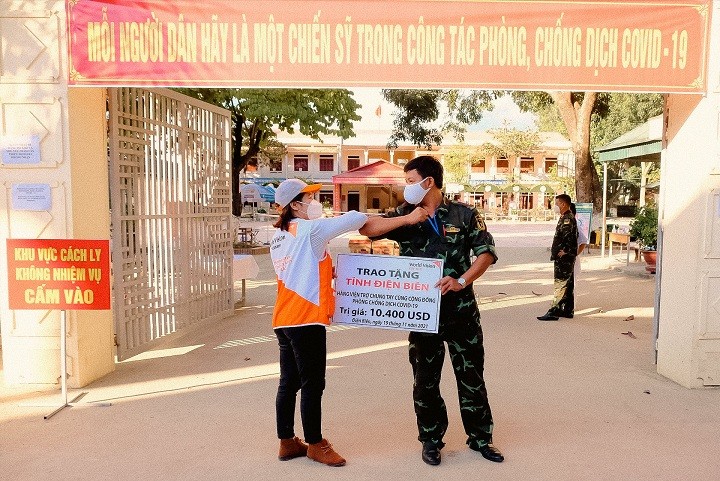 A batch of medical supplies sent to quarantine points in Dien Bien District, Dien Bien Province. Source: World Vision Vietnam
To promptly support Dien Bien Province and better cope with the Covid-19 pandemic, on Nov. 19, World Vision Vietnam and the Dien Bien Department of Foreign Affairs distributed a US$10,400 worth of relief packages and medical equipment for 1,685 people at 20 quarantine points in Dien Bien District, Dien Bien Province.
The support package includes fresh milk and instant noodles, protective bodysuits, hand sanitizer, and masks to protect nearly 500 doctors and frontline workers l.
This activity is part of World Vision Vietnam's Covid-19 National Response and Recovery Program. Up to now, more than US$ 2,894,152 has been disbursed to repair the damages caused by the Covid-19 pandemic on people's lives in World Vision Vietnam's project sites nationwide.
In Tua Chua - another district of Dien Bien Province, World Vision Vietnam has provided timely support to the local government and communities for an effective response.
The organization has supported 460L of hand sanitizer solutions for 22 schools; 70 barrels of filtered water for Covid-19 vaccination points in Sinh Phinh commune; 1,785 boxes of medical masks and 1,620 bars of soap.
With a total value of more than US$ 8,296, the support from World Vision Vietnam has contributed to the joint efforts of people and local authorities to prevent and control the spread of the Covid-19 pandemic.
In this fiscal year 2022, World Vision Vietnam will continue to support Tua Chua District to respond and recover from the pandemic with an operating budget of US$ 20,023.
Furthermore, along with material supports, the organization will sustain communication activities to increase the community's awareness and pandemic response skills, especially children.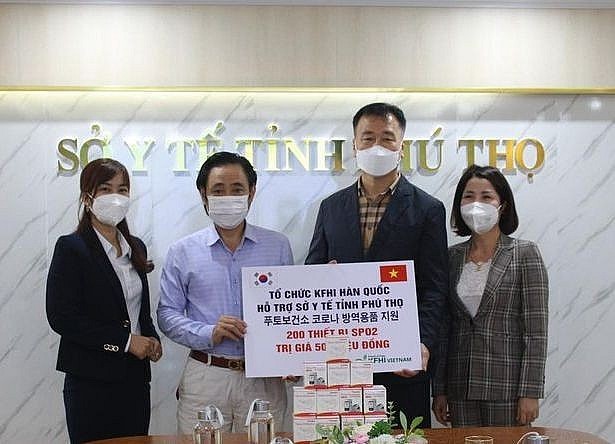 Nguyen Giang Long, deputy director of Phu Tho Provincial Department of Health (2nd from left) received 200 SPO2 blood oxygen saturation meters supported by KFHI.
With the desire to contribute to supporting the hospital with adequate equipment to examine and treat Covid-19 patients, Korea Food for the Hungry International (KFHI) on Nov. 16 donated 200 oxygen saturation monitors SPO2, worth VND 50 million, to Phu Tho province.
KFHI is a Korean NGO, established in 1989. KFHI In Vietnam its supports community development, clean water sanitation, vocational training, disadvantaged children and facilities for schools, implementing short-term projects, giving in-kind aid, scholarships, sending volunteer groups to remote areas and individuals in difficult circumstances.
In Phu Tho, KFHI started its operation in October 2016 with a scholarship program for poor students. In the past 5 years, KFHI has made positive contributions to the process of building and developing education in the localities and deepening the cooperation relationship between Phu Tho Province and Korean partners.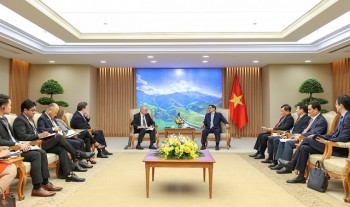 National
Vietnam News Today (Dec. 6): Vietnam records 427 new Covid-19 cases on December 5; PM hosts USABC, US corporation leaders in Hanoi; Proper investment needed to develop night-time economy; Vietnam welcomes New Zealand investors for win-win partnership.