President's upcoming trip to Cuba, US to promote vaccine diplomacy
Vietnam's State President is set to pay an official visit to Cuba and then fly to New York to attend the 76th session of the UN General Assembly.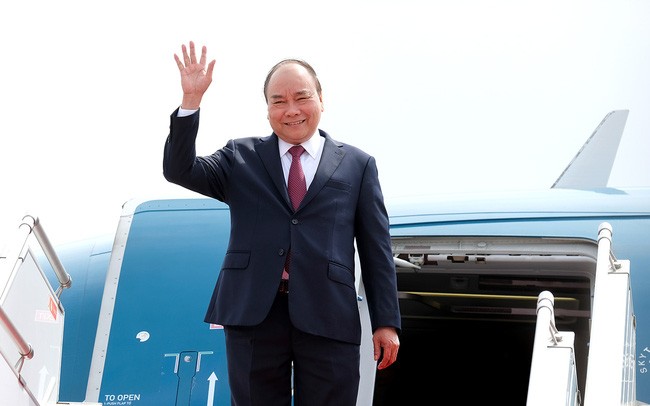 President Nguyen Xuan Phuc is set to pay an official visit to Cuba from September 18 - 20 and then fly to New York in the US to attend the 76th session of the UN General Assembly. Photo: VNA
Vietnam will pursue multiple goals, including promoting vaccine diplomacy during President Nguyen Xuan Phuc's upcoming trip to Cuba and the United States, reported VNA, citing Deputy Foreign Minister Dang Hoang Giang.
President Nguyen Xuan Phuc will lead a high-raking delegation of the Vietnamese Party and State to pay an official visit to Cuba from Sep. 18 to 20.
The visit is made at the invitation of Miguel Díaz-Canel, First Secretary of the Communist Party of Cuba's Central Committee and Cuban President.
Later, from Sep. 21 to 24, the President and the Vietnamese delegation will attend a general debate of the UN General Assembly's 76th session and hold a number of bilateral activities in the US.
The main purpose of the working trip will be to further realise the nation's open foreign policy, although the visiting delegation will also strive to achieve multiple goals during the trip, Deputy Minister Giang told media outlets on September 16.
In telephone talk between Phuc and First Secretary of the Communist Party of Cuba (CPC) Central Committee and President of Cuba Miguel Díaz-Canel on Aug. 23, Díaz affirmed that from now to the end of 2021, Cuba will supply a large volume of Abdala Covid-19 vaccine to Vietnam and Cuba is also willing to send experts to transfer vaccine production technology to Vietnam.
Phuc's official visit to Cuba reflected Vietnam's policy of promoting relations with priority partners and traditional friends. It is an opportunity for Vietnam to affirm its solidarity and strong support for Cuba in a challenging period, Giang noted.
During the visit, Vietnamese and Cuban leaders will discuss to further close coordination and concretise important collaboration areas between the nations, and to deepen their solidarity in the new period.
At the UN general debate, Giang said, Vietnam will send a strong message to international friends about its image of a dynamic and innovative, development-yearning, and peace-loving country with active and responsible contribution to the common work of the United Nations and the international community.
According to him, this is also a chance for Vietnam to show its appreciation for UN member nations for their trust and high confidence in Vietnam as a non-permanent member of the UN Security Council (UNSC) for the 2020-2021 term. It also affirms Vietnam's commitments and efforts to achieving more positive results at the UN, UNSC, and UN mechanisms and organisations in the coming time, including its candidacy for the UN Human Rights Council (UNHRC) for the 2023-2025 tenure.
"Vietnam will clearly demonstrates its desire to work along with other countries to address current urgent issues, especially Covid-19 prevention and control. Therefore, apart from attending a high-level debate, President Phuc will meet with a number of heads of state and partners of Vietnam to discuss measures aimed at controlling the pandemic and outlining post-pandemic recovery plans," said Deputy Minister Giang.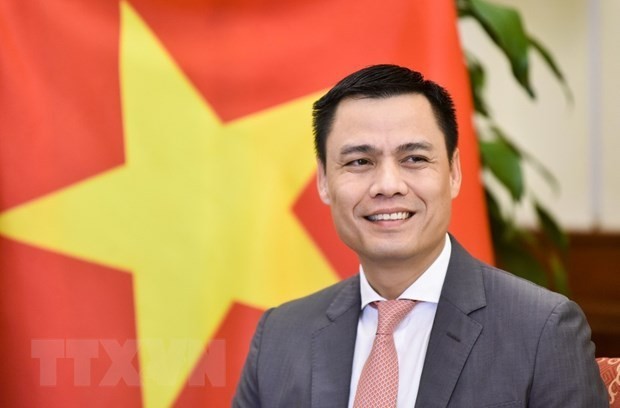 Deputy Foreign Minister Dang Hoang Giang. Photo: VNA
While in the US, the President will meet many heads of states and partners to exchange measures on pandemic prevention and post-pandemic recovery. At the same time, he will work to promote the support and transfer of vaccines.
The President will met leading vaccine producers of the US, eyeing commitments to fastest delivery of vaccine doses, treatment drugs, and medical supplies for Vietnam as many as possible.
According to Giang, Phuc's bilateral activities in the US will contribute significantly to boosting cooperation between Vietnam and the new US administration and fostering the growth of the Vietnam – US comprehensive partnership in line with the nations' common goals and benefits
The US has so far given 6 million doses of Moderna and Pfizer vaccines to Vietnam through the glocal vaccine mechanism Covax.
Vietnam has signed contracts to buy 51 million doses of Pfizer vaccine within this year, including 20 million doses for those aged 12 to 18, according to VnExpress.
Pfizer is now the only vaccine Vietnam allows for mixed administration.
As greenlighted by the Health Ministry, people receiving the AstraZeneca vaccine first could get the Pfizer shot the second time around in case of supply shortages and with prior agreement.
Vietnam had administered over 30.4 million doses of vaccines by noon on Sep. 14, according to data from the National Immunisation Portal.
Vietnam has to date received more than 35 million doses of Covid-19 vaccines of different types, mostly AstraZeneca via Covax, government support, and commercial contracts.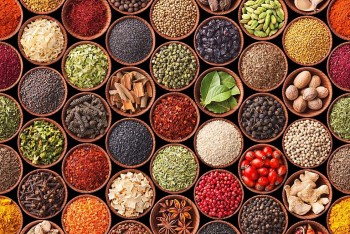 Vietnamese Herbal Tea
Antioxidants have been known since the 1990s and have been useful in fighting cancer, atherosclerosis, and many other chronic diseases.