Vietnam Receives More Support Amidst Covid-19
Vietnam and its needy groups continue to receive support for Covid-19 prevention.
The battle against Covid-19 in Vietnam has received more support from the international friends, along with agencies, international and local NGOs, domestic and foreign businesses.
Israeli Embassy presents 500 food packages Hanoi's locals
2212 / 5000 Kết quả dịch Israeli Embassy presents 500 food packages to the needy in Hanoi.
Movement restrictions and social distancing measures to reduce the spread of Covid-19 affect people's livelihood. Therefore, the Israeli Embassy in Hanoi on the morning of Sep. 15, has handed over 500 food packages to 500 disadvantaged households affected by the Covid-19 pandemic in My Duc district. These are poor, near-poor, jobless households, orphans, and people suffering from serious diseases in the district.
Food packages including rice, eggs, oil, spices, and noodles were delivered to households on the same day.
This is the second time the Israeli Embassy support food to the needy, after the first batch of rice to people in Cau Giay district in April 2020.
Israel is committed to joining hands with the Vietnamese community to overcome the pandemic through volunteer activities and bilateral cooperation.
Singapore's Temasek Foundation hands over 16 ventilators and medical equipments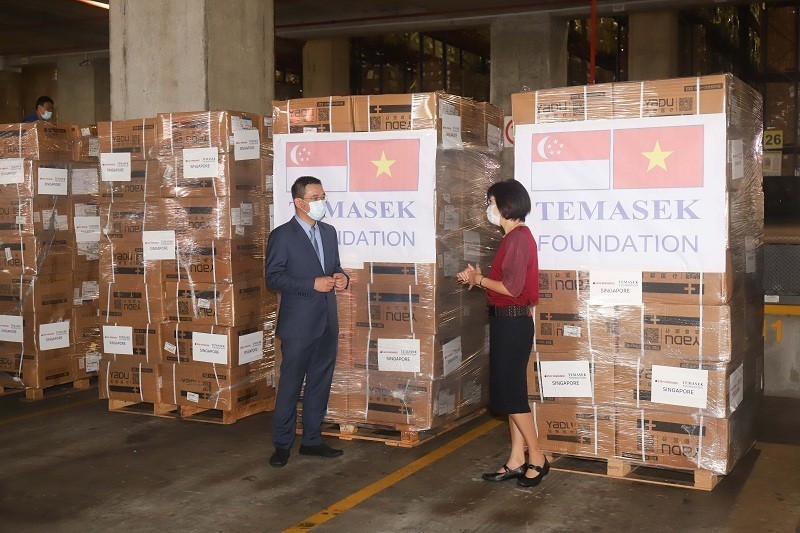 Minister Counsellor of the Vietnamese Embassy in Singapore Le Cong Dung (L) and Senior Director of the Temasek Foundation Joan Ng at the event.
On the same day, the Vietnamese Embassy in Singapore received received the first batch of medical supplies donated by Singapore's Temasek Foundation.
The shipment has been transported on a flight to support citizens of the national airline Vietnam Airlines on Sep. 15 and will arrive on Sep. 17.
The Temasek Foundation's support for Vietnam includes 16 ventilators , 250,000 high-end medical masks (FFP2 and KN95), 200,000 droplet shields, 100,000 protective suits, 5,000 goggles and 4,500 sets glove. In 2020, the Temasek Foundation also supported Vietnam with 10 ventilators.
This first batch, comprising 16 ventilators of all kinds, 10,000 protective suits, 50,000 BYD KN95 masks, 4,500 sets of gloves and 5,000 protective glasses.
According to Minister Counsellor of the Vietnamese embassy in Singapore Le Cong Dung, after arriving in Vietnam on Sep. 17, the shipment will be immediately handed over to the Hanoi Medical University Hospital. The remaining goods will be shipped to Vietnam as soon as possible.
The Temasek Foundation is the not-for-profit humanitarian arm of the Temasek Group, an investment company based in Singapore. Since 2007 until now, the foundation has supported many cooperation programs and assisted Vietnam in capacity improvement and training in health care, education and public administration.
Hoiana Integrated Resort and VinaCapital Foundation donate ventilators and medical equipment to Quang Nam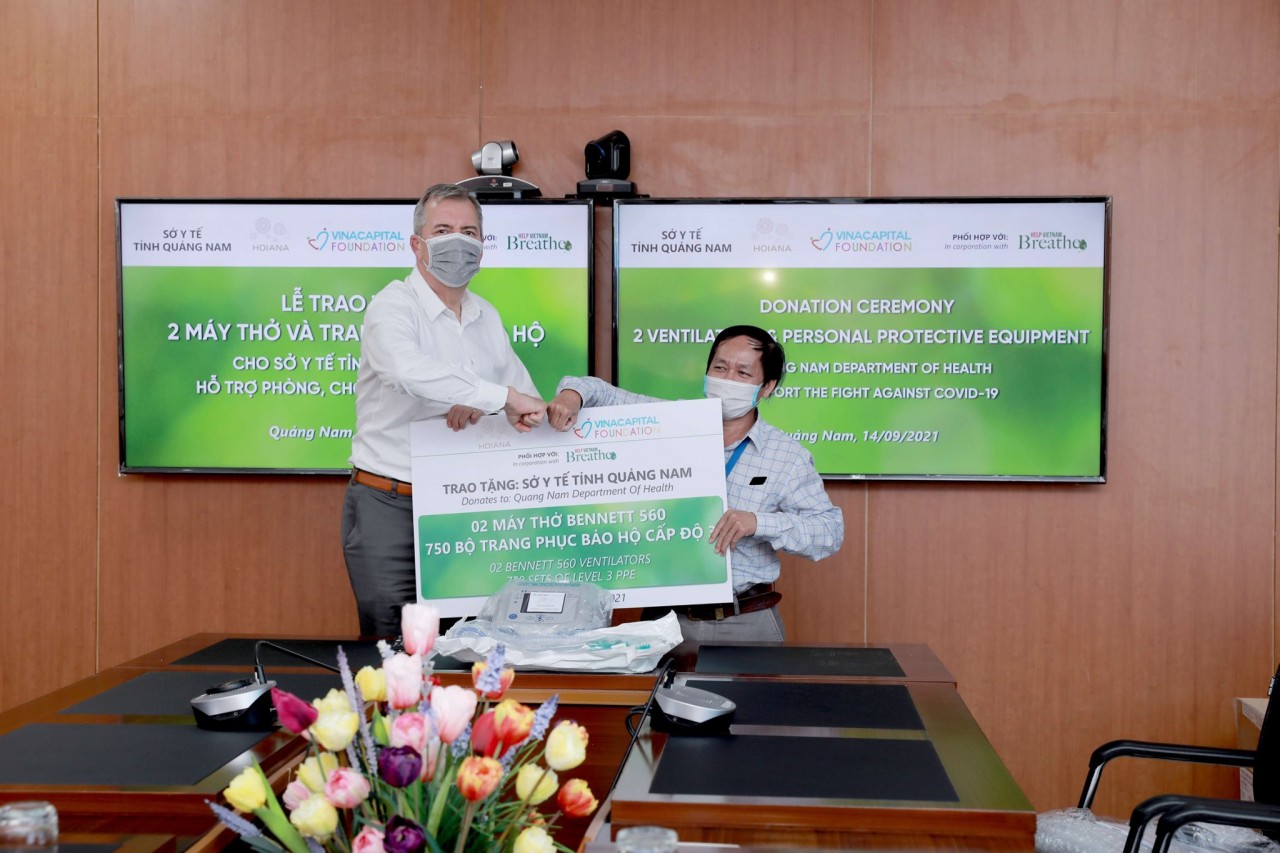 At the hand-over ceremony.
In the afternoon of Sep. 14, strictly complying with regulations on pandemic prevention, Hoiana Integrated Resort in collaboration with the program "Help Vietnam Breathe – Vì Nhịp thở Việt Nam" of VinaCapital Foundation (VCF), donated 2 Bennett 560 ventilators and 750 sets of PPE level 3 to the Department of Health Quang Nam Province.
This medical equipment, worth nearly VND 575 million (USD 25,000), will assist the provincial healthcare system in fighting against the pandemic, strengthen the infrastructure capacity for emergency work and Covid-19 patient treatment, as well as support the medical staff, especially frontline healthcare heroes. The Quang Nam Department of Health will allocate this medical equipment to the areas of most severe critical need.
"Help Vietnam Breathe – Vì Nhịp thở Việt Nam" is a program implemented by VCF to raise funds for purchasing essential pandemic-fighting medical equipment including ventilators and personal protective equipment for hospitals treating Covid-19 patients and thousands of frontline healthcare workers as the pandemic prolongs and the number of newly infected cases increases dramatically. VCF will collaborate with the local authorities to distribute the medical equipment to the areas of most severe critical need.
The campaign has successfully deployed 57 ventilators, 1 ECMO (Extracorporeal Membrane Oxygenation) and thousands of sets of PPE to Covid-19 treatment hospitals in Ho Chi Minh City, Long An, Can Tho, Binh Duong, Tay Ninh, and Quang Nam provinces.
More vaccine doses arrived Vietnam for mass campaign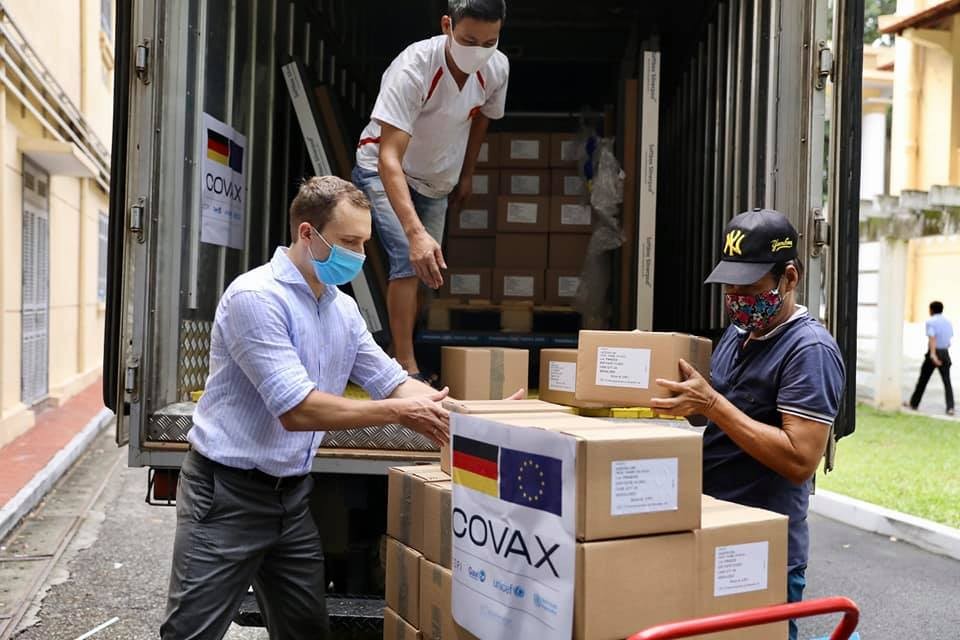 Germany supports Vietnam with 852.480 vaccine doses via COVAX.
A delivery of 852.480 AstraZeneca Covid-19 vaccine doses has arrived in Hanoi on Sep. 16 . This is a contribution from Germany towards the Vietnamese vaccination campaign. This vaccine donation is being supplied via the COVAX Facility in close cooperation with UNICEF and WHO Vietnam and the Vietnamese Government.
With the delivery of vaccines donated by Germany, Vietnam has received 12,578,110 doses of vaccines via the COVAX Facility.
Germany co-founded the Access to Covid‑19 Tools Accelerator (ACT Accelerator) last year. As the second largest donor to the ACT Accelerator at present, Germany has provided EUR 2.2 billion to date.
Vietnam had administered over 30.4 million doses of vaccines by noon on Sep. 14, according to data from the National Immunisation Portal.
From Sep. 9-13, more than 1 million injections were performed each day.
Localities with the highest vaccination rates (number of injections/number of allocated vaccines) are Quang Ninh, Dong Thap, Binh Phuoc, Vinh Long, and Ca Mau.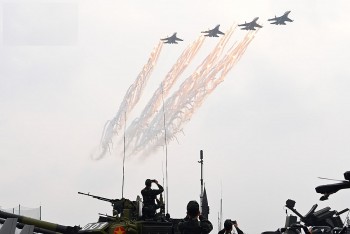 National
At the opening ceremony of the Vietnam International Defense Expo 2022 on December 8th morning, there were impressive performances of the air forces and commando of the Vietnamese People's Army.