Prime Minister Continues Hectic Schedule in UK
Vietnam attaches importance to, and highly values the central role played by the United Nations and wishes to boost comprehensive cooperation with the organization.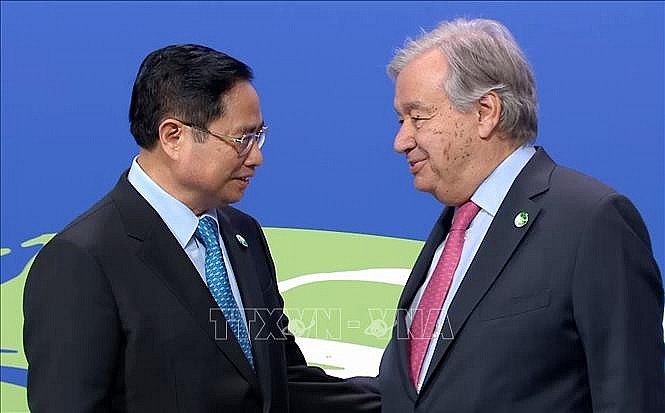 Prime Minister Pham Minh Chinh (left) and the United Nations Secretary-General António Guterres, Glasgow, Scotland, November 1, 2021. Photo: VNA
Prime Minister Pham Minh Chinh made the affirmation during a meeting with UN Secretary-General Antonio Guterres in Glasgow on November 1 evening (London time) on the sidelines of the 26th UN Climate Change Conference of the Parties (COP26).
Chinh briefed Guterres on the tremendous impacts of climate change on Vietnam, particularly in the Mekong Delta, northern and central mountainous areas, reaffirming the country's strong commitment to climate action, VGP News reported.
Guterres appreciated Vietnam's participation in international issues, including climate change response and peace-keeping operations as well as the country's responsible role as the non-permanent member of the United Nations Security Council for the tenure 2020-2021.
He spoke highly of Vietnam's commitment to achieving net-zero emissions by 2050, thus making meaningful contributions to the global efforts against the current climate crisis.
Guterres showed his willingness to support Vietnam's transition to green and circular economy and renewable energy development, and assist Vietnam and other Mekong countries in handling landslide, salinity intrusion, farming conversion, and sustainable use of water resources to ensure food security.
European countries pledge to help Vietnam in transition to a circular economy
Prime Minister Pham Minh Chinh (right) and British Prime Minister Boris Johnson. Photo: VGP News
The same day, Pham also met with British Prime Minister Boris Johnson, Germany Chancellor Angela Merkel, Czech Prime Minister Andrej Babis, and Croatian Prime Minister Andrej Plenkovic.
The leaders appreciated Vietnam's commitment at the COP26, pledging to continue support for Vietnam and other Mekong countries to deal with landslide, salinity intrusion, farming conversion, and sustainable use of water resources to ensure food security and sustainable development.
They also committed to helping Vietnam in its transition to the green and circular economy and renewable energy development through climate finance, capacity building, and technological transfer.
The European countries' leaders also affirmed their willingness to continue sharing vaccines and medical supplies to assist Vietnam in the fight against the Covid-19 pandemic.
Chinh took the occasion to express thanks to the Governments of the UK, Germany, the Czech Republic, and Croatia for their timely vaccine donations, saying this is valuable assistance in the pandemic time.
PM meets leaders of US, RoK, Thailand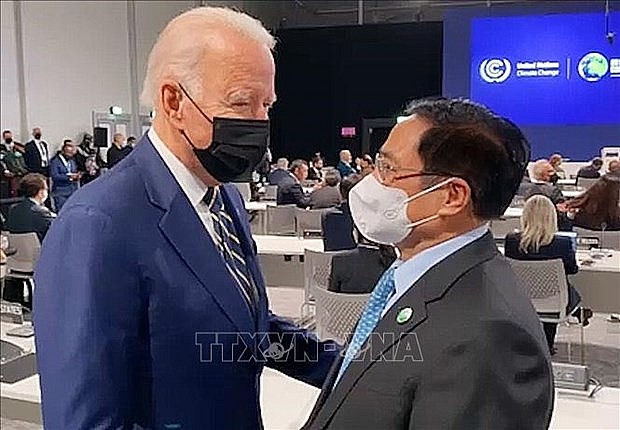 PM Pham Minh Chinh (R) meets US President Joe Biden in Glasgow on November 1. Photo: VNA
The same day, Prime Minister Pham Minh Chinh met with President of the US Joe Biden, President of the Republic of Korea (RoK) Moon Jae-in, and Prime Minister of Thailand Prayut Chan-o-cha, according to VietnamPlus.
PM Chinh and President Biden agreed to further promote the Vietnam - US comprehensive partnership, including the cooperation in finance and technology to deal with climate issues, especially to fully implement the mechanisms under the Paris Agreement on climate change.
The Vietnamese leader welcomed US businesses' engagement in green and sustainable development areas in Vietnam.
Talking to the RoK President, PM Chinh said he hopes the two countries will further intensify their strategic partnership and strengthen ties in all fields, from politics, diplomacy, trade, investment to people-to-people exchange and culture.
President Moon agreed that their countries will keep close cooperation to bolster relations in economy, trade, and especially, high technology.
Vietnam and the RoK will reinforce cooperation via all channels and in all aspects, including boosting delegation exchanges, both leaders concurred.
Meanwhile, the PMs of Vietnam and Thailand discussed ways to advance the two countries' strategic partnership in various spheres, and in both bilateral and multilateral aspects.
PM Chan-o-cha affirmed that Thailand is ready to boost multifaceted connections with Vietnam, including investment, innovation, sustainable development, digital transformation, and human resources training.
The leaders pledged to continue working closely with other ASEAN members to build the ASEAN Community and enhance relations with partners.
PM Chinh vowed to support and close coordination to ensure success for the ASEAN Year 2022 in Thailand.
Global Environment Facility ready to support Vietnam
On this occasion, PM Chinh met with the CEO and Chairperson of the Global Environment Facility (GEF) Carlos Manuel Rodriguez, VOV said.
The Vietnamese Government chief said the country will develop and take strong measures in an effort to reduce greenhouse gas emissions. It will make use of its own resources, along with the co-operation and support of the international community, especially developed countries, both in terms of finance and technology transfer. This includes the implementation of mechanisms under the Paris Agreement in a bid to reach the target of net zero emissions by 2050.
Moving forward, the nation fully welcomes and highly appreciates the long-term vision of the GEF, including supporting countries in carrying out programs and projects in a bid to achieve the goals of nature restoration, carbon neutrality, and zero pollution by 2050, PM Chinh said.
He suggested that the GEF continue to support the nation in environmental issues, especially in four main areas, including ensuring food security in the Mekong Delta, dealing with ocean plastic waste, preserving biodiversity, conserving nature, restoring ecosystems, and implementing commitments set out in the Paris Climate Change Agreement.
The GEF President in turn lauded the Vietnamese Government's efforts in recent years to address environmental issues and climate change. The nation's strong and timely commitments made at COP26, therefore, show the responsibility to join hands with the international community in the world's climate change response and bolstering of environmental protection.
The GEF will continue to accompany and be ready to support the nation, especially with the four priority areas suggested by the Vietnamese PM, he said.
WB vows to assist Vietnam in sustainable growth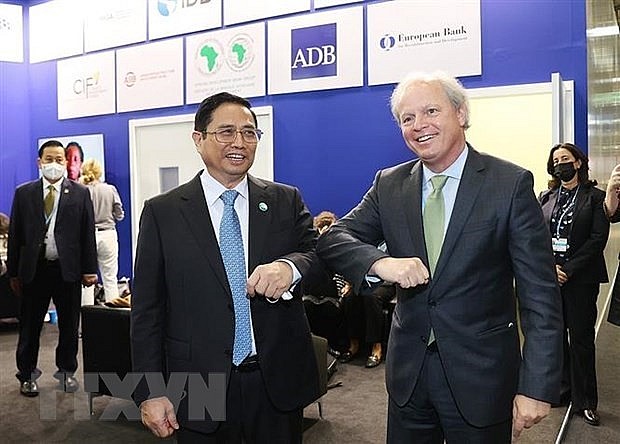 Prime Minister Pham Minh Chinh (L) and World Bank (WB) Managing Director of Operations Axel van Trotsenburg. Photo: VNA
Receiving World Bank (WB) Managing Director of Operations Axel van Trotsenburg, PM Chinh described the WB as a friend and leading development partner of Vietnam, VietnamPlus said.
He thanked the organization for its contribution to Vietnam's economic development and social security, particularly via providing the nation with non-refundable aid worth USD6.2 million and backing the rescheduling debt payment for Vietnam so that the country can reserve resources for Covid-19 prevention and control.
The PM affirmed that sustainable development and green growth are a consistent policy and view of Vietnam.
For his part, the WB official vowed to further assist Vietnam in its process of building macroeconomics policy and accessing sustainable financial sources for green, sustainable, and inclusive growth.
The sides agreed to enhance the bilateral cooperation between Vietnam and the WB.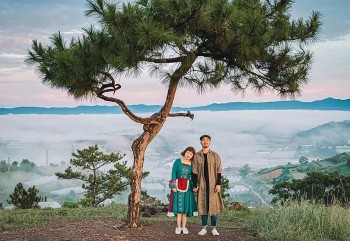 Travel
Three local cities are set to be presented with the ASEAN Clean Tourist Awards 2022.