COP26: Vietnam Calls For Fairness And Justice in Climate Change Issues
Vietnam's Prime Minister called for fairness and justice in climate change issues at the 26th United Nations Climate Change Conference of the Parties (COP26).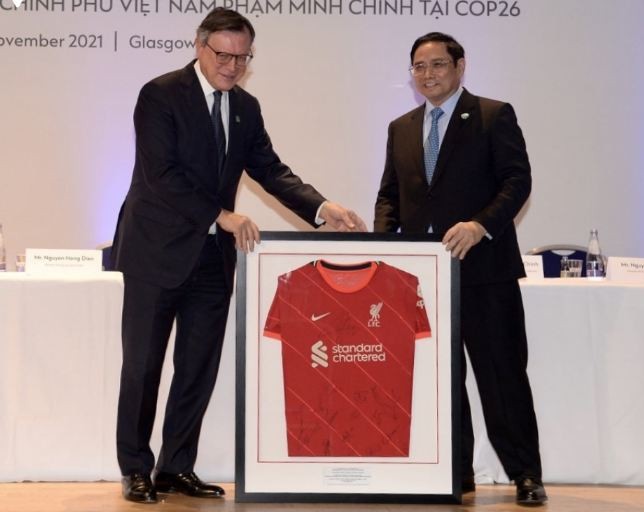 Standard Chartered Chairman José Vinals, presents Prime Minister Pham Minh Chinh with Liverpool football team jerseys. Photo: VOV
Prime Minister Pham Minh Chinh has said Vietnam's attendance at the 26th United Nations Climate Change Conference of the Parties (COP26) once again affirms its commitment to cutting carbon emissions to zero by 2050, and calls for fairness and justice in climate change issues.
PM Chinh made the statement during meetings with leaders of global economic groups on the sidelines of COP26 in Glasgow, Scotland (the UK) on Nov. 1 morning (local time), VNA reported.
He said as one of the countries hardest hit by climate change, Vietnam always does its best to boost green growth and cope with climate change sustainably and stably.
During its process of transition to green energy and growth, Vietnam wants developed nations to share its difficulties, offer assistance in developing human resources and improving national governance on sustainable development, and provide the country with preferential green finance and technology, the PM said.
At a dialogue with Standard Chartered Bank and his reception for its Chairman José Vinals, PM Chinh affirmed that the Vietnamese Government and agencies will continue creating favourable conditions for foreign investors to do business sustainably and successfully in the country, in the spirit of harmonising interests and sharing risks.
According to VGP, the Government chief said Vietnam is stepping up digital transformation in the banking sector in a bid to further lure foreign investment into the sector.
The Southeast Asian country also expects to cooperate with partners to build three major financial hubs in the northern, central and southern regions, PM said.
As a country most vulnerable to climate change, Vietnam has tried its best to advance green growth and adapt to climate change in a sustainable manner while seeking foreign partners' assistance for advancing human resource development, strengthening national governance capacity, and accessing green technologies and green finance.
For his part, Vinals expressed thanks to the Vietnamese Government for its valuable support for Standard Chartered's operation in Vietnam, committing to long-term investment in the country.
Vinals pledged that his bank will pour US$8 billion in sustainable development in Vietnam.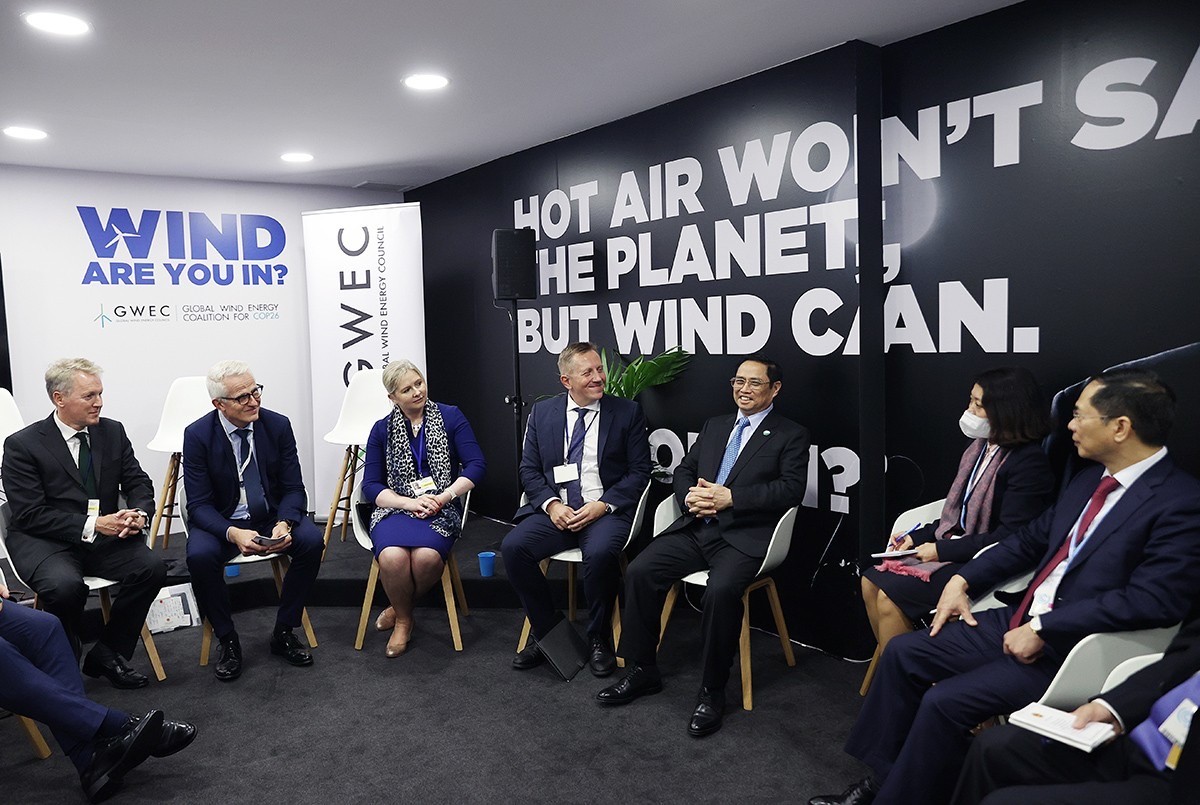 PM Pham Minh Chinh (third from right) meets GWEC representatives. Photo: VGP
Meeting the PM, the GWEC representative and Mads Nipper, President and CEO of the wind farm group Orsted, confirmed that Vietnam has huge potential, opportunities, and competitive advantages for renewable energy development, especially wind power.
Vietnam also has an open mechanism and environment for investment; quality human resources; dynamic, creative and friendly people; and a developed logistics system, they added. Therefore, over the past time, these enterprises have invested billions of USD in building wind energy projects in Vietnam.
Representatives of the corporations also expressed their desire to continue making long-term investments in Vietnam and expand operations to a number of related fields such as developing power transmission and distribution networks.
They proposed the Government of Vietnam direct competent units to quickly settle the paperwork so that their projects can soon be implemented.
PM Chinh suggested that the groups continue to study and distribute investments evenly across areas in Vietnam in accordance with requirements, thus promoting investment efficiency.
The construction of the power transmission system must be efficient, while the electricity distribution ought to be appropriate and effective, meeting development requirements of each region and locality, he noted.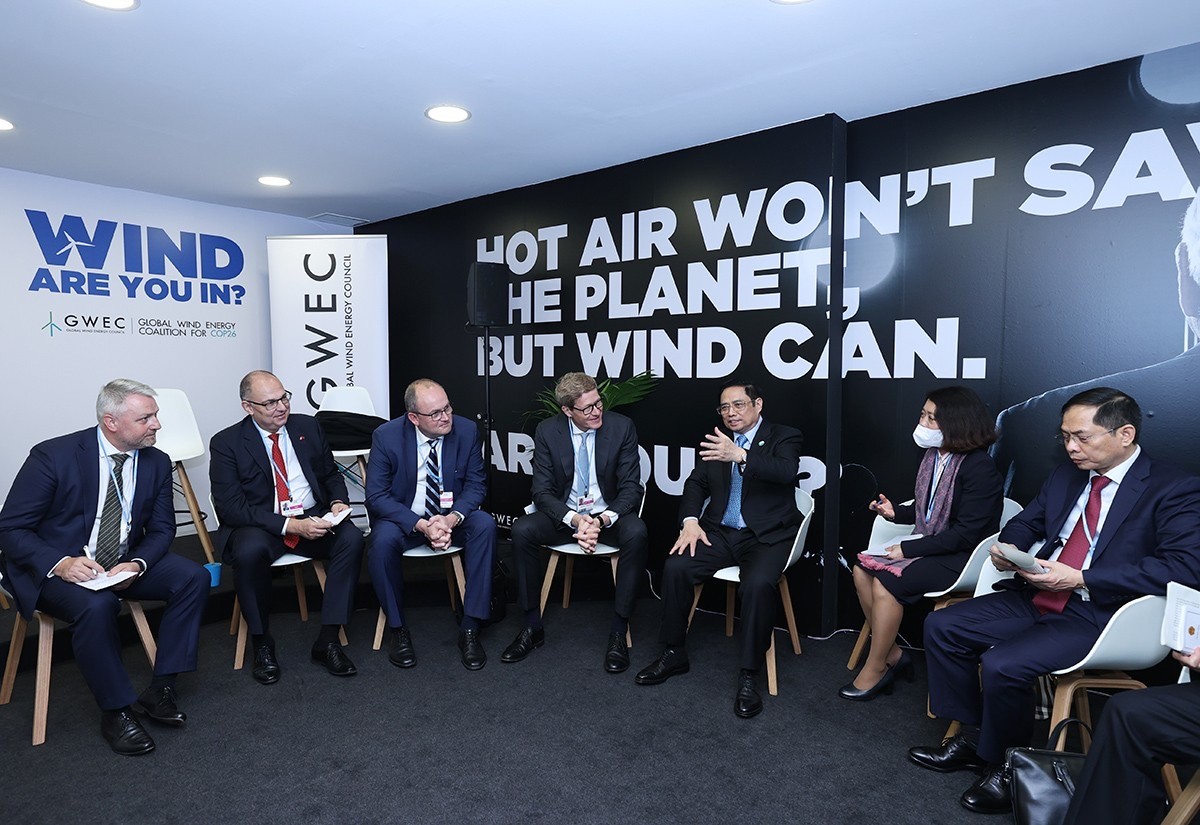 PM Pham Minh Chinh (third from right) receives CEO of Lego Niels Christiansen. Photo: VGP
Receiving CEO of Lego Niels Christiansen, the Vietnamese Government leader welcomed continued expansion of investment in Vietnam and suggested that it coordinate with Vietnamese ministries, agencies and localities to choose suitable investment locations.
He said he wishes to see Lego products to be made in Vietnam soon.
At the above meetings, PM Chinh thanked the investors for choosing Vietnam and continuing to expand long-term investment in the country. He affirmed that the Vietnamese Government is ready for discussion to create the most favourable conditions possible for them.
As Vietnam is among the countries most vulnerable to climate change, the Party and State have always prioritised climate change response during socio-economic development.
The PM's participation in the COP26 is an occasion for the country to demonstrate its responsible, proactive, and active participation in settling global climate change challenges, while helping the international community understand its policy, determination, and efforts, as well as the difficulties and challenges facing the country in response to the phenomenon.
This is also a rare chance amid the Covid-19 pandemic for leaders of countries to increase bilateral activities. Within the COP26 framework, PM Chinh is set to have meetings with leaders of some countries, international organisations, and important partners.
Vietnam's strong resolve and commitments to the climate change response, which can be seen in the fact that Vietnam is one of the first 20 countries in the world to submit the updated Nationally Determined Contribution (NDC) to the Secretariat of the United Nations Framework Convention on Climate Change (UNFCCC). The country is also among very few nations that have increased their contributions to cutting greenhouse gas emissions in the paper, said Vietnamese Ambassador to the UK Nguyen Hoang Long in an interview granted to VNA, ahead of the government leader's trip.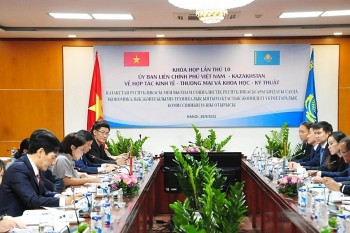 Friendship
The 10th session of the Vietnam-Kazakhstan Intergovernmental Committee on economic-trade and scientific-technical cooperation was held in Hanoi on September 26.