Prime Minister Requests New Policies to Tackle Covid Fight
Chairing a meeting of the National Steering Committee for Covid-19 Prevention and Control in Hanoi, the Vietnamese Prime Minister stressed that vaccination remains a strategic solution in the pandemic combat.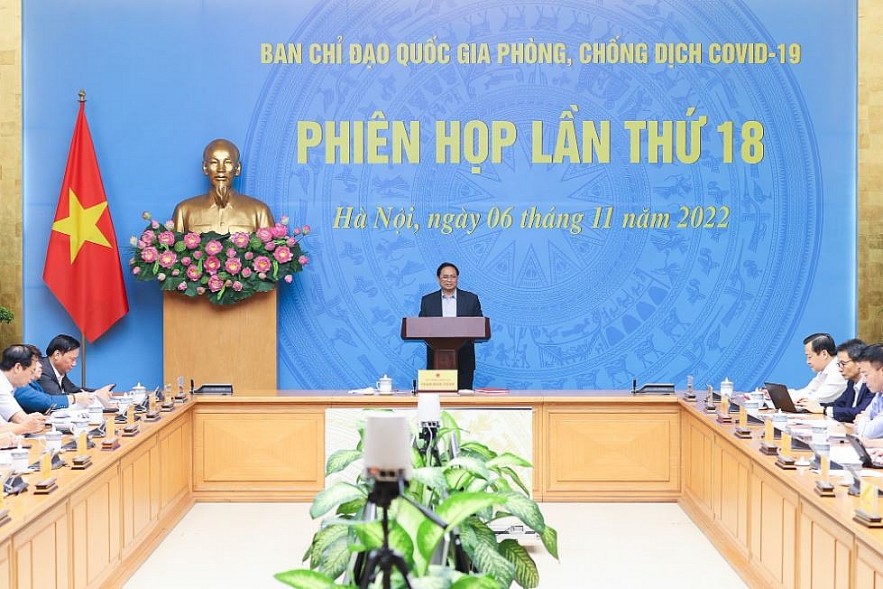 Prime Minister Pham Minh Chinh speaks at the meeting. (Photo: Thanh Nien)
Prime Minister Pham Minh Chinh asked the health sector to increase surveillance and be well prepared to respond to possible new pathogenic variants of the Covid-19 virus on November 6.
Addressing the 18th meeting of the National Steering Committee for Covid-19 Prevention and Control, Chinh said though the Covid-19 pandemic has been basically brought under control, the situation is still "complicated, unstable and difficult to predict".
"The outbreak is not over yet following the mutation of the virus, therefore we must continue to strengthen our surveillance systems and enhance our treatment capacity," said the PM, stressing vaccination is still a strategic solution.
According to the government leader, top priority must be given to protecting people's life in combating the virus under the motto of 'flexible adaptation' in an effort to nip a new possible outbreak in the bud, according to VOV.
"There is no room for complacency," said Chinh while asking the Ministry of Health to regularly analyze the situation and risk factors, develop scenarios and response plans, and respond to all possible situations.
He asked the Ministry of Health to timely allocate vaccines in on local demand and accelerate vaccination to ensure the campaign is carried out in a safe and effective manner.
In addition, he reminded the health sector to strengthen grassroots-level health capacity to better receive and treat patients; ensure drug supplies, medical equipment, and human resources are in place for pandemic prevention and control; and step up research and production of vaccines and biological products.
At the same time, the government leader requested the health sector to strengthen the prevention and control of other endemic and emerging diseases such as dengue fever, hand-foot-mouth disease, adenovirus, and monkeypox.
The Ministry of Health reported that Vietnam has recorded more than 11.5 million Covid-19 cases so far, of whom over 10.6 have recovered. The death toll reached some 43,000.
In October alone, the country detected 24,283 cases, down 64,8% from the previous month, with 15 deaths, down 16 cases.
The national Covid-19 caseload rose to 11,505,849 with 241 new cases recorded on November 6, according to the Ministry of Health.
With 72 patients given the all-clear during the day, the number of recoveries rose to 10,604,663. Meanwhile, there are 54 patients needing breathing support.
As of the end of November 5, the total number of doses of Covid-19 vaccines injected was 262,297,376 with 16,097 doses administered on November 5, Vietnam Plus reported.