NPA Celebrates 15 Years of Supporting Vietnam's Mine Action Work
A ceremony was held in Hanoi on October 27 to celebrate 15th anniversary pf Norwegian People's Aid (NPA) in Vietnam. On this occasion, NPA was awarded with the Certificate of Appreciation by Vietnam Union of Friendship Organizations (VUFO) for its outstanding contributions to building better living conditions for Vietnamese people.
At the ceremony, Mr. Jan Erik Stoa - Country Director of NPA Vietnam gave a presentation on the results of organization's work to support Vietnam's mission to safely remove landmines and other brutal consequences of war. He sent his gratitude to the partners in Vietnam, stressing that these results can only be achieved thanks to them. Mr. Jan Erik Stoa mentioned NPA's cooperation with Quang Tri Mine Action Center (QTMAC), National Mine Action Center (VNMAC) as well as the support from the sponsors from the US Government and the Norwegian Government.
Also, Mr. Jan Erik Stoa thanked supporters from the Government of Vietnam, the Vietnam Union of Friendship Organizations (VUFO) and the Committee on Foreign Non-Governmental Organizations Affairs (COMINGO).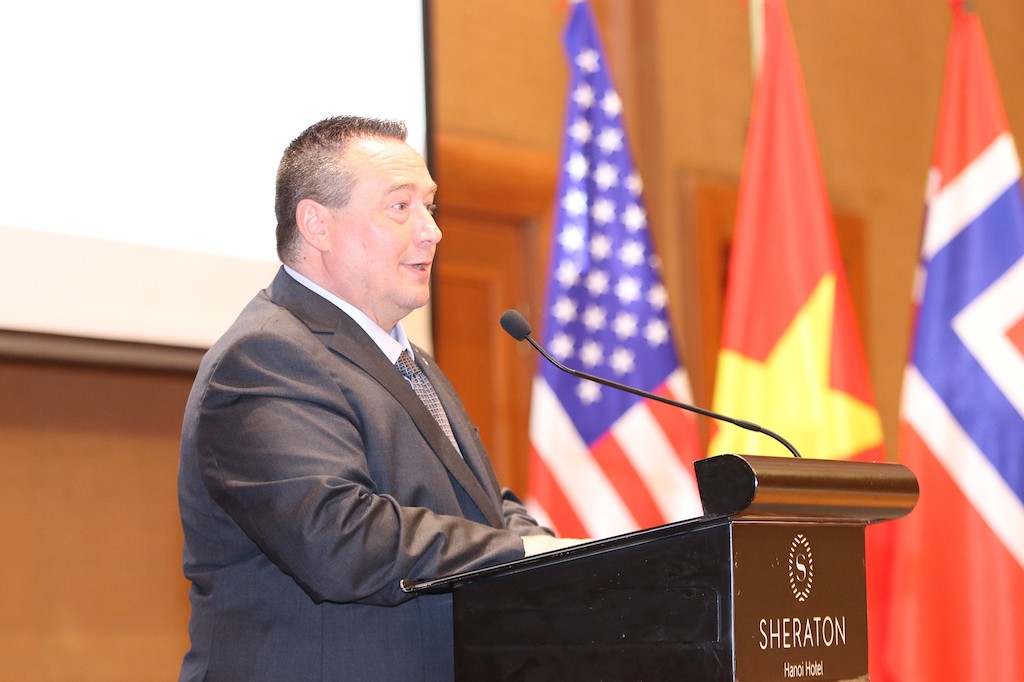 Mr. Jan Erik Stoa - Country Director of NPA Vietnam (Photo: Thu Ha).
Speaking at the ceremony, Mr. Phan Anh Son, Vice Chairman - General Secretary of VUFO, Vice Chairman of COMINGO voiced his approval.
"NPA has become a core member of the landmine Foreign NGOs community in Vietnam and programs/projects of NPA have become a part of the success of the Viet Nam's National Action Program to overcome the consequences of landmines and of socio-economic development of Vietnam."
Mr. Phan Anh Son also stressed that NPA Vietnam has helped promote the relations between Vietnamese people and peoples of Norway as well as of other countries through its work over the last 15 years.
On this special occasion, VUFO Vice Chairman - General Secretary awarded NPA Vietnam with "Certificate of Appreciation for your significant contribution for the cause of poverty reduction and sustainable development in Vietnam".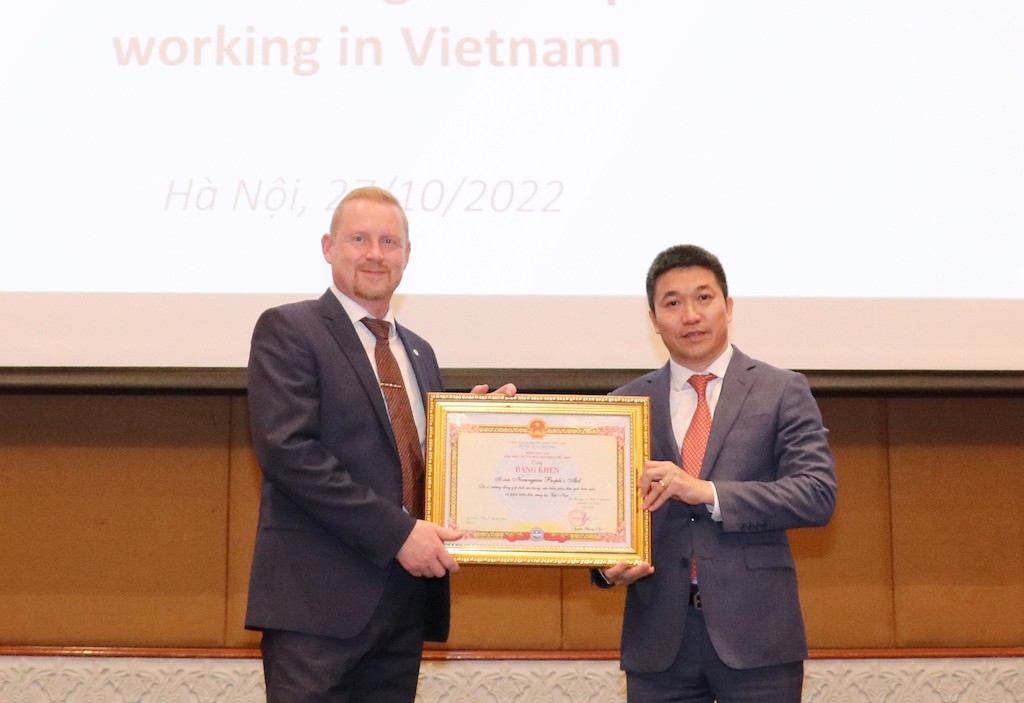 Mr. Phan Anh Son (right) presents the certificate to Mr. Per Hakon Breivik - Director of NPA Humanitarian Disarmament Department (Photo: Thu Ha).
Mr. Jan Erik Stoa presents this award shows the good relationship of NPA with VUFO in particular and with the Vietnamese people in general.
"We will continue to depend on VUFO to support the works of VNMAC in Hanoi, to support the provincal authorities in Quang Binh, Quang Tri and Hue, in additional to Kon Tum province. For NPA Vietnam today to have visas and permissions, we need to have good and close cooperation with VUFO, to make sure that we follow the rules and regulations of Vietnam." said Mr. Jan Erik Stoa about the future cooperation beween NPA Vietnam and VUFO.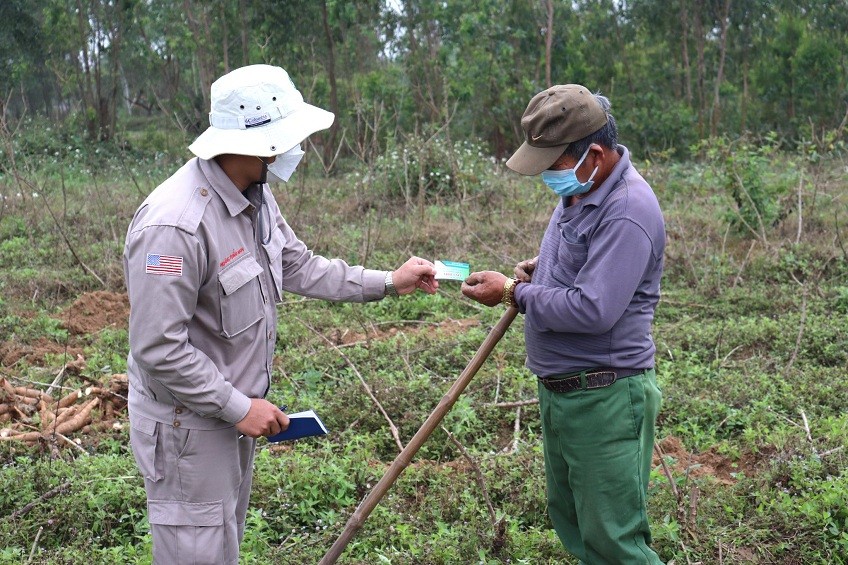 NPA NTS surveyors also provide local residents with hotline number cards and instruct them on how to report to the provincial hotline in case of unexploded ordnance found.
Norwegian People's Aid (NPA) Vietnam has been operating in Vietnam since 2007. The notable achievements from their activities in Quang Tri, Thua Thien Hue and Quang Binh are: over 1,200 Hazard Claim Areas (CHAs) were established from the activities of non-technical survey (NTS) and technical survey (TS) teams; over 600 million square meters of land are declared dangerous, mapped for clearance activities; safely detected and destroyed over 135,000 cluster bombs and explosive materials. Safe detonation of each explosive material is to reduce the risk of casualties for at least one citizen.
Over the 15 year period, NPA Vietnam also cleared 21 million square meters of land for community development, building community homes and football fields for students; conducted over 17,000 mobile demining operations.
The organization had helped over 100,000 households have access to landmine risk prevention education. One of its future goals is to operational performance with Level III Mine Demolition training in accordance with the International Mine Action Standards and continued testing of new tools.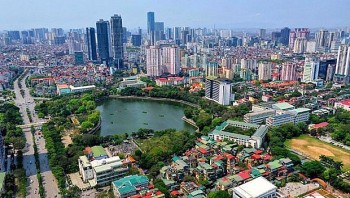 National
Vietnam News Today (Jan. 29): Quang Ninh: Cross-border trading with China resumed after Tet; Hanoi in the world's top three culinary destinations: Tripadvisor; Intertwined opportunities, challenges for Vietnam's economy in 2023; Supermarkets, traditonal markets gradually resume normal operations amid abundant supply.