Promoting International Cooperation in Vietnam's Offshore Wind Power Development
The Central Economic Commission and the Embassy of Denmark in Vietnam on March 16 held a seminar themed "Promoting Vietnam's offshore wind power development: International practices and policy recommendations" in Hanoi.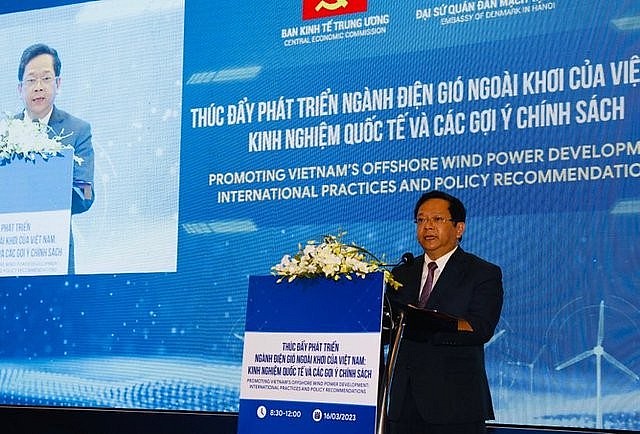 Nguyen Duc Hien, deputy head of the Party Central Committee's Economic Commission. Photo: VGP
Develop policies to support offshore wind power development
The seminar is part of the energy partnership program between the Governments of Vietnam and Denmark, which was started in 2013 and has achieved positive results.
At the opening of the seminar, Deputy Head of the Party Central Committee's Economic Commission Nguyen Duc Hien said that Resolution No. 55-NQ/TW on "National energy development strategy to 2030 with vision to 2045" set out the task of developing supportive policies and mechanisms for offshore wind power development in association with the implementation of the Vietnam Marine Strategy.
Vietnam is a country with potential and opportunity to develop wind energy, with more than 39% of Vietnam's territory having wind speeds greater than 6 m/s at an altitude of 65 m.
In particular, about 8% of the territory, equivalent to 112 GW, is assessed as having good wind energy potential. Along with the capacity and experience of building offshore works, marine works and supporting logistics systems of the oil and gas industry today, Vietnam can make good use of its internal resources to develop the offshore wind power industry associated with the value chain of supporting industries and logistics services in the coming years.
By the end of 2021, the total registered capacity of offshore wind power investment in Vietnam had been around 154 GW, Nguyen Duc Hien said, adding that the draft eighth Power Master Plan sets a target to develop about 16.12 GW of onshore and nearshore wind power and about 7 GW of offshore wind power by 2030, and 64.5 GW of this source of energy by 2045.
According to Nguyen Duc Hien, offshore wind power development in Vietnam has great opportunities but is facing big problems such as: Technical and technological complexity; large and long-term capital sources; the institutionalization and concretization of the requirements for the development of supporting mechanisms and policies for offshore wind power development mentioned in Resolution 55 have been slowly implemented by the competent authorities, with limited results.
From the fact that offshore wind power development is a new field in Vietnam, a representative of the Central Economic Commission said that the exchange and sharing of experiences of countries that have experienced in offshore wind power development such as Denmark is valuable to Vietnam.
"The seminar has an important meaning in the context that Vietnam is accelerating the energy transition process as required by Resolution 55 of the Politburo," said Deputy Head of the Party Central Committee's Economic Commission.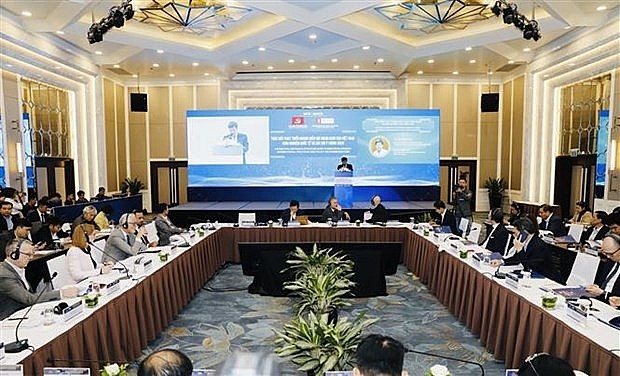 An overview of the seminar (Photo: VNA)
Promoting international cooperation in offshore wind power development in Vietnam
Danish Ambassador to Vietnam Nicolai Prytz said: "Offshore wind is a great dual opportunity for Vietnam, helping deliver green and cost-efficient energy for the continued economic development of the country and at the same time support Vietnam in achieving its net-zero by 2050 commitment made in COP 26".
According to the Ambassador, as one of the countries that strongly support Vietnam's green and sustainable energy transition, Denmark expects the Vietnamese Government to soon issue a clear and consistent legal framework, which is essential for the development of the offshore wind industry.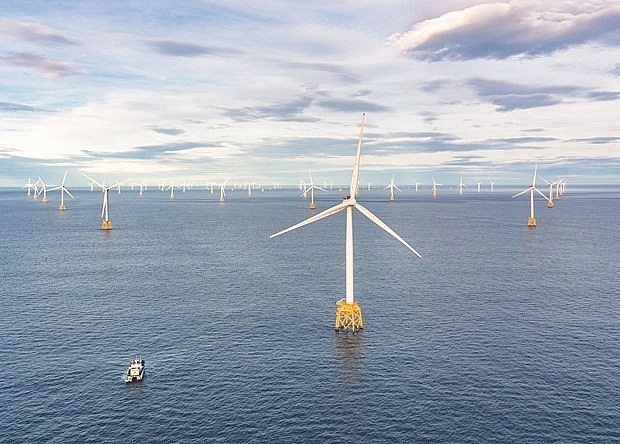 La Gan offshore wind power project. Vietnam has many favourable conditions to create a thriving offshore wind industry. Photo: VNP
Denmark has been a pioneer and a world leader in offshore wind energy since 1991 when it commissioned the world's first offshore wind energy farm. Today, Denmark also takes lead in reducing the cost of offshore wind power to make it one of the most competitive forms of renewable energy. This is vital and a great incentive for the rapid and widespread growth of the industry in Vietnam.
One of the key recommendations of the report "Input to Roadmap for Offshore Wind Power Development in Vietnam" prepared by the Danish Energy Agency and World Bank is that the Government of Vietnam should award large-scale demonstration projects to be commissioned in phases to kick-start the sector. It is now the time for the Government to take action if the target of having 7GW offshore wind capacity installed by 2030 as set out in the draft PDP8.
Henrik Scheinemann, Co-CEO of Copenhagen Offshore Partners, said: "It is critical that Vietnam should focus on instigating this proven and highly effective renewable energy industry and learn from other markets that have progressed well during their journey to deliver an offshore wind industry that is well-suited to the country's needs and skills".
The seminar has also received a lot of attention and discussion from Vietnamese policymakers, managers, domestic, foreign experts and the media.
Mark Hutchinson, Chair of the Global Wind Energy Council (GWEC) Southeast Asia Task Force, also shared about international best practices in a case study on offshore wind power projects in the United States, Japan, Taiwan (China) and Korea.
At the seminar, the delegates discussed the Danish experience and suggestions for Vietnam. They also mentioned issues related to offshore wind power development such as: The urgent need to issue a clear and stable legal framework for offshore wind power, implement a pilot mechanism, develop appropriate market conditions and support mechanisms.