Protecting Vietnam's Youth by Strengthening Mental Health Services
Vietnam aims to support child and adolescence mental health protection by making and implementing policy on psychosocial support staff in the social support system and other inititatives.
On Nov. 17, UNICEF and the Ministry of Labour, Invalids and Social Affairs (MOLISA) co-hosted the celebration of World Children's Day 2021 in Hanoi.
An alarming state of children and adolescence mental health
The World Children's Day 2021 is the annual event to remind the international community about International Convention on the Rights of the Child and there is a special focus each year.
This year's event aims to highlight the importance of healthy mental health for children, hence recommending more investment and action to mental health care of children all around the world.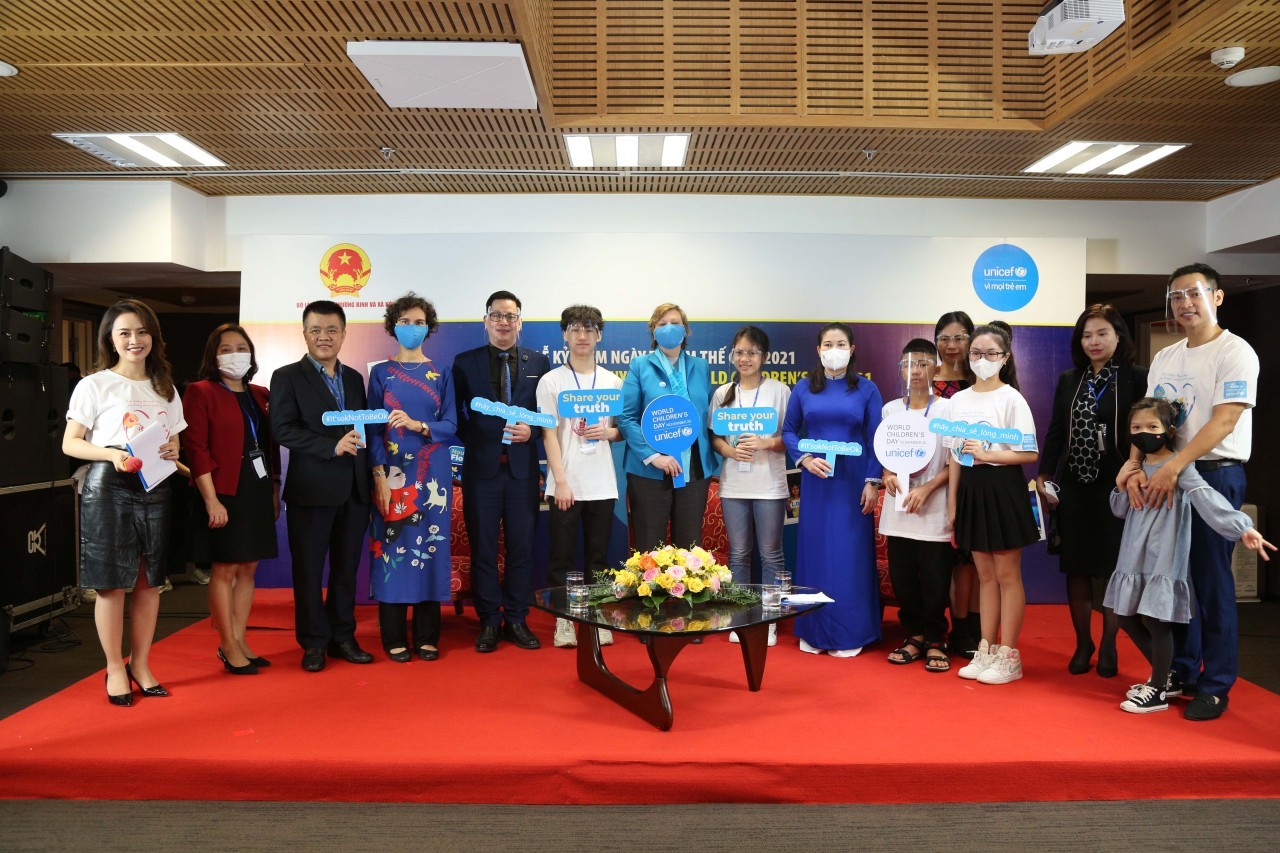 UNICEF and the Ministry of Labour, Invalids and Social Affairs (MOLISA) co-hosted the celebration of World Children's Day 2021 in Hanoi. Photo: MOLISA
Among other issues, the Covid-19 pandemic has had a negative effect on children and adolescent mental health for nearly two years. Understandably, Children report feeling anxious, fearful, insecure, and uncertain about the rapidly changing world. Many countries experienced serious disturbing levels of self-harm and suicide cases related to young people.
UNICEF insisted countries to make sure this pandemic does not lead to a crisis of hopelessness, lack of trust, and lack of confidence for generations of children. Adults are responsible for creating a more understanding, more accepting, and supportive world for children.
"Over the past two years, the impact of the pandemic has been evident across all areas of the Convention on the Rights of the Child, showing a setback in the attainment of all children's rights, with more and more children left behind. Children face isolation, fear and grief on a daily basis," said Rana Flowers, UNICEF representative. "The pandemic has clearly exposed areas that have not been fully addressed such as violence, digital access or child labor. It is clear that good health is not only physical health but also mental health."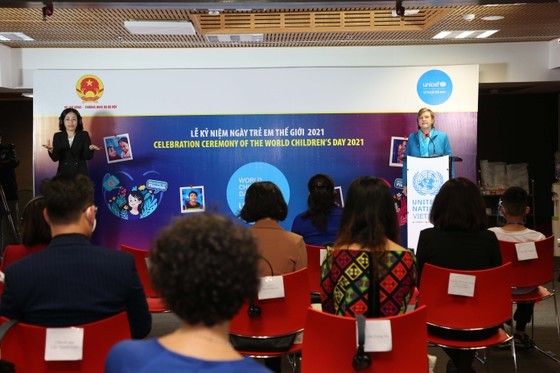 Ms. Rana Flowers, UNICEF representative delivered a speech at the event. Photo: Sai Gon Giai Phong Online
The prevalence of mental health difficulties has become worrying over the years. There is an increase in the number of children being discriminated against because of their differences, parents feeling overwhelming pressure, and children being isolated due to abuse, neglect and hardship.
Vietnam Action Program for Children 2021-2030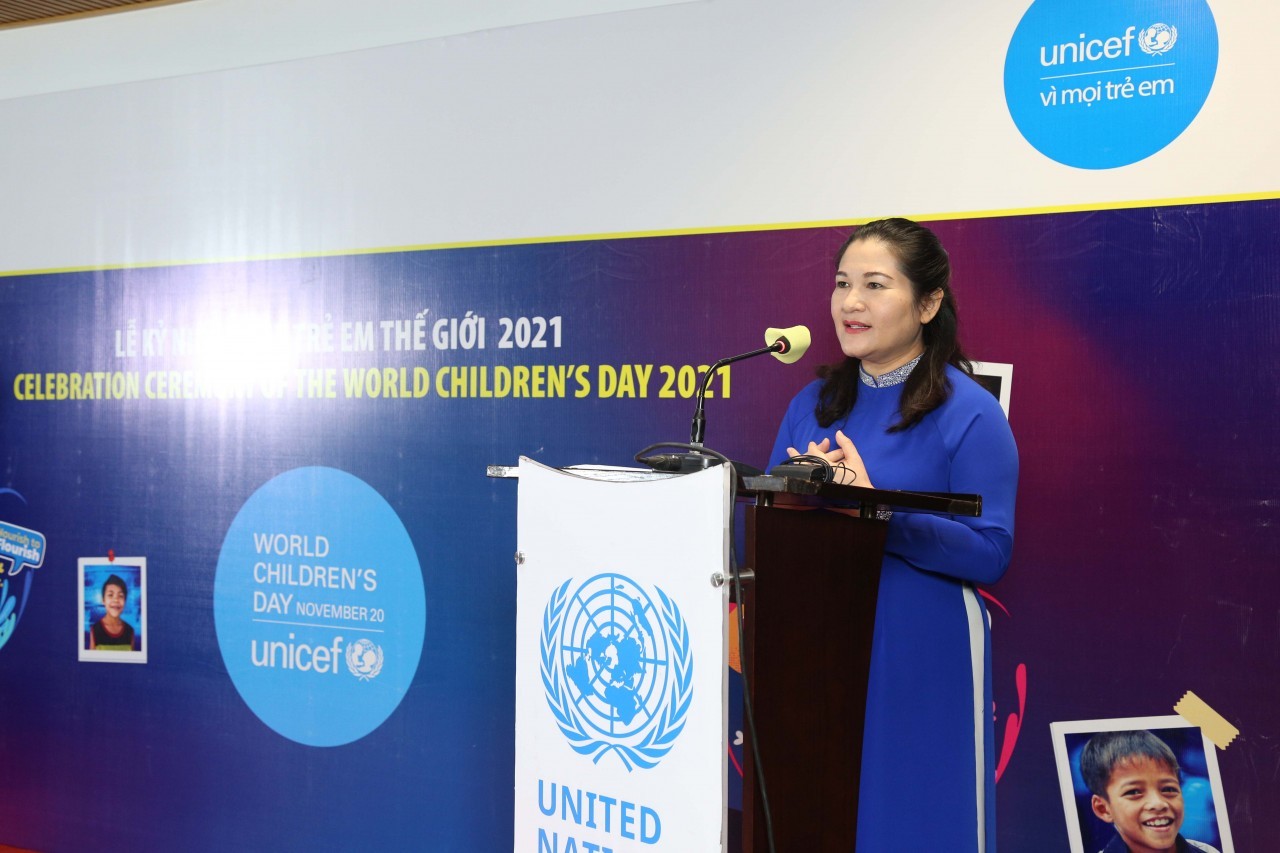 MOLISA Deputy Minister Nguyen Thi Ha
At the ceremony, MOLISA Deputy Minister Nguyen Thi Ha shared: "Vietnam is proud to be the first country in Asia and the second in the world to ratify this Convention on Feb. 20, 1990. Over 30 years of implementing the Convention, Vietnam is in progress in realizing children's rights and giving them a better life."
"The Prime Minister has promulgated the National Action Program for Children for the period of 2021-2030," she continued. "This plan includes programs and projects to prevent abuse, violence, accidents, and injuries to children, comprehensive care for children, take care of children with special circumstances and direct the implementation nationwide".
Regarding the negative impacts of Covid-19 on Vietnamese children and young people, the Deputy Minister proposed the collaboration of ministries, departments, agencies, and organizations to improve the quality of mental health care for children and caregivers. She suggested education on parenting knowledge and skills to timely diagnose and treat psychological trauma for children; interventions on children's mental health and psychosocial care with a multi-disciplinary approach, updating provisions of laws and policies related to children's mental and psychosocial health care in the social security system.
In Vietnam, the social work profession is still underdeveloped. There is an urgent need for a team of psychosocial support staff in the social support system; research and development programs and projects to overcome the impacts of the pandemic on children, with special social psychology emphasis.
The Deputy Minister concluded that our practical and meaningful actions will contribute to ensuring the implementation of children's rights, and help them develop confidence in the future.
At the event, Vietnamese children and young people shared their own stories, which showed that these groups are among the most vulnerable social components during the pandemic but they are not yet receiving the necessary support to develop healthy and balanced mental and physical states.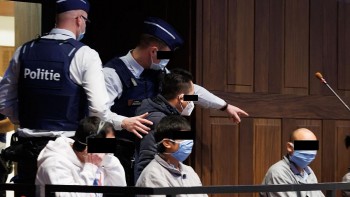 Overseas Vietnamese
Belgian court sentenced smuggler organization over 39 Vietnamese victims found dead in sealed lorry container in Essex.