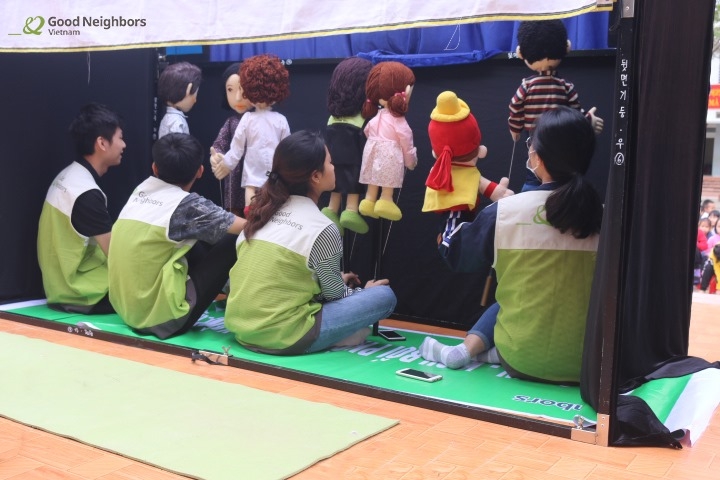 Puppets are powerful teaching tools. The show using puppets to ensure that children find them interesting. Source: GNI in Vietnam
From November 2 to 10, GNI cooperated with the Education and Training Department of Vinh Loc district to organize 18 Good Puppet Shows (GPS) at 10 primary schools in eight communes outside of GNI's project area.
The problems of child violence, unfortunately, is very urgent in Vietnam. So, what to do and how to protect our children? How to bring and correctly explain to them how to behave? How to self-protect and do not believe in lies of someone even familiar parents, who with different ways can lie to the child and accomplish their crime.
With this aim, GNI created puppet shows to help explain sexual violence to children and understand how to prevent and report it.
The puppet show is a part of Good Neighbors' worldwide education programs on children's rights, and it's been adapted to the local circumstances of Vietnam in order to be performed in schools.
The stories from the show are very easy in content and deep in meaning, understandable to children, and very interesting. As well the program is effective because children receive information from puppets and this is much easier to perceive and stays in minds of children for a long time, as well is transferred to other children.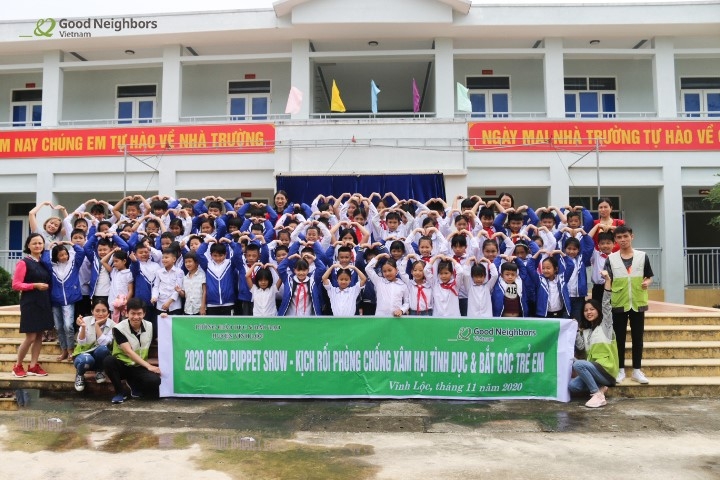 The puppet show created to appeal to children. Source: GNI in Vietnam
The recent activity in Vinh Loc district with 18 performance shows at 10 primary schools in eight communes, attracted participation of 4.834 people. The program is to make children aware of possibly harmful circumstances such as abuse, kidnapping and equip them with skills, methods to cope with a dangerous situation.
GPS is one of the activities of the Child Right Education (CRE) program, which has been implemented by GNI since 2016, to provide different target groups including children, parents, teachers, and community members with knowledge, skill about child rights, and protection of children from abuse risks.
In Vinh Loc district, since 2016 until now, GNI has organized more than 40 shows at the primary schools in the area project with more than 12,000 children participating./.
NGO upgrades education facility in Thanh Hoa

The Korean non-governmental organization Good Neighbors International (GNI) Vietnam recently provided support to upgrade facility of Vinh Ninh Kindergarten and Primary school in Ninh Khang ...
Hannah Nguyen