US-funded renovation of UNESCO-recognised Ho Dynasty Citadel gate completed
The restoration project of the southern gate of the Ho Dynasty Citadel in Thanh Hoa province, which was funded by the US Ambassadors Fund for Cultural Preservation (AFCP), officially completed by a ceremony on June 29.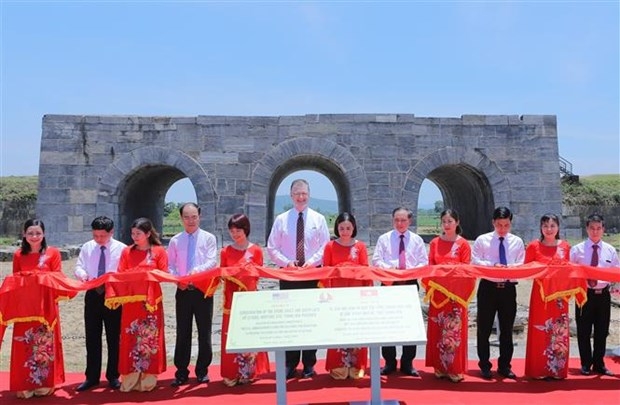 At the ceremony. Photo: VNA
The Ho Dynasty Citadel in Vinh Loc district was Vietnam's capital under the Ho Dynasty (1398-1407) in the 14th century.
The dimensions of the citadel, which was built in 1397, are 870m by 883m.
The southern gate was built of large rectangular and crescent stones. It is one of the most attractive destinations of the Ho Dynasty Citadel but has been heavily damaged after 600 years. It is the only in the country built entirely of stone that has remained nearly intact throughout the nation's history.
Many experts believe that the Tay Do citadel is one of the largest and most unique citadels in all of Southeast Asia and one of few remaining stone fortifications in the world.
The structure was recognized as a World Cultural Heritage site by UNESCO in 2011. In 2012, the Prime Minister signed a declaration to recognize the Ho Dynasty Citadel as a national relic.
However, after 600 years, the area is facing serious erosion. The gate, especially the left – or western – stone vault, is the most important original structure within the citadel complex, but was also the most seriously damaged. In 2018, the AFCP approved a grant of USD 92,000 to repair the dome and southern gate of the citadel.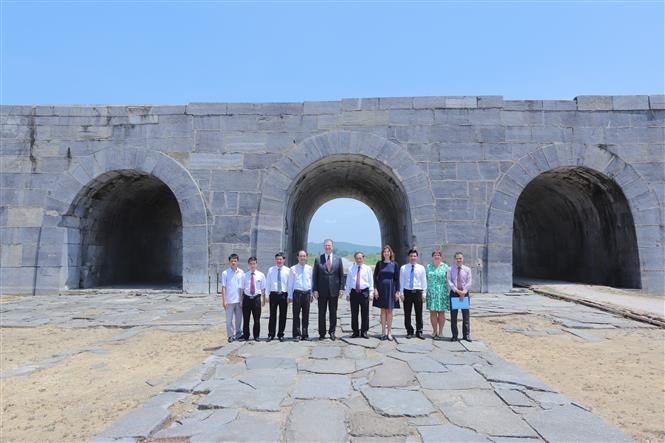 The southern gate of the Ho Dynasty Citadel.
Speaking at the ceremony, US Ambassador to Vietnam Daniel Kritenbrink expressed his impression of the unique cultural and historical values of the World Cultural Heritage, affirming that the project not only helps preserve the historical and cultural values of Vietnam and the world, but also contributes to further consolidating and deepening the Vietnam-US friendship.
For his part, Vice Chairman of the Thanh Hoa People's Committee Nguyen Duc Quyen thanked the ambassador and the AFCP for sponsoring the project, saying the project shows a positive result in the cultural heritage preservation cooperation between Thanh Hoa province and the US Embassy in Vietnam.
In addition to restoring and embellishing the Ho Dynasty Citadel, the project also aims to raise public awareness of heritage preservation and promote the site's value to visitors to Thanh Hoa province.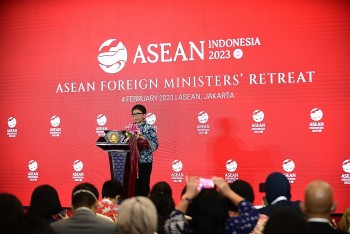 National
Indonesia hosted the first major meeting for its 2023 ASEAN Chairmanship - the 32nd ASEAN Coordinating Council (ACC) meeting and the ASEAN Foreign Ministers' (AMM) Retreat.