Purple longan: the unique fruit helping farmers earn a fortune.
After accidentally discovered a new type of longan with purple peel, Mr. Tran Van Huy, a farmer in Soc Trang Province, successfully propagated purple longan – the unique fruit that only exists in Soc Trang Province, leading to the improvement in the income of numerous farmers in Soc Trang Province.
Although purple longan has been putting on the market for more than 5 years, it is still hunted by many people because of its extraordinary features.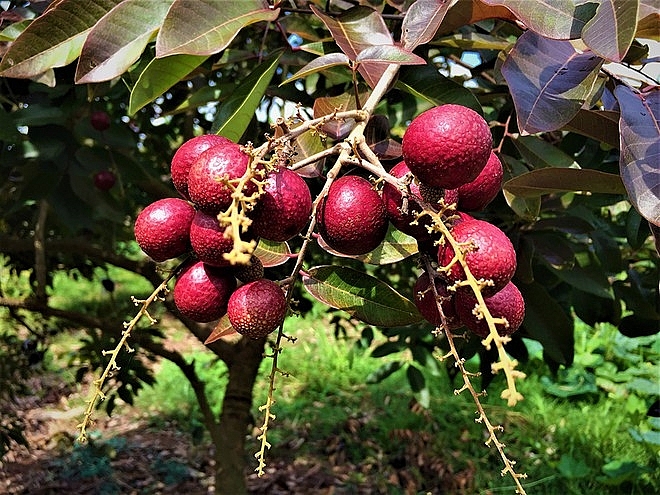 Toan's 1ha purple longan garden is ready to harvest. Photo: Thanhnien.vn
Located in Con An Loc, Hoa Tan commune, Cau Ke District, Tra Vinh province, the purple longan garden with about 1,000 roots/hectare of a young boy named Ta Trung Toan has been receiving a great deal of public attention in fruit market recently.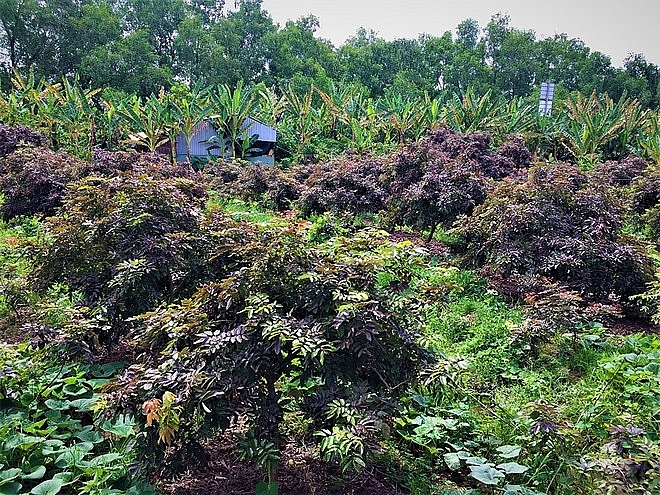 Currently, the garden has about 300 purple longan trees bearing fruit, estimated to yield 2 tons.
Photo: Thanhnien.vn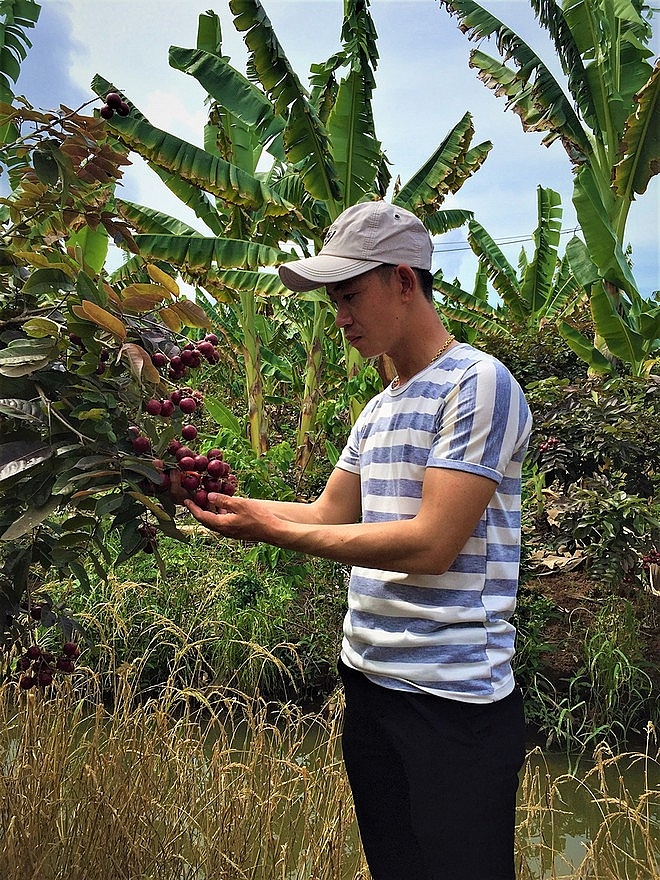 Ta Trung Toan standing near a purple longan who is 3 years old, has given 2 fruits. Photo: Thanhnien.vn
Mr. Toan said about 5 years ago when he first heard about the purple longan that appeared in Soc Trang, he went to the place to buy seedlings. Due to the scarcity of products, he could buy merely 3 seedlings and had to pay 1.2 million dong /tree.
Although the price of seedlings was quite high at that time, he ventured to plant this tree because he recognized the economic potential of this new agricultural product. At first, he had to overcome many difficulties, since he did not know the proper technique.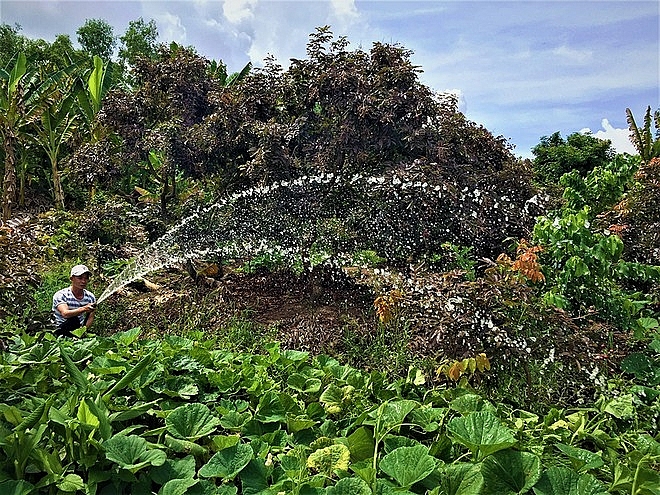 Purple longan is easy to grow with similar technique to usual longan types but a higher percentage of blooming. Photo: Thanhnien.vn
In the first place, he built high mounds and dug a deep hole to grow the tree but the longan developed really slow. Then, he decided to build lower mounds. Fortunately, the longan grew so well that from the original 3 seedlings, now he has about 1,000 roots ranging from less than 1 year old to 5 years old.
Also, according to the owner of the garden, purple longan is very suitable for growing on dune soil or alluvial soil. Especially, the resistance of the longan is so high that it can prevent dragon broom disease without using any pesticides or fertilizer. Moreover, the trunk is stronger than ordinary longan, which makes it is able to resist the storm. In conclusion, the purple longans creates huge profit and is easier to grow compared to the usual longans.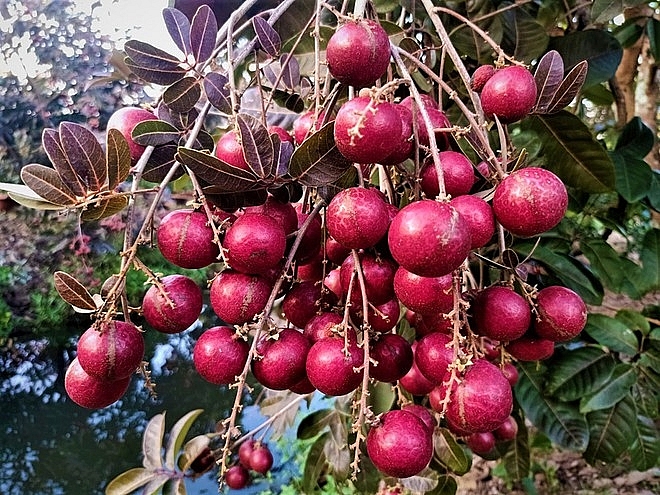 The process from flowering to harvesting lasts 3 months. Photo: thanhnien.vn
Currently, Mr. Toan purple longans seedlings are sold with 500,000 VND/each ( US $ 22-24).
The purple longan produces 2 crops/year, with the main one is in June, and the others in December. It took the purple longan 3 months from flowering to harvest. On average 18-month- old longan will start to produce fruits, within the first few years the garden only produced a few dozen kilograms. However, the rate increased year by year and until now, the purple longan production of Mr.Toan's garden is estimated up to 2 tons.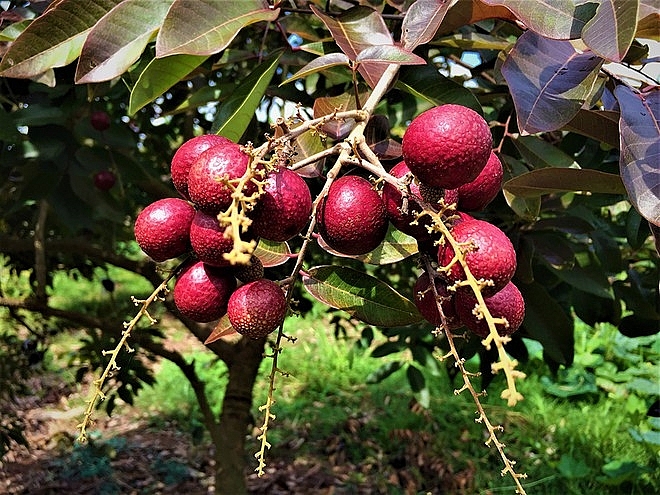 If longan on the market is priced at 15,000 VND / kg, the purple longan is up to 150,000 VND / kg, and the seedling is up to 500 thousand VND / tree, but the production still does not meet the needs of consumers. Photo: Thanhnien.vn
Although it has appeared for a while, the consumption fever of this longan has not cooled down. Despite the effects of the Covid-19 pandemic, the price of this longan remains at bay at VND 150000/kg. Mr. Toan said after eliminating all the costs, he earns nearly VND 300 million from this crop.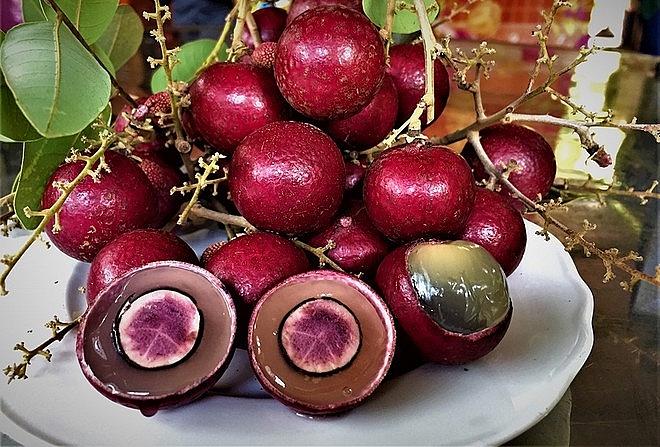 Except for longan, most of the other parts of the plant even the seeds are still purple, which is the unique feature of this strange and unique longan. Photo: Thanhnien.vn
At present, Mr. Toan's purple longan has been appearing in many big cities across the country. In the near future, he plans to create purple longan bonsai for the ornamental plants market during Tet holiday.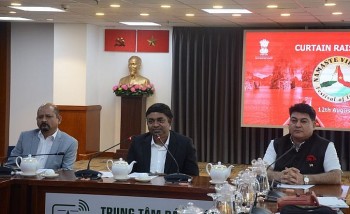 Handbook
The First Namaste Vietnam Fest will be held to mark 75 years of Indian Independence and the 50th anniversary of the establishment of Vietnam-India diplomatic ties (1972 – 2022).