Vietnam's coastal border guards rescue three Indonesians off Mekong Delta coast
Three Indonesian sailors who drifted into waters off the coast of the Mekong Delta's Soc Trang province were saved by local coastal border guards on April 27 and 28, reported VNA.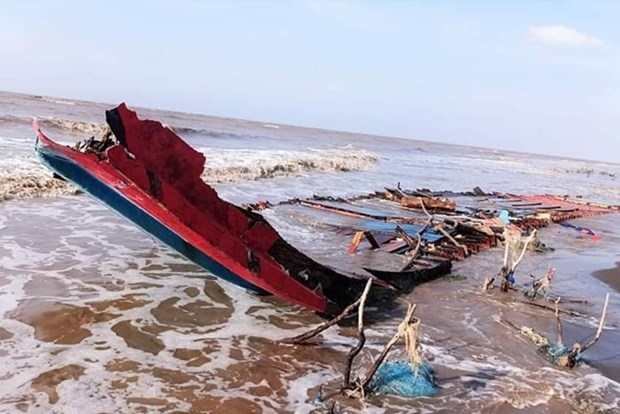 The wreck drifts into waters off the coast of the Mekong Delta's Soc Trang province (Photo: Soc Trang Border Guards)
One had a head injury and was treated immediately, while the other two are in a good condition, Colonel Nguyen Triu Men from the provincial Border Guards Command said.
The three men and four others who are still missing were on board the JAGAL RAYA, which was carrying 230 tonnes of rice from My Thoi Port in the Mekong Delta province of An Giang to the Philippines. The ship ran aground at 9pm on April 26 at Buoy No. 3, about 5 nautical miles southeast of Tra Vinh province.
At 8am on April 27, the ship's owner informed authorities that it had a problem with its engine and its cargo area was flooded with water. He requested towage assistance.
From 2.30 pm to 5.15 pm on the same day, the vessel Bien Dong 7 and pilot vessels searched an area from Buoy No. 0 to Buoy No. 23 but could not locate the Indonesian ship.
According to the sailors, two days after departing, the ship experienced a problem in Vietnamese waters due to strong winds and began to sink.
The border guards took the three sailors to the Vinh Chau Town General Hospital for monitoring, medical care, and quarantine in line with regulations.
They are coordinating with coastal forces and fishermen to search for those still missing.
Earlier, a Filipino sailor who lost consciousness while working on a Panamanian vessel was rescued early on April 23 by staff from the Maritime Search and Rescue Coordination Centre (MRCC) of Region 3 based in the southern province of Ba Ria-Vung Tau./.