"Quad" nations join forces supposing to send a tough message to China
In the context that the US, Japan, India and Australia all witnessed new ups and downs in the relations with China, the "Quad" has become more connective than ever.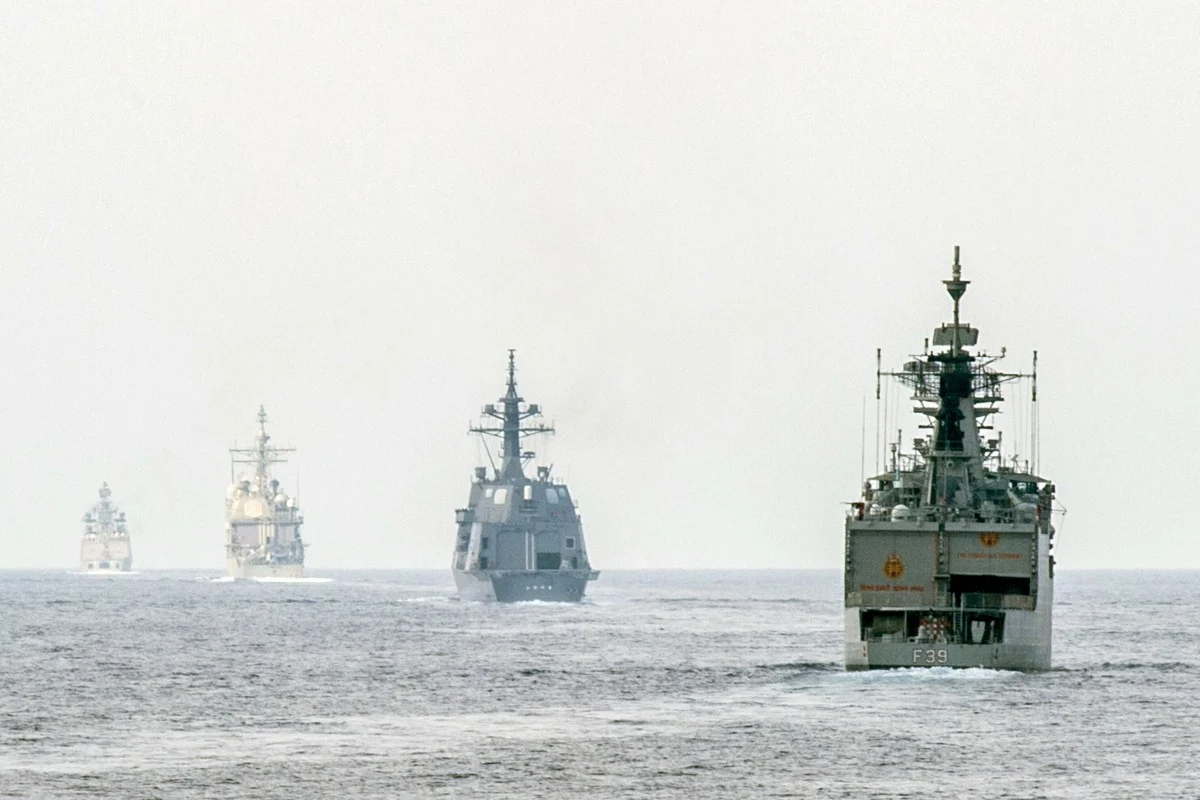 Japanese, Indian and US ships take part in Malabar in 2015, when Australia was not involved. Photo: AFP
After 13 years, Australia on November 3 joined their counterparts from the United States, Japan, and India on Tuesday for an annual naval exercise in the Bay of Bengal in a move widely seen as sending a message to China, SCMP reported.
Resolute stands against Beijing
The exercise comes less than a month after a highly symbolic Quad meeting in Tokyo of the top diplomats of four of the most powerful democratic countries in the Indo-Pacific region — Japan, Australia, India and the United States. Although few concrete takeaways emerged from those talks, they were widely interpreted as a message to China, Japan Times reported.
The exercise are not formally linked to the Quad forum, but observers say the participants hope to turn drill into a counterweight to Beijing's increasingly potent military and political influence in the region.
The first phase of the exercises run through Friday, while a second phase will be held later this month.
This year's exercises, their 24th iteration, include a variety of "high-end tactical training," including anti-submarine and anti-aircraft drills "that are designed to enhance interoperability" between the four countries' militaries, the Maritime Self-Defense Force and U.S. Navy said in separate statements.
"Malabar provides an opportunity for like-minded navies, sharing a common vision of a more stable, open, and prosperous Indo-Pacific, to operate and train alongside one another," said Cmdr. Ryan T. Easterday, commanding officer of the USS John S. McCain destroyer, which was participating in the exercise.
"A collaborative approach toward regional security and stability is important now more than ever, to deter all who challenge a free and open Indo-Pacific."
India is currently embroiled in a violent border showdown with China and has sought closer military ties with other countries, according to Aljazeera.
The border standoff began in May and escalated in June to the deadliest violence between the two sides in decades – a clash between soldiers using clubs, stones and their fists.
Both sides have held several rounds of talks by military, diplomatic and political officials, including negotiations between their foreign ministers and defence ministers in Moscow in September.
Tokyo, in particular, has been unnerved by the increasing presence of Chinese government vessels near the Japanese-controlled Senkaku Islands in the East China Sea. The tiny, uninhabited islets, which Beijing also claims and calls the Diaoyu, saw Chinese ships break records this year for most consecutive days and most days in a year near the islands.
The historical exercise
Last October, Foreign Ministers of the four countries met in Tokyo to discuss increasing cooperation in the Indo-Pacific. Two weeks later, India announced that Australia had once again agreed to join Malabar joint exercises proving the parties have dismissed the shyness when taking actions supposed to "contain" China.
The exercise involved state-of-the-art military equipment, including the guided-missile destroyer USS John S. McCain of the United States, the long-range escort ship Ballarat of the Royal Australian Navy and destroyers of Onami axis of the Japan Maritime Self-Defense Force.
On the host countryside of India is the destroyer Ranvijay, the escort ship INS Shivalik, the patrol boat INS Sukanya, the logistics ship INS Shakti and the submarine INS Sindhuraj. New Delhi also deploys air forces such as P-8I submarine-hunting aircraft, Dornier marine patrol aircraft, helicopters, and Hawk training aircraft.
The Malabar exercisecomes at a time when China prepares to add wheat to the list of prohibited imports from Australia. Earlier, Beijing announced plans to ban imports of many Australian agricultural and mineral products.
In June 2020, Indian Prime Minister Narendra Modi hosted an online bilateral summit with Australian Prime Minister Scott Morrison. At the meeting, the parties agreed to upgrade the relationship to a "comprehensive strategic partnership". Mr. Modi said that this is "the perfect time" to strengthen cooperation between the two sides. Earlier this year, some sources said, India will import barley from Australia after China imposed 80.5% tax to this item.
Sending a message to China
The Malabar exercises provide a highly visible chance for the countries to push back against China. Beijing has been critical of both the Quad and the Malabar exercises, alleging that they are part of an attempt to forge a military alliance designed to rein in China, Japan Times reported.
Experts have said that given the four Quad countries' economies, military capabilities and geographic locations, the Malabar exercise represents another step toward a nightmare scenario for Chinese military planners by creating a de facto alliance.
Malabar was launched by India and the U.S. in 1992 and added Japan as a permanent partner in 2015. After more than a decade of absence, India invited Australia to participate this year "to increase cooperation with other countries in the maritime security domain and in light of increased defense cooperation with Australia," the Indian Defense Ministry said in a statement earlier this month.
Australian Defense Minister Linda Reynolds on Tuesday highlighted the exercise as a symbol of improved ties between the Australian and Indian militaries.
"India and Australia are natural partners in the Indo-Pacific, and Exercise MALABAR is a clear demonstration of the depth of trust and cooperation between our defence organizations," she said in a statement.
It is unclear if the Malabar exercises will ultimately be formalized within the loose architecture of the Quad, but experts say this year's drills are a step in that direction.
"An expanded Malabar points to the emergence of a structured maritime coalition in the Indo-Pacific, amounting to an emergent defense maritime architecture vis-a-vis a revisionist China," analyst Jagannath Panda wrote earlier this year on the website of the Asia Maritime Transparency Initiative at the Center for Strategic Studies think tank.
Last year, the Malabar exercise took place off the coast of Japan. At that time, the United States had fielded a Los Angeles-class nuclear-propelled attack submarine (SSN) along with a destroyer and a P-8A maritime surveillance aircraft, according to The Diplomat.
In fact, last year's Malabar saw India field a P-8I aircraft as well, while Japan's navy included a Kawasaki P-1 maritime surveillance aircraft – platforms crucial for ASW operations. Given that the Australia has owned P-8A planes since 2016, this year's Malabar could have been the perfect opportunity for all four to jointly show off their ASW chops. The picture becomes even more muddled when one considers the fact that last year's bilateral Australia-India naval exercise had a strong ASW component, where Australia had sent a P-8A aircraft.