Quang Nam Promotes Culture, Ginseng Among Domestic, Foreign Friends
A ceremony was held in Nam Tra My district, the central province of Quang Nam, on August 1 evening to mark the 20th anniversary of the district's reestablishment (August 1). The fifth Ngoc Linh Ginseng Festival was also kicked off on this occasion.
Delegates to the celebration of the 20th anniversary of Nam Tra My district's reestablishment (August 1) and the opening ceremony of the fifth Ngoc Linh Ginseng Festival.
The events aimed to promote Ngoc Linh ginseng, as well as the image, potential, and strengths of Nam Tra My to both domestic and foreign friends, while calling on the public to join hands in protecting forests, preserving and promoting traditional cultural values, and creating a foundation for tourism development, thus contributing to local socio-economic development, according to organizers.
Through the celebration, the district introduced its achievements in various fields such as economy, socio-cultural aspects, and national defense and security over the past two decades.
Organizations, collectives, and individuals who have significantly contributed to the construction and development of Nam Tra My district were also honored on this occasion.
In his remarks, Phan Viet Cuong, member of the Party Central Committee, Secretary of the provincial Party Committee, and Chairman of the provincial People's Council, said Nam Tra My district was established in March 1947 under the name Chau Tra My.
After several divisions, mergers, and name changes, Tra My district was divided into two administrative units at the district level - Nam Tra My and Bac Tra My - on June 20, 2003, to meet development requirements, he continued.
This is a favorable condition and a great opportunity for both localities, Nam Tra My and Bac Tra My, to develop together, he said.
Throughout its journey of formation and development, especially the 20 years since its reestablishment, the Party Committee, authorities, and ethnic groups in Nam Tra My have stayed united, self-reliant and self-resilient, overcome difficulties and challenges, and made efforts in development, he said, noting that their efforts paid off as significant achievements have been recorded in various fields.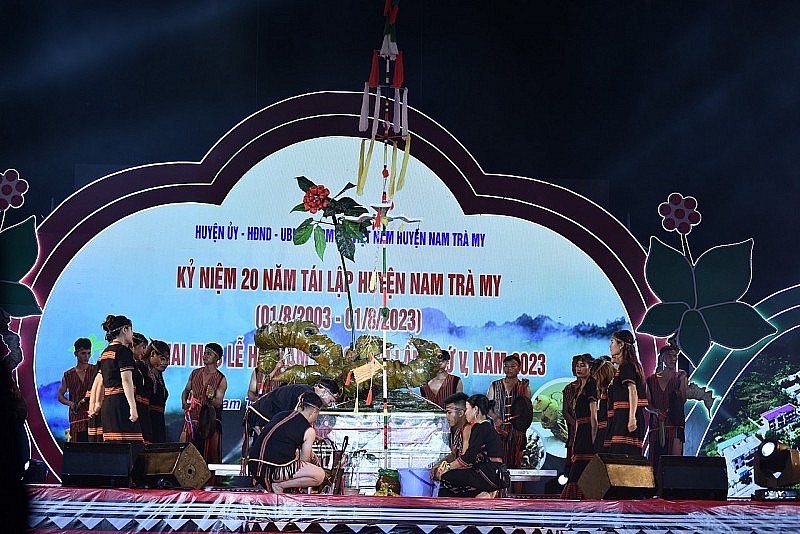 A ritual of the Ngoc Linh Ginseng Festival.
Speaking of Ngoc Linh ginseng - a particularly precious herbal plant of Quang Nam, the official stressed that in recent years, ethnic minority groups in Nam Tra My have worked hard to turn it into a key crop to get out of poverty.
Many organizations, businesses, households, and groups of households have grown Ngoc Linh ginseng with a total area of nearly 810 hectares and over 3 million plants whose prices remain stable, according to Cuong.
Scientists have also studied the application of scientific and technical advances to the cultivation, production, and intensive processing of products from ginseng. Ginseng growers have been aware of forest protection and development during the cultivation.
With the aim of introducing and promoting Ngoc Linh ginseng and other medicinal herbs, as well as local tourism potential to domestic and foreign visitors and investors, the festival is an important event to convey the messages of Ngoc Linh ginseng to every corner of the country and the world, striving to develop Nam Tra My into a key medicinal herb area of the nation.
Ngoc Linh ginseng and other mountainous medicinal herbs of Nam Tra My are expected to contribute to economic growth, and biodiversity and ecology conservation, the official believed.
The festival and the celebration of the 20th anniversary share theme of "Ngoc Linh-Aspiration to Reach Far." The festival takes place from August 1-3 in hamlet 1, Tra Mai commune, Nam Tra My district.
As part of the celebration, the organizers will hold a photo contest featuring various types of medicinal plants, nature, land, culture, and people of Nam Tra My, along with a camping festival and folk games. Notably, a singing festival will be organized with the participation of officials, public servants, labourers, and armed forces, among others.
Furthermore, there will be a gong festival, a photo exhibition on Ngoc Linh ginseng, medicinal plants, landscapes and culture of Nam Tra My, and a market of Ngoc Linh ginseng, medicinal herbs, and agricultural products with 60 booths from local residents and businesses in and outside the district.
There are multiple activities held on the sidelines of the celebration.
The opening ceremony took place on August 1 evening with various activities, including a procession of the Ngoc Linh ginseng symbol, film screening, and art performances.
Over the past 20 years, outdated customs of ethnic minority groups in Nam Tra My district have been basically eradicated; 80% of its villages meet cultural standards; and living standards of local residents have been improved significantly, with the poverty rate dropping from 77% in 2003 to 44.69% this year, and the average per capita income rising from 2 million VND (US $82.88) in 2003 to nearly 35 million VND last year.