Quang Nam Province Thanks US Veterans for War Consequence Settlement Efforts
Quang Nam province strengthens coordination with the the Vietnam Veterans of America to overcome the consequences of the war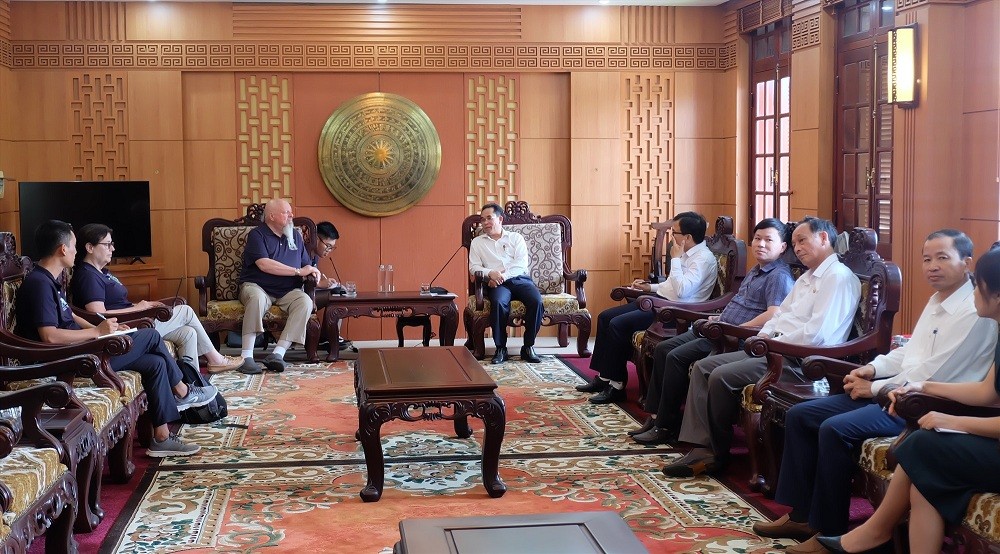 At the reception. Photo: Quang Nam newspaper
The People's Committee of central Quang Nam province on May 29 hosted a reception for a delegation of the Vietnam Veterans of America (VVA) led by the Chairman of its Prisoners of War and Missing in Action (POW/MIA) Committee Grant Townsend Coates, VNA reported.
The VVA's delegation including Grant T. Coates and Margaret Pratt Porter, Director of Communications and Public Affairs of the VVA, who are in Vietnam from May 16 to June 5.
Tran Anh Tuan, Vice Chairman of the provincial People's Committee, said Quang Nam is among the localities severely hit by wars, with 6,300 victims of Agent Orange (AO)/dioxin.
Up to 226 communes in Quang Nam, which make up 34.6% of the provincial area, have been affected by war-left unexploded ordnance, he added.
The official attributed contributions of US investors to the province's socio-economic development, saying Quang Nam is now home to eight US projects with a total investment capital of nearly USD 21 million, mostly in electronics, garment-textile, education and catering services.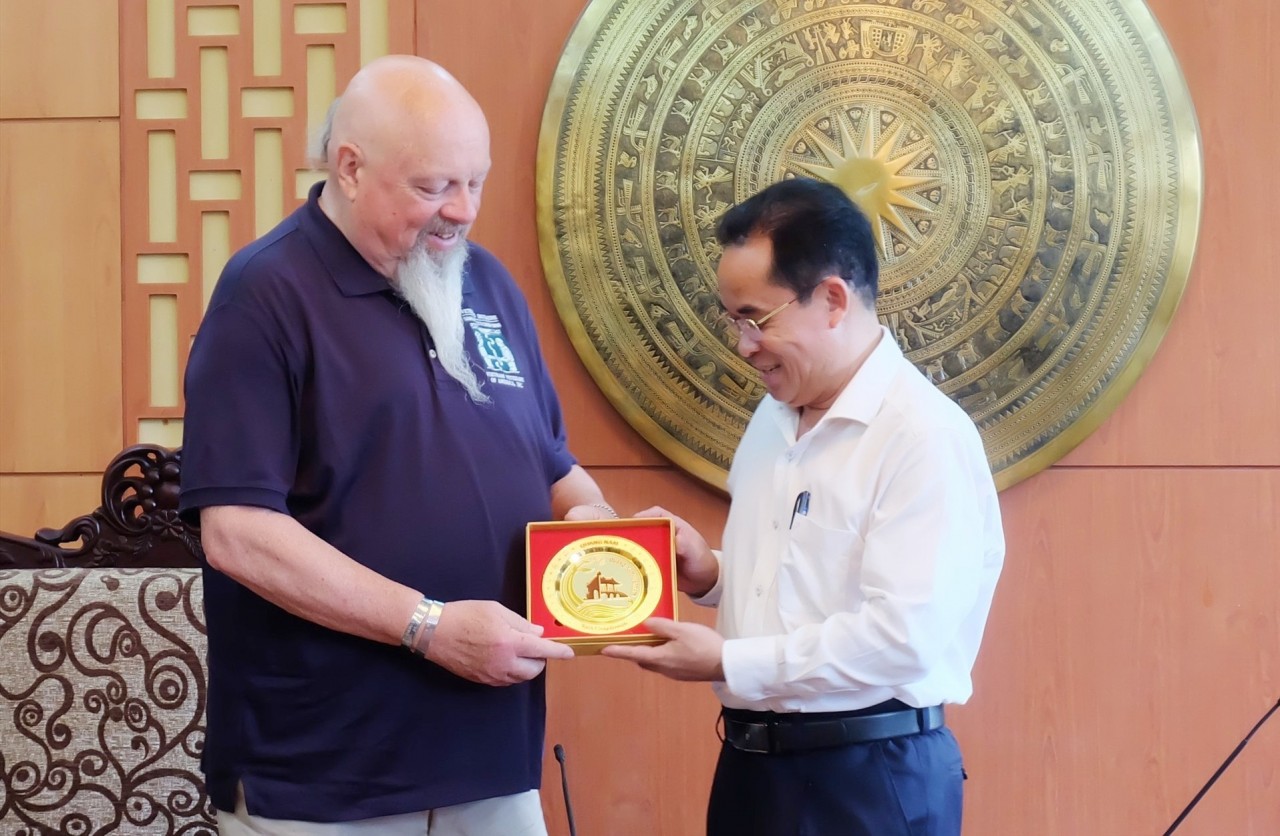 Vice Chairman of the Provincial People's Committee Tran Anh Tuan presented a souvenir to Grant Townsend Coates. Photo: Quang Nam newspaper
Notably, during the 2016-2020 period, the US Agency for International Development (USAID) funded about USD 15 million to help Quang Nam roll out the Truong Son Xanh project on climate change response, he continued.
Besides, 21 US organizations are also helping Quang Nam with projects and programmes on agricultural and rural development, health care and education with accumulative funding of more than 3 million USD, Tuan said, highlighting a project on bomb and mine clearance in the province.
The official expressed his hope that the VVA will continue its assistance to Vietnam in the implementation of humanitarian projects relating to the settlement of war consequences, particularly the support to AO victims.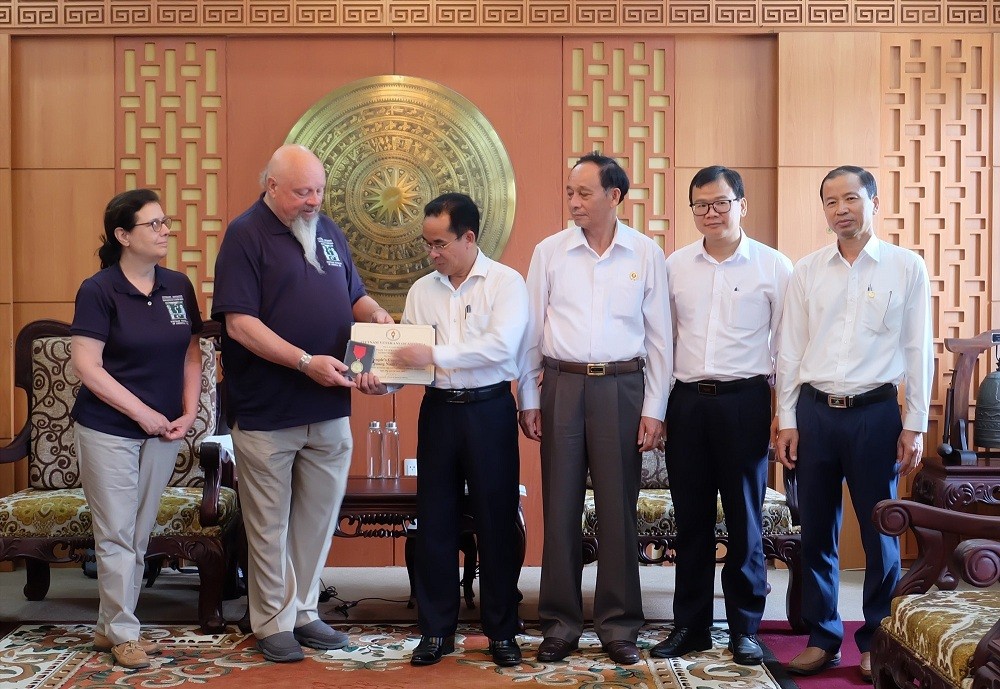 Vice Chairman of the Provincial People's Committee Tran Anh Tuan wished that VVA would continue to support Quang Nam in implementing humanitarian programs. Photo: Quang Nam newspaper
For his part, Coates pledged that his committee will work harder to collect information about Vietnamese soldiers and victims who died during the war, and propose the US government pay more attention to AO victims, wishing through programs to help heal the wounds of war and strengthen the friendship between the two countries.
Previously, the VVA delegation visited and worked with the Veterans Association of Quang Nam province.
The VVA, a non-governmental organisation specialising in supporting issues related to US veterans of the war in Vietnam, has pledged to collect information about Vietnamese soldiers who died during the war to help retrieve the martyrs' remains so that they can rest in peace in their homeland.
Since 1994, the VVA has launched a programme called "Veteran Initiative" to find missing US soldiers in wartime and provide information about battles related to Vietnam's soldiers.
During 25 visits and working sessions in Vietnam, the VVA has transferred information on 12,000 cases of Vietnam soldiers' sacrifices and missing in combat, helping Vietnam to search and retrieve the remains of 1,500 martyrs, contributed funds, raised USD 20,000 to build Hoa Phong dispensary, Hoa Vang district, Da Nang city.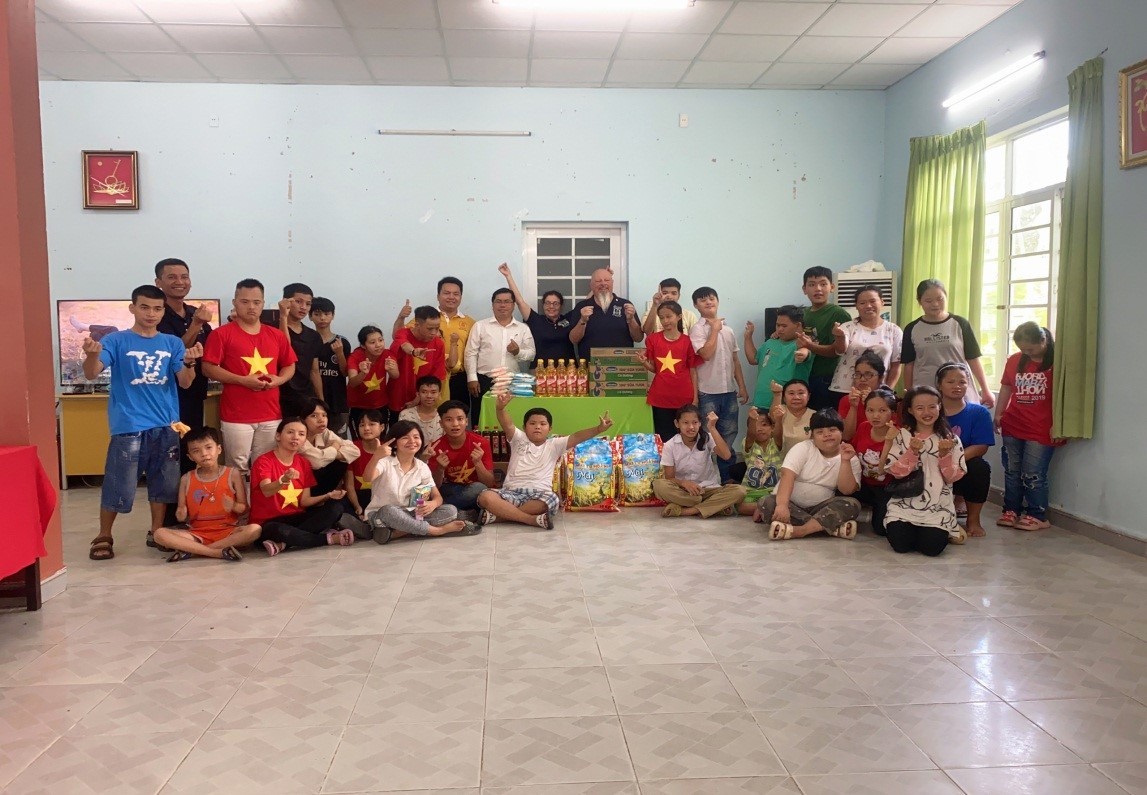 The delegation gave gifts and necessities worth USD 200, to the Center for the Protection of AO Victims and Unlucky Children in Da Nang City. Source: dientudacam.vn
On May 23, the Standing Committee of Thua Thien Hue Provincial Association of AO/Dioxin Victims received and worked with the VVA's delegates.
The two sides discussed a number of issues about finding funding sources to support AO/Dioxin victims. On this occasion, the delegation gave three bicycles to students who are children and grandchildren of AO victims in Huong Thuy and Huong Tra towns.