Sister of Slain American Soldier Learns Forgiveness, Peace in Vietnam
Susan Warner-Bean, sister of David Howard Warner, a US Marine who died in Hue in the battle of Mau Than Uprising (1968), talked about how her family overcame pain and opened their hearts to foster peace.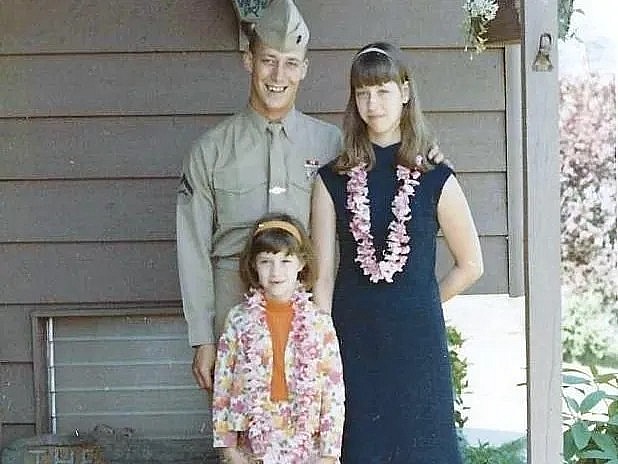 Little Susan (in orange), her sister and brother (Photo courtersy of Susan Warner-Bean)
"We must not forget the lesson from the past, because when we forget, it will all repeat itself. Listen to stories of those who went through war, and learned from their stories. Build friendships, because no one wants to start a war against their friends. Every relationship, every connection, every time we open our hearts, we get closer together," said Susan "Sue" Warner-Bean, a PeaceTrees Vietnam board member, at a gathering of Vietnam - US veterans and their relatives held by the Viet Nam Union of Friendship Organizations in early 2023.
"My mother chose to open her heart"
David Warner was 21 and Susan was 7 when he died in Vietnam. In Sue's memory, David was a joyful young man who love sports, skiing, and teasing his sisters. They used to have water fights and enthusiastic renditions of "The Halls of Montezuma" when he returned home on leave from the US Marine Corps.
"When we received the news of his death, my mother had two choices, whether she would embrace the pain of losing a child or open her heart to overcome the pain. My mother understood that hatred is a great pain. If she held grievance, that emotion would eventually poison her and the family. So she chose to open her heart and see building friendships and fostering peace as a way to remember her lost son.
"My mother believes that peace is initially built from person to person. She connects with people in many different ways, through my sister who is an international student, or through the local expat community. She finds foreigners living near her home, walks up to them, makes friends, invites them to dinner, and learns about their culture. My house is always open to friends from many countries. My mother shows love to everyone she meets," Susan recalls.
A portrait of Susan Warner-Bean.
Return to Vietnam
Sue's first trip to Vietnam was in 2005. She was accompanied by Chuck Meadow, PeaceTrees' Executive Director. "Chuck Meadow was my brother's commander when he was in Vietnam, then 38 years later he led me to Vietnam, but this time for a whole different mission," said Sue.
"It was the first time I came face to face with the pain. I was bewildered and overwhelmed. I tried to imagine what he had come through, tried to see Vietnam through his eyes, and listen through his ears. I tried to find out what he found beautiful, what frightened him. I tracked down the last scene that he saw before passing away. I even came to the paddy field where he died. It was a beautiful field surrounded by hills. Standing there, I could feel his existence, like he was saying to me that he had been waiting for me."
"My mother, though has opened her heart, still could not face the pain of losing her child. Years after David's death, my family still talked about how he lived, but we never talked about how he died. His box of belongings was left untouched in the closet."
When Sue told her mother about her intention to go to Vietnam, her mother replied with a long pause, "like her heart dropped a beat," Sue said. However, when she came back, her mother was eager to hear about the trip.
"Just like how she chose to open her door to make friends, I think she chose to open her heart for this. She was moved by stories of the kindness and warm welcome Vietnamese people had for me. Eventually, she decided to open my brother's box."
In David's box of belongings, his family found photos and cassette tapes that he made in Vietnam. As they sat down to listen to the tapes, they were touched by his description of the Vietnamese night sky. "David said under the starlight, the hills in Hue looked like they were covered in snow, which remind him of home," said Susan.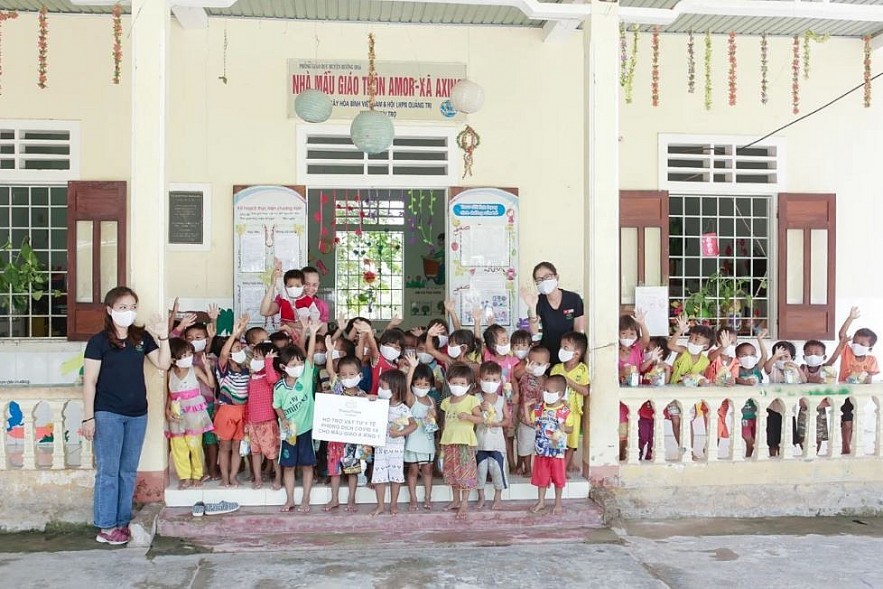 David Howard Warner kindergarten in Quang Tri, Vietnam (Photo: PeaceTrees)
"A kindergarten to honor my brother"
Susan returned to Vietnam in 2007 to build a kindergarten after her brother's name. David Howard Warner kindergarten was established by PeaceTrees in A Xing village, Huong Hoa district, Quang Tri in the same year for ethnic minority children of 4 and 5 years old.
"In Washington DC, there is a wall carved with the names of 47.000 American soldiers who died in the war in Vietnam. My brother's name was on it, which honors how he died. I want to honor how he lived by putting his name on the wall of a kindergarten in Quang Tri. Every day when children walk by the walk, they will learn, make friends, and build peace," she explains the idea.
Pain is a great teacher because it teaches people to empathize to continue to accompany and cooperate with each other, said Susan. "We, families of Vietnamese and American veterans, we all lost our loved ones but we are proud of how they lived, fought, and sacrificed for their countries. The grievance that once tore us apart now unites us.
"When I came back to Vietnam for the school inauguration, my mother died three days before the trip. She was 84 at that time, but she already registered for a passport. My mother, who lost her child to the war in Vietnam, was finally ready to meet and make friends with Vietnamese people."