American Veterans Assist in Searching for Remains of Vietnamese Martyrs
Vietnam Veterans of America (VVA) is innovating its communication network, using social networks and collaborating with other veteran organizations to inform Americans about their projects, helping them to search for remains of martyrs and collect their documents and memorabilia.
The statement was made by Grant T. Coates, Chairman of VVA's POW/MIA Committee, Program Director of the Veterans Initiative in a meeting with Ambassador Nguyen Phuong Nga, President of the Viet Nam Union of Friendship Organizations in Hanoi on May 19. The meeting was part of VVA's working trip in Vietnam from May 16 to June 5.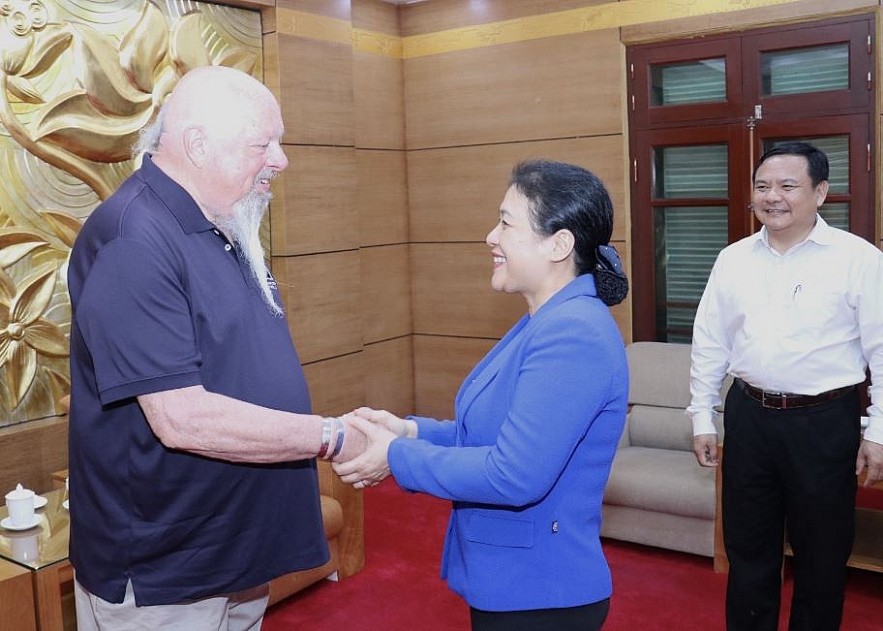 Nguyen Phuong Nga, President of VUFO met Grant T. Coates, Chairman of VVA's POW/MIA Committee (Photo: Thu Ha).
Grant T. Coates informed VUFO's President about VVA's efforts to deal with the consequences of war. He stressed that VVA considered helping Agent Orange victims and searching for missing martyrs its top priorities.
According to Coates, patient samples from US veterans are essential for studying the effects of Agent Orange on human health. Along with that, information and data from veterans are important for finding the remains of Vietnamese and American soldiers who died in battle. Memorabilia related to Vietnamese martyrs that American veterans and their descendants are keeping has great meaning to the relatives of Vietnamese martyrs.
As the veterans become older, VVA wants to collect memorabilia and information from them for AO research and POW/MIA activities. VVA will hold a workshop on AO to connect veterans' organizations, experts, and scientists.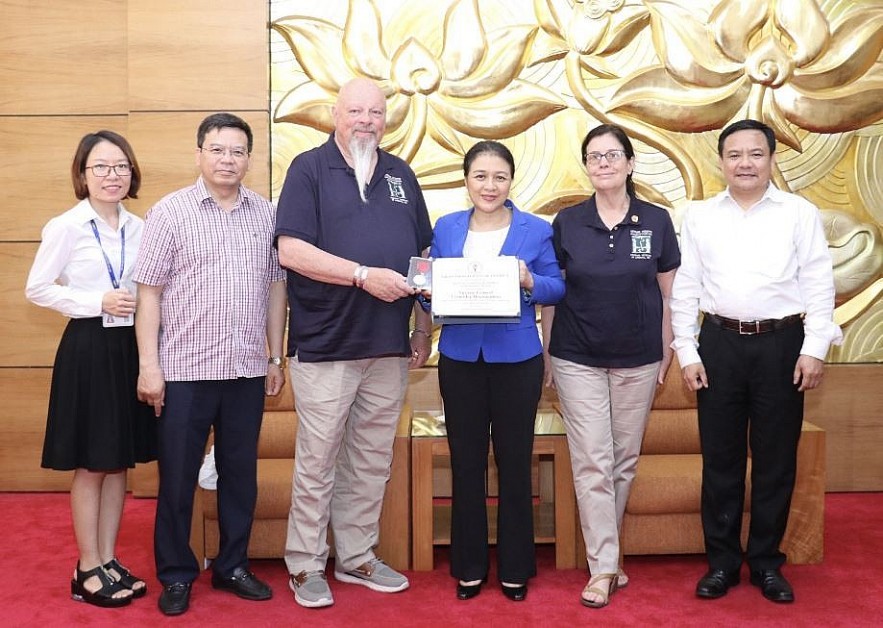 Grant T. Coates presents VVA's medal to Ambassador Nguyen Phuong Nga (Photo: Thu Ha).
The representative of VVA and Ambassador Nguyen Phuong Nga agreed on the importance of educating the young generation about the history of Vietnam-US relations. According to Coates, children of American veterans and martyrs want to visit Vietnam both for tourism and to learn about their fathers' services.
Ambassador Nguyen Phuong Nga highly appreciated VVA's efforts in dealing with war consequences in Vietnam. She said the organization contributed to bringing the two peoples closer together.
VUFO's President suggested VVA continue to run the Veterans Initiative to share information to help find the remains of Vietnamese martyrs and raise American people's awareness of Vietnam's socio-economic development. Thereby, they contribute to enhancing mutual understanding and multifaceted cooperation between the peoples.
Also on their working visit to Vietnam, the VVA delegation met leaders of the Vietnam-US Society in Hanoi on May 17.
To accelerate activities to deal with the war legacies, Grant T. Coates said VVA would like to meet and discuss with agencies and organizations in this field to expand its network of partners and promote information exchange. Therefore, they can provide better support for Agent Oranges victims and POW/MIA projects.
Ambassador Pham Quang Vinh, President of the Vietnam-US Society said the society would support VVA in its upcoming activities.