Explore Yen Trung Lake – The "Petite Dalat" In Quang Ninh
Thanks to its picturesque and peaceful landscapes, Yen Trung Lake is the charming reminiscence of a petite Dalat in the heart of Quang Ninh, Ha Long.
Located on the national road 18A connecting Hanoi with Ha Long, about 5 km from Yen Tu heritage site, Yen Trung Lake is about 100 hectares in size and surrounded by mountains and lush pine forests. As the largest freshwater lake in Vietnam, this special oasis is beloved by locals and tourists.
When tourists come to this destination for the first time, they will quickly understand why Yen Trung Lake is called the "petite Dalat" of Quang Ninh. It possesses a simple yet rustic and enchanting atmosphere. The lake is also surrounded by green pine forests and vast hills.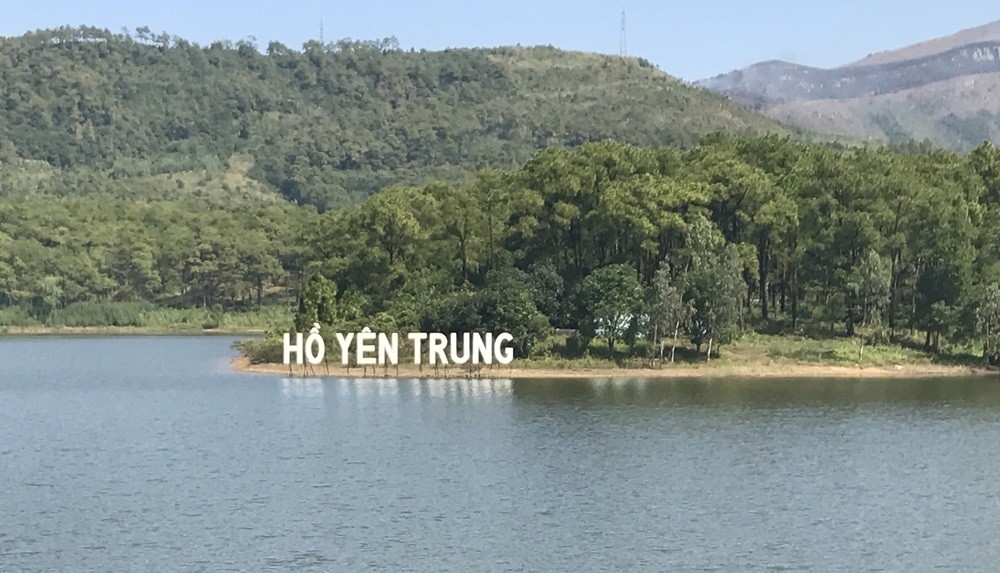 The peaceful view of Yen Trung Lake. Photo: Phuotvivu
"It feels like Da Lat to me because of the cool weather and immense fresh atmosphere brought by gusts of wind from the lake," said Mai Phuong, a visitor from Hanoi.
Wandering around the lake, tourists will soon be immersed in the peaceful views and the quiet, magnificent space. This is a perfect choice for people who wish to have a relaxing time away from the crowded streets and busy life of the city.
"The quiet open space of the lake helps us separate from the hustle and bustle of the city life. We got lost in a completely different world," Hoang Trong Hung, a visitor from Hanoi, said.
Each season, Yen Trung Lake will have its own beauty. The best time to visit this place is from April to September every year. There are also many other beautiful and unique spots that travelers can discover near the lake, such as Paradise Garden, Love Bridge, and the Pine Hills.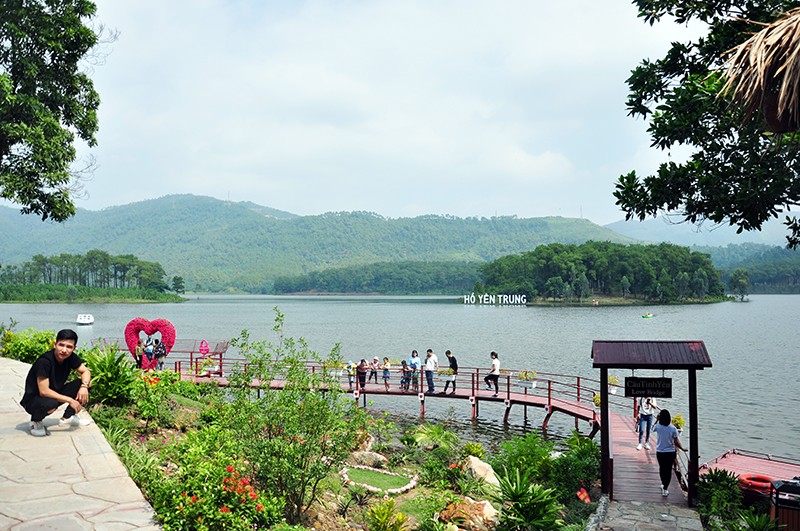 Wandering around the lake, tourists will soon be immersed in the peaceful views and the quiet, magnificent space. Photo: Baoquangninh
Early morning is the most beautiful time in Yen Trung Lake when the first sunlight shines on the water and chases away the thick layer of fog. This is an ideal destination for those who love nature with tranquil and poetic spaces.
Apart from going sightseeing, tourists are able to camp under the forest canopy, rent boats from locals to paddle to the lake's two islands, or hire bicycles and motorbikes to ride around the tourist site. The cost of hiring boats ranges from VND 80,000 (US$3,28) to 100,000 (US$4,09) per hour.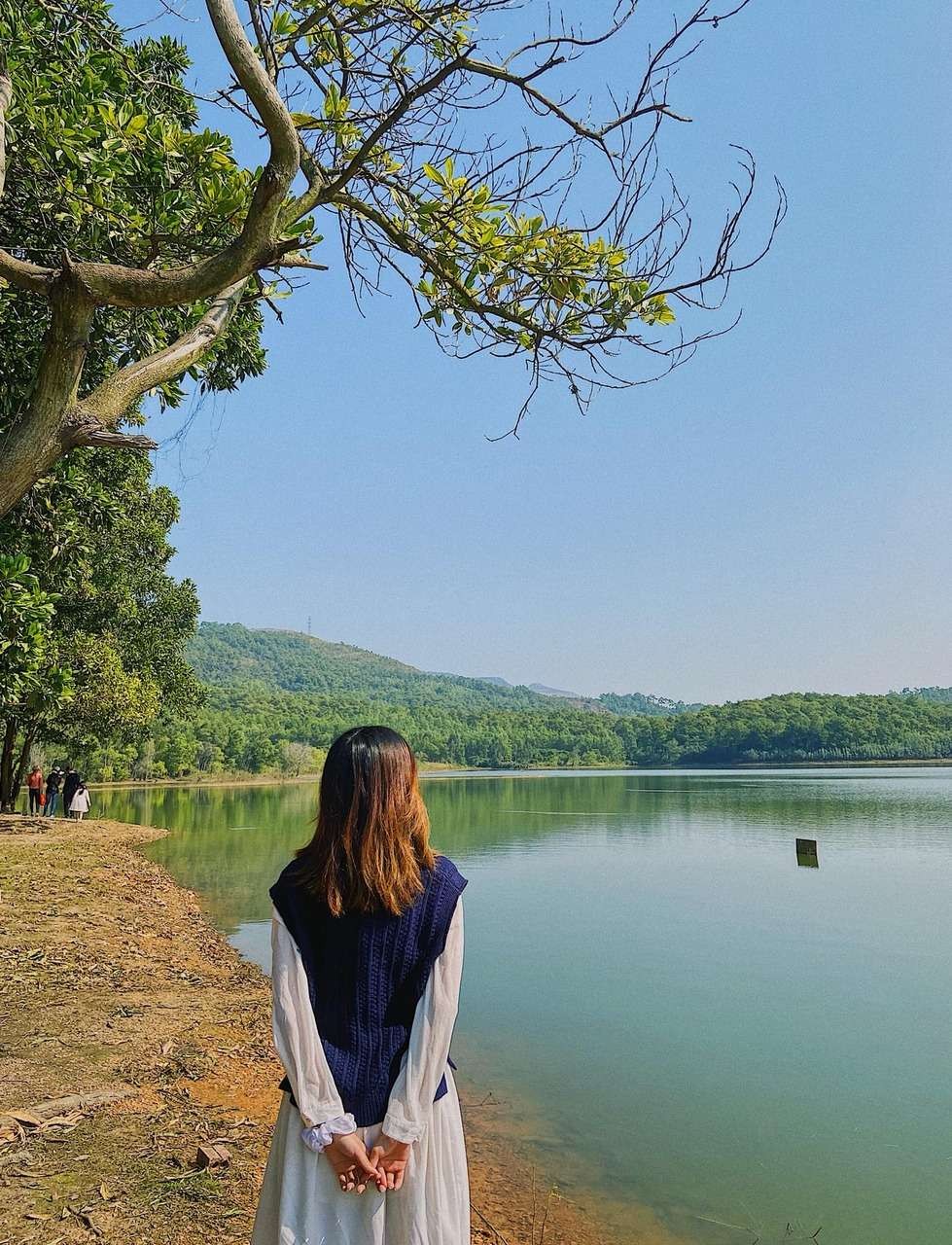 The best time to visit this place is from April to September every year. Photo: Gody.vn
After enjoying an amazing time in this poetic area, visitors can lengthen their itinerary in Uong Bi city by discovering other attractions such as Lung Xanh eco-tourism area, Yen Tu scenic relic area, Ba Vang pagoda, Uong Bi landscape market, and other fantastic spots.
How to get to Yen Trung Lake
When moving to Uong Bi city, Quang Ninh (about 10km from Yen Tu towards Ha Long), visitors will see a signpost to turn to Yen Trung. From here, they will need to drive for 1 km more to reach the place. The deeper you go, the more beautiful and enchanting the landscape becomes.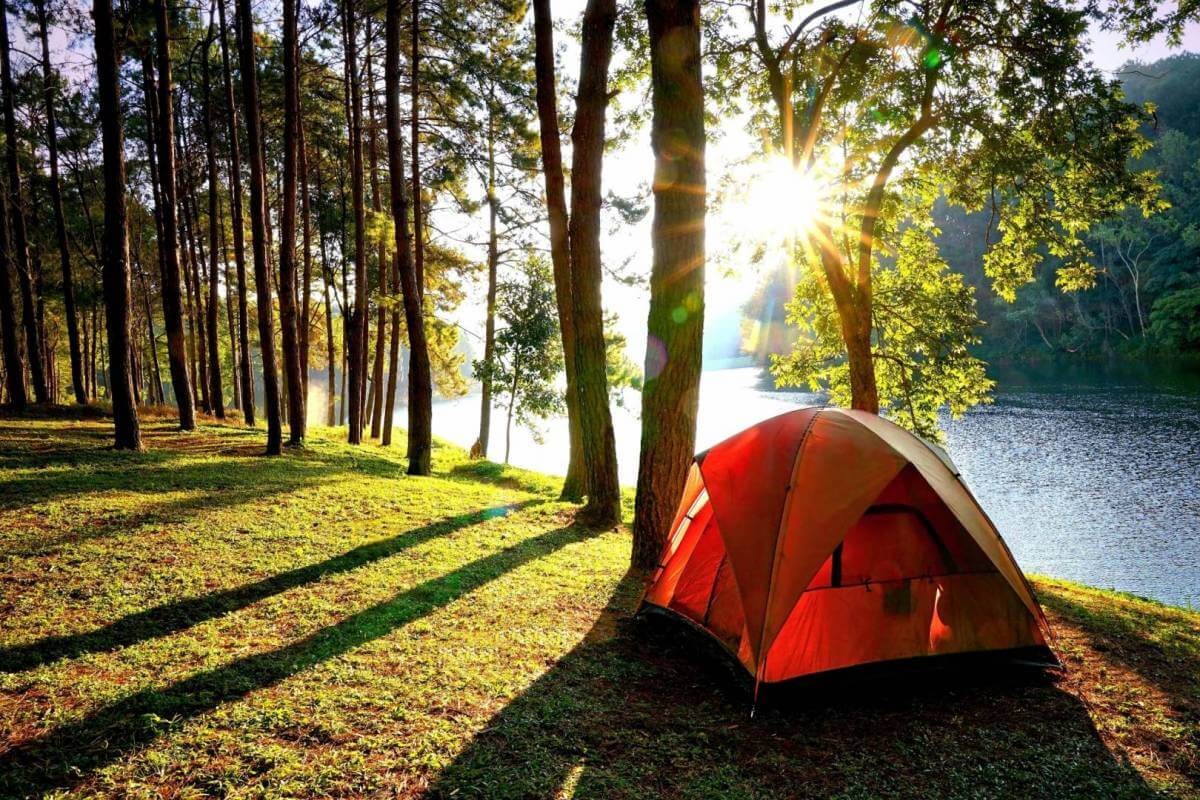 Camping is a favorite activity for tourists when they visit Yen Trung Lake during autumn time. Photo: GlampTrip
It is estimated that if departing from Hanoi along National Highway 18A, visitors will take about 115km, which means less than three hours to be at Yen Trung Lake in Quang Ninh. The road to the lake is also quite convenient, with clear signposts, so driving will not be difficult. For people who enjoy an adventurous time, traveling by motorbike will bring the most interesting experiences.
What to eat
Quang Ninh is known as one of the largest seafood regions in Vietnam and a cuisine that one can not forget is Cha Muc.
Ha Long's Cha Muc is a delicious dish with many unique characteristics. The reason lies in the most important ingredient to make Cha Muc, which is a big cuttlefish with an average weight of 1.5 to 2kg. If people use other types of squid, they do not achieve the necessary stickiness after pounding squids. The smell and the taste of Cha Muc made from other types of squid will not be the same either.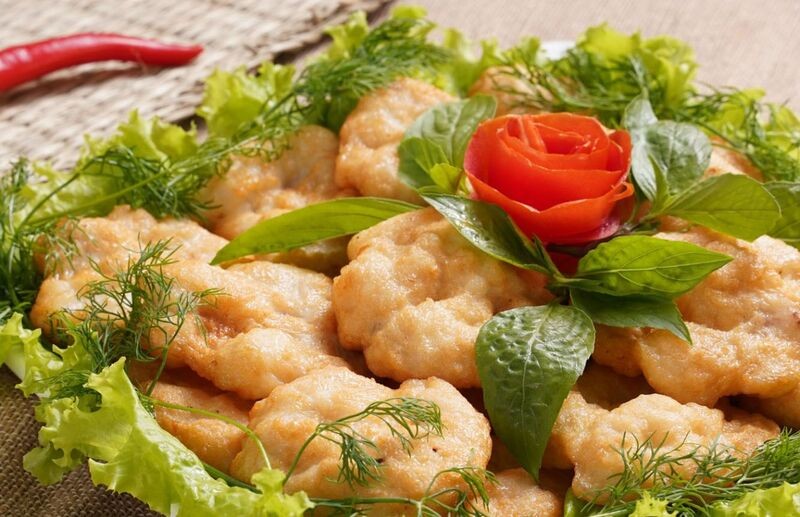 Cha Muc - A delicacy of Ha Long, Quang Ninh. Photo: Vinpearl
Another wonderful dish is Sa Sung. Sa Sung is a rare seafood species, often found in the waters of Quan Lan of Quang Ninh. Sa Sung can be processed into many dishes with different flavors and also has the use of curing a number of diseases and nourishing the body. Sa sung can be fried with fresh garlic to create a tasty and buttery dish. This fried food is also regarded as Moi Xao, a distinctive and popular food of Ha Long.