Quieter getaway in Cua Lo beach
Cua Lo Beach in Nghe An is a pleasant alternative for those keen to get out of Hanoi for a few days by the sea, said Gary Henhoeffer, an English teacher in Hanoi.
Cua Lo Beach in Nghe An is a pleasant alternative for those keen to get out of Hanoi for a few days by the sea, said Gary Henhoeffer, an English teacher in Hanoi. His memory about the trip was recently shared on The Guide Vietnam.
Cua Lo beach at dawn (source: Hý Photography)
Our journey began with a motorbike trip - three of us in a convoy heading south with wonder in our eyes and hope in our hearts. We left our homes in Hanoi, where we are English teachers, to set out and explore a new part of Vietnam that none of us had yet seen.
Sadly, the start of our trip proved to be rather difficult. The Saturday morning of the long weekend for Reunification Day on April 30 and May Day on May 1, quite frankly, a terrible time to leave Hanoi. Heaps of traffic, noise, confusion and Hanoians going in every direction trying to flee their beloved city for a little rest and relaxation that only the countryside can provide. Despite taking a very unusual one-and-a-half hours to get out of the capital, our spirits were still uplifted, the adventure had begun, and there was no better place to be than on two wheels.
Our trip soon turned treacherous, however, as the heavens opened up and a downpour of epic proportions rained down like a breaking tsunami on our heads. Driving in Vietnam is not for the faint of heart and can be trying at the best of times, but with slick roads and deteriorating visibility adding to the heavy traffic and manic driving, the challenge we faced became an uphill battle.
Despite the frustration, giving up was not an option. We were going to make it to Vinh and Cua Lo Beach in Nghe An province no matter what and our resilience was soon rewarded, as a couple of hours later the clouds finally parted and gave way to that beautiful golden orb in the sky as the sun reappeared in all its glory, drying the roads and lighting our paths. The journey became easier as we passed the landscapes of Ninh Binh, dusty construction-filled roads south of Thanh Hoa, and lush, green rolling rice paddies as we got closer to our destination. We cheered in pure jubilation when we reached Vinh just after dark. After finding our hotel, we explored the night life of Cua Lo Beach.
A peaceful moment in Cua Lo (photo: Phung Ngocminh)
I assume the majority of all the activity was due to it being a holiday weekend, but the streets were bustling with activity, crowds large and small scattered around the hotels, seaside eateries and evening drinking holes. The roads were lined with pristine white golf carts, ferrying passengers to the various attractions they sought. Friendly as the drivers were, we passed on this experience and decided to take in the action on foot. As we made our way along a promenade-like path we could hear blaring music; not a rare occurrence in Vietnam as my Hanoian evenings are routinely interrupted by louder-than-any-sane-person-could-possibly-enjoy Vietnamese pop music, but in this instance it piqued our curiosity. As we approached the main beach area we saw a large, temporary stage apparently built especially for the holiday weekend. A full band accompanied various Vietnamese singers as party-goers danced in the streets and children flew kites in the sky. The energy was electric. We settled into a popular bia hoi and watched the night unfold before our eyes.
Clear blue skies, a light breeze and sunshine filled our next few days. Being based in Hanoi, with all its congested roads, pollution and chaotic traffic, it can be easy to forget how beautiful Vietnam is outside of its major metropolises. The towns you pass through are so quaint and inviting, locals so curious and friendly, and the scenery dynamic and ever changing. It is an awe-inspiring experience.
Enjoying swimming (source: mytour.vn)
As we approached the beach area once again, we were greeted by fresh sea air, a long but rather crowded beach, and the joyful screams of children. Outside of national holidays, I'm sure the 10-km beach is rather deserted but that was not the case this weekend. Vietnamese children chased each other along the beach, dragged inflatable inner tubes into the ocean, and splashed each other in the warm ocean water. Adults strolled along the sand taking countless selfies along the way and every beachside restaurant clamoured for patrons.
It was a memorable sight! We finally settled on one, a choice made much more difficult as each establishment we passed looked much the same as the last and offered identical menus. Our energy levels raised by strong, tasty Vietnamese coffee, we tried some of the famous seafood we had heard so much about. The delicious meal of fresh crab, shrimp and cuttlefish, all caught by local fishermen, certain didn't disappoint. Definitely an experience not to be missed when at Cua Lo!
As we made our way on to the beach we were surprised that we were virtually the only foreigners there! Cua Lo, only a short 18 km from Vinh, is still very much a holiday retreat for local people and relatively unknown to Western tourists. It's a shame, as it offers clean blue waters, sandy beaches, and a coconut tree-lined shore. Our novelty status quickly made us local celebrities, as hordes of Vietnamese stopped to say a quick hello and take numerous selfies with us. It was a rather comical experience, as foreigners are so common in Hanoi that our mere presence doesn't lead to any such overt attention. A friendly competition began among ourselves, about which of us would be asked for more selfies in a day. My mate roundly won with over 15 requests!
The vast beachfront offers numerous places to lie in the sun and swim. Feeling somewhat drained from the hot sunny weather, we popped into the sea for a refreshing dip. The water was clean and invigorating. We basked in the sun and splashed about with locals, even starting a game of catch with a variety of adults and children. Despite the language barrier, it was a memorable interaction as the international language of smiles and arm raises provided all the communication we needed. Fatigued from the swim, we headed to yet another restaurant to explore more unfamiliar cuisine and satisfy our appetites with enticing local fare. Another night for the ages ensued.
A hidden gem for Western tourists, Cua Lo Beach offers enticing night life, pine seafood, numerous hotel options, a stunning beach, and warm, inviting people. Just 300 km south of Hanoi, it offers a more distinct, unforgettable experience than the more commonly-visited attractions of Cat Ba Island and Sam Son Beach. If you're looking to explore a less touristy but more welcoming destination, Cua Lo Beach beckons./.
( VNF/The Guide VN )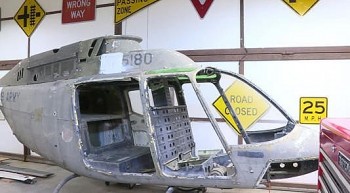 World
A piece of military history related to Vietnam is coming to life with a special project in a small Barton County townm in the US