RCEP Agreement expected to bring a new complexion to regional and international trade
Having undergone several rounds of negotiations since 2012 between 10 ASEAN member countries and 6 dialogue partners, the Regional Comprehensive Economic Partnership (RCEP) is considered the largest free trade agreement in the world as it covers a huge market of 24.8 trillion USD and more than 2.3 billion people.
The 10th RCEP Conference hosted by the Ministry of Industry and Trade slated to take place on June 23 in Hanoi is forecasted to put a new complexion and new structure on regional and international trade.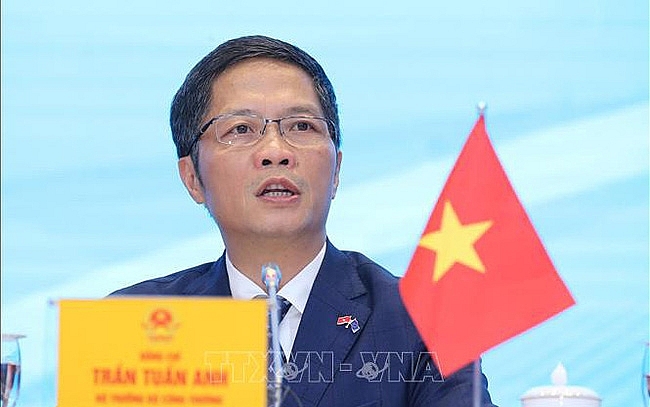 RCEP-Agreement-Puts-a-New-Complexion-on-Regional-and-International-Trade. Photo:-cafe.vn
According to Minister of Industry and Trade Tran Tuan Anh, the RCEP Agreement was launched in November 2012 in Phnom Penh (Cambodia) as an ASEAN initiative to encourage trade between country members and six country partners including Australia, China, India, Japan, New Zealand, and South Korea - all had free trade agreements independent of ASEAN.
Members of RCEP will entitle to series of benefits including tax reduction, standardizing customs rules and procedures, and expanding market access, especially among countries without existing trade agreements.
Sharing the RCEP negotiation process, Minister Tran Tuan Anh emphasized, it is one of the most complicated trade negotiations.
Right before the start of negotiations, all countries had agreed on the goal of achieving a comprehensive, high-quality free trade agreement that would benefit all parties.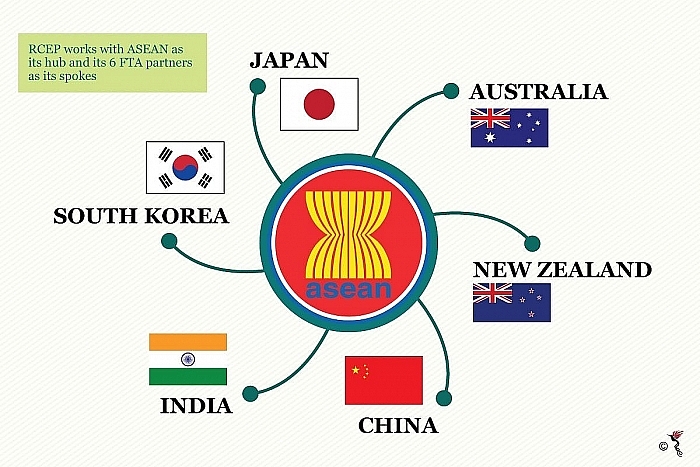 RCEP-Agreement-Puts-a-New-Complexion-on-Regional-and-International-Trade. Photo:-baoquocte.vn
Among the partners participating in the negotiation, there are those who have signed FTAs with each other, meaning that they have committed to opening the market for goods and services to a certain extent.
The negotiation process demands countries to find solutions to solve problems of the difference of policies and economic strength; at the same time, harmonize the interests between the countries.
With the aim of achieving high quality and balance of benefits agreement, Vietnam has actively participated in discussions and actively proposed flexible solutions in many areas to handle the problems between countries while ensuring national interests.
Minister of Industry and Trade Tran Tuan Anh said once the RCEP comes into force, it will create a market with about 3.5 billion consumers and a gross domestic product (GDP) of US$49 trillion, accounting for 39% of the world's.
The deal, scheduled to be signed this year, will also create the world's largest free trade area with commitments regarding the opening of markets in goods, services and investment, simplification of customs procedures and rules of origin of products.
It is also expected to step up the development of regional and global value chains, propelling economies of ASEAN member states, including Vietnam and partner nations.
Moreover, in the context of the world and regional economy facing certain obstacles of trade protectionism, successful negotiations will contribute to the creation of a new trade structure in the region, promoting globalization towards liberalization, trade facilitation in a sustainable manner.
Particularly for Vietnam, the conclusion of RCEP negotiations will open more opportunities for Vietnamese enterprises to boost exports, participate in new value chains in the region, and increase the attraction of foreign investment.
According to analysts, although the RCEP Agreement offers the opportunity to access a larger market size, it is likely to create adverse effects for ASEAN exports.
Hiệp định RCEP - Kỳ vọng cục diện mới cho thương mại khu vực và quốc tế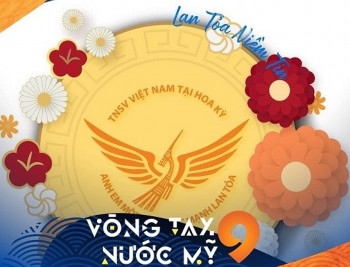 Overseas Vietnamese
Association of Vietnamese Students and Professionals in the United States (AVSPUS), in collaboration with Vietnamese Youth and Student Association in Texas, shall co-organize the series of events named "The 9th America's Arms" (Vong tay nuoc My) in December in Dallas, Texas (USA). It is known as the year-end meeting for Vietnamese youth and students in the US.