Regulations Change for Vietnamese Citizens to Naturalize in Germany
The mandatory time in Germany for Vietnamese and citizens of other countries who wish to naturalize in Germany will be shortened from 8 years to 5 years, even 3 years if the draft new citizenship law is approved by the German government.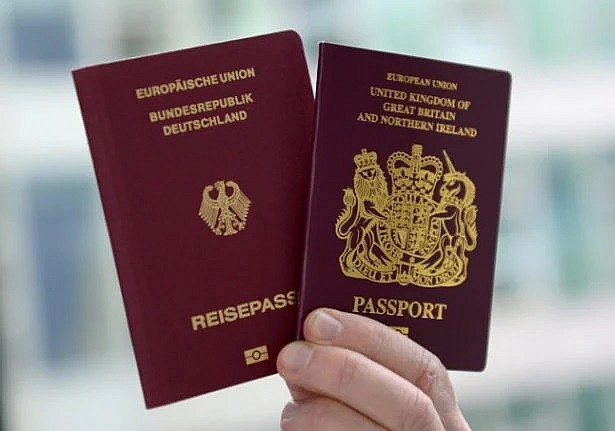 German passport. Photo: DPA
The German Federal Ministry of the Interior on May 19 published a new draft citizenship law in the context that Germany is looking for ways to attract high-quality human resources.
The draft allows foreign citizens to choose multiple citizenship, shortening the mandatory time in Germany before applying for citizenship from 8 years to 5 years, even 3 years if there are outstanding achievements in language, working ability or volunteering.
For children of foreign parents, born in Germany can also become German citizens faster, provided that either parent has to live legally in Germany for 5 years, instead of 8 years as before.
Language requirements for naturalization will also be relaxed for certain generations. They are workers from previous cooperation agreements, many of whom came from Turkey in the 1950s and 1960s as migrant workers. Those over 67 years old will not need to undergo a written test, but only need to test their ability to speak German when applying for citizenship.
According to the draft law, anyone who wants to acquire German citizenship must commit to the values of a free society, which include the dignity and equality of all individuals. Foreigners who commit anti-Semitism, racism, xenophobia or other inhumane motives will not be granted German citizenship.
A prerequisite for obtaining German citizenship is to have a job, be able to support yourself without receiving social benefits, except in special exceptions. According to German media, there are currently about 100,000 applications for German citizenship pending, including those filed three years ago.
The new draft will need the input and approval of the states and associations for the Cabinet to be finalized and could be approved by the German government this summer.