People's Artist Chu Thuy Quynh, President of Vietnam Dancers' Association
Renowned Vietnamese Dancer Appreciates Her Experience in India
"Four years of studying dance in India enriched my skills in classical dance and broadened my knowledge about Indian culture. The love for the Indian people, who are my teachers and friends, and the country-the civilization of the Ganges River is my invaluable asset", People's Artist Chu Thuy Quynh said to the Vietnam Times.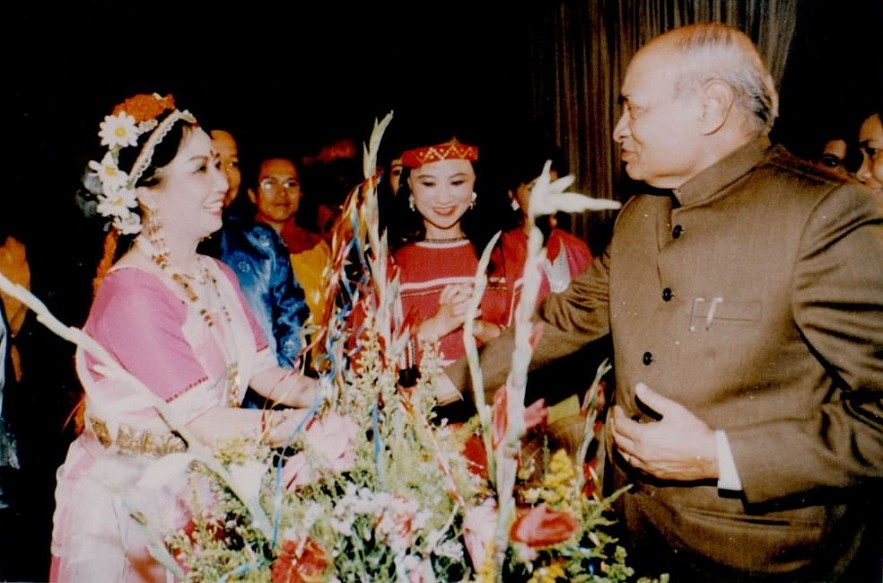 People's Artist Chu Thuy Quynh and other dancers were met and encouraged by Indian Prime Minister Atal Bihari Vajpayee after a performance. (Photo courtesy of Chu Thuy Quynh)
A Vietnamese "born for Indian dance"
People's Artist Chu Thuy Quynh welcomed reporters in the guest room of Vietnam National Music Song and Dance Theatre - where many photos of her career are kept. Many photos among them capture Quynh's performances of Indian dances.
Admiring each photo, Quynh recalled her first days of learning classical dances in India. She was in her forties then, an unsuitable age for starting dancing, especially a kind of dance that requires complex skills.
Chu Thuy Quynh's teacher was confused. No student of that age wants to learn Indian dances.
During the next month, the teacher taught Quynh some stomping skills. Vietnamese dance is more about gliding and drifting on stage, while Indian dancers stomp their feet on the floor to make sounds.
To properly perform even the stomping movements, learners have to go through a demanding process of practice. Perhaps because of this characteristic, the Indian poet Tagore once praised "The earth, under your feet, sounds like a harp".
"Winter in India is freezing. We have to practice stomping on our bare feed. We bled regularly. New wounds appeared before the old ones had time to heal," Quynh told reporters.
Difficulties could not stop her passion and desire to learn classical Indian dance. Seeing her efforts, the teacher was pleased to teach her more complex techniques. He even gifted her a textbook on South Indian dances written by himself with the inscription: "Chu Thuy Quynh - Born for Indian dances."
Quynh then enrolled in many other classes in India. She was carefully instructed by teachers of any classes. Not only provided her knowledge about dance, they helped her learn Indian culture and supported her in performances.
"Indian teachers and people brought me warm feelings like I was in my homeland Vietnam. Once I had a car accident for driving on the right side of the road, while Indian people drive on the left. Many locals helped me. They even drove me home. When my neighbors heard the news, they rushed to my house to take care of me."
During my stay in India, whenever I was in difficult times, I received the wholehearted support of the government and the people. It was not plain friendship. It was something bigger. They took care of me like a family member. That helps me relieve homesickness, and has more motivation to pursue dancing," Quynh said.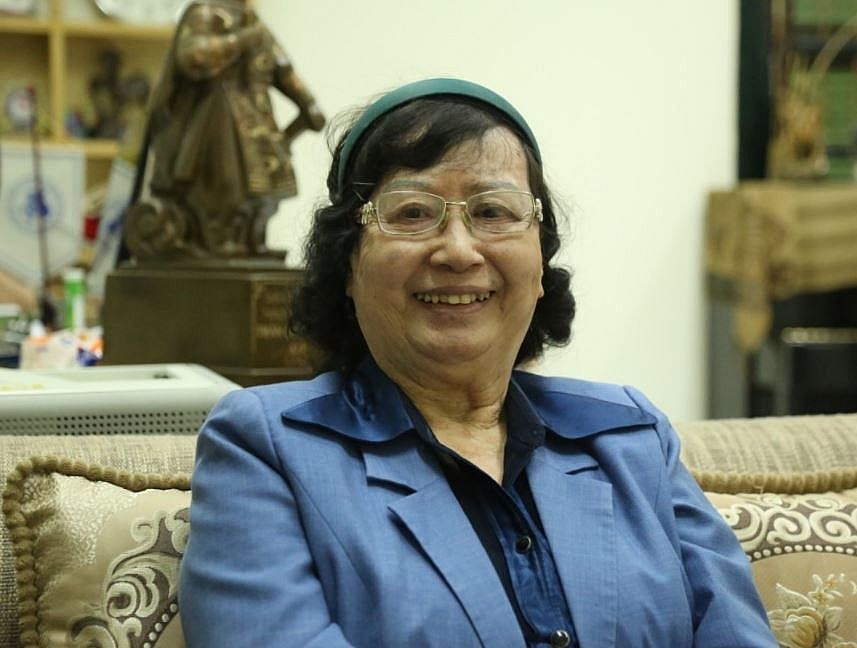 People's Artist Chu Thuy Quynh. (Photo: Pham Cong)
A bridge connecting solidarity
Regarding special characteristics of Indian dances, People's Artist Chu Thuy Quynh said "Indian dance has words in its movements." Dancers have to master neck and eye movements. It requires the whole body to move to create a certain image, such as the sun, a blooming lotus, a bird. Meanwhile, Vietnamese dances mostly focus on hand movements.
Due to the two dances' similarities in hand movements, Vietnamese dancers can refer to Indian dance to choreograph performances.
As the two countries' relations are developing in all fields, including culture, People's Artist Chu Thuy Quynh said it was necessary to strengthen cultural exchanges between the two countries, especially for young people - the future generation of the friendship.
According to her, the culture of each country is a colorful picture. One must immerse himself into the cultural space of each community, observing and learning from the local people to convey each such beauty.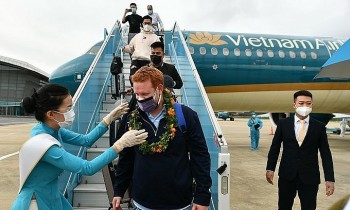 National
Vietnam News Today (Jan. 29): Vietnam records 14,892 new local Covid-19 cases; PM orders prioritizing pandemic control for safe and warm Tet; Vietnam scraps rapid Covid test requirements for int'l passengers; Vietnam-Australia trade hits all time high in 2021.