India Boosts Cooperation with Vietnam's Localities
India increases cooperation with Vietnamese localities in 2022 to boost relations to new height
Enhancing of cooperation and culture exchange is one of important pillars of the comprehensive strategic partnership of Vietnamand India, especially in the backdrops of 50 years of diplomatic relations, in which multiple activities on different sectors have been taken place to celebrate these milestones.
India pledges to more support in heritage preservation
Completion of conservation and restoration of A, H & K temples at world heritage site of My Son Sanctuary by archaeological survey of India after years of intricate and meticulous work on site was marked by a ceremony attended by leaders of Quang Nam province, Ministry of Culture, Sports and Tourism of Vietnam, Archaeological Survey of India and Embassy of India.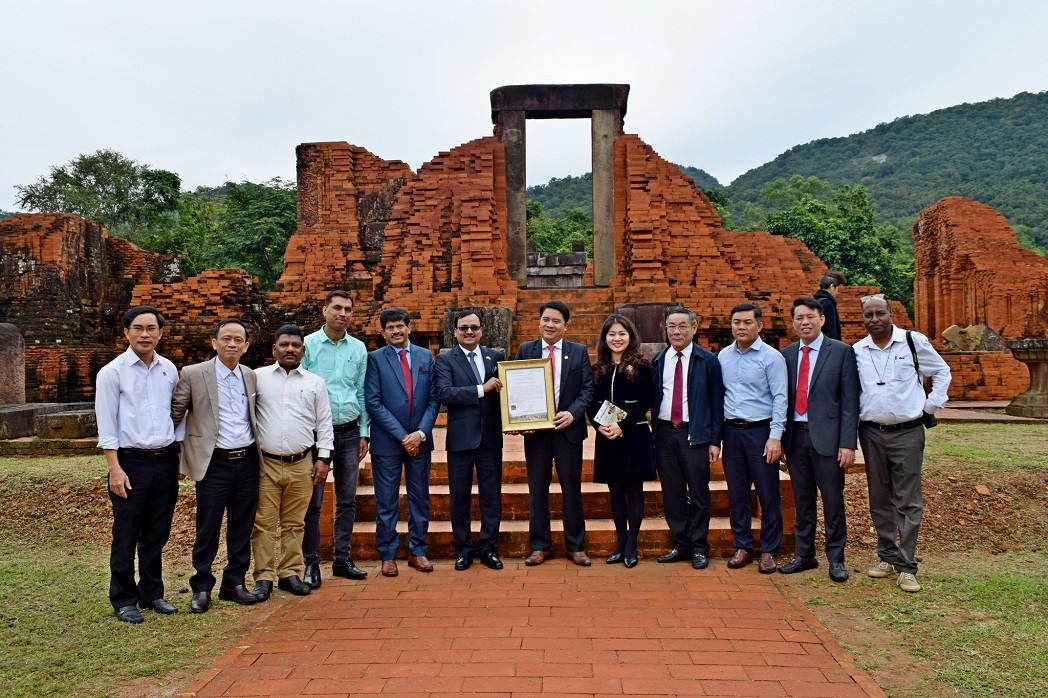 Vietnamese and Indian delegates at the restored towers in My Son World Cultural Heritage Site. Photo: Indian embassy
The People's Committee of Quang Nam province coordinated with the Ministry of Culture, Sports and Tourism and the Indian Embassy in Vietnam on December 20 to hold a ceremony to conclude and hand over the joint project to restore My Son World Cultural Heritage Site in Duy Xuyen district.
Speaking at a ceremony, Indian Deputy Ambassador to Vietnam Subhash P Gupta said that the project generated good results with all contents completed, adding that it is vivid evidence of the solidarity, friendship, and effective cooperation between the Governments and peoples of Vietnam and India.
Heritage preservation and cultural promotion is an important facet of the comprehensive strategic partnership between India & Vietnam.
From this success, the Government of India is committed to continuing to preserve, restore and embellish the My Son's F tower temple and the Dong Duong Buddhist monastery (Thang Binh district) as well as the Nhan tower (Phu Yen province) in the future, he stressed.
Once the religious and political capital of the Champa Kingdom,My Son, located in Duy Phu commune, Duy Xuyen district of the central province of Quang Nam, is the most renowned architectural complex of the Cham people in Vietnam. It, comprising of eight groups of 71 monuments, was built during the late 4th century and the 13th century.
The relic was recognized by the United Nations Educational Scientific and Cultural Organization (UNESCO) as a world cultural heritage site on December 1, 1999.
The project to restore the site focused on preserving the three tower groups of A, H and K. It was implemented over a duration of six years with the support of Indian experts.
Phan Ho, director of the Management Board of My Son World Cultural Heritage said that the restored towers have become attractive destinations for domestic and foreign tourists.
During the restoration process, 734 artifacts of all kinds were discovered, including unique artifacts of Champa sculpture, serving the exhibition and research of Cham cultural history.
In particular, Indian and Vietnamese experts discovered an intact sandstone altar with a set of monolithic Linga-Yoni. This is the largest monolithic Linga - Yoni set of Champa sculpture found so far, which is expected to be recognized as a national treasure.
Vice Chairman of the Quang Nam People's Committee Tran Van Tan said that the project has helped enhance the management capacity for local officials and workers. The project, launched in 2017, has successfully dealt with the downgraded situation of the site, thus completing the architectural space of My Son.
This year, the site has welcomed over 105,000 visitors, surpassing the target by 110%.
The Mekong Delta promotes investment and trade with India
On December 19, Indian Consulate General in Ho Chi Minh City Madan Mohan Sethi had visited and worked with the Mekong Delta province of Dong Thap. Cooperation on various areas of trading, education, healthcare and agriculture was discussed by the two sides.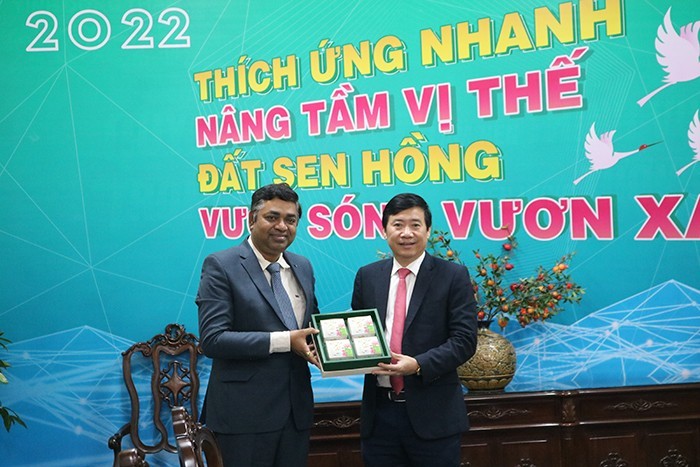 Chairman of Dong Thap Provincial People's Committee Pham Thien Nghia and Indian Consulate General in Ho Chi Minh City Madan Mohan Sethi. Photo: dongthap.gov.vn
At the meeting, Chairman of Dong Thap Provincial People's Committee Pham Thien Nghia said that Dong Thap is a key province in terms of agriculture, with an annual rice output of over 3.3 million tons, a fishery output of over 600,000 tons along with many fruits and other agricultural products.
Moreover, the province has many industrial zones and clusters that have been planned to attract investment. In 2022, the total export and import turnover of Dong Thap province in the Indian market will reach USD 12.56 million.
On that basis, Nghia wished that the Indian Consulate General would continue to support and connect more Indian businesses to invest in Dong Thap; creating conditions for universities in Dong Thap and India to exchange and improve teaching quality for lecturers and students; organizing cultural exchange activities between Dong Thap and India.
Consulate General Sethi said that India always prioritizes promoting comprehensive strategic partnerships, making efforts to connect Indian businesses to explore and invest in the Mekong Delta region and Dong Thap.
The diplomat is calling on companies and businesses in the fields of agriculture, food processing and seafood in India to visit and learn about investment potentials and opportunities in the Mekong Delta and Dong Thap province in the fields of education, health, culture, tourism. Especially, in the coming time, it will coordinate with the province to organize a trade and investment promotion conference between India and the Mekong Delta.
Jaipur Foot Camp Returns to Vietnam

This is the 5th time the Jaipur Foot Artificial Limb Fitment Camp has been held in Vietnam since 2018 by the Indian Ministry of Foreign ...