Russian Students and Linguists Join the Vietnamese Translation Contest
The Vietnamese translation contest was held for the 2nd time, attracting the participation of scholars of Vietnamese studies, and Russian students of Vietnamese language and culture at prestigious training centers throughout Russia.
On March 11, the Vietnamese translation contest in the field of specialized communication took place for the second time at the Moscow University of International Relations (MGIMO) under the Ministry of Foreign Affairs of Russia. The contest was organized in person and virtual platform throughout the Russian Federation.
The contest was supported by the ASEAN Center of MGIMO, the Russia-Vietnam Friendship Association, and the Fund for Promoting Vietnam-Russia Cooperation called "Traditions and Friendship".
Overview of the second all-Russian Vietnamese translation contest. (Photo: Thoi Dai)
The event was attended by representatives of the Vietnamese Embassy in Russia, the Embassy of the Russian Federation in Vietnam, diplomats who served in Russia and Vietnam, representatives of Vietnamese language training centers.
It was participated by nearly 50 bachelor and master students who are studying and researching Vietnamese language and culture at Russian universities such as: MGIMO, Higher School of Economics, Saint-Petersburg State University, Academy of MV Lomonosov under Moscow State University, Far Eastern University, Kazan University, National Language University of Moscow…
25 contestants entered the final round. Candidates underwent 4 sessions including forward and reverse translation after hearing a phrase twice, and forward and reverse translation after having 1 minute to read a text in the political-diplomatic field.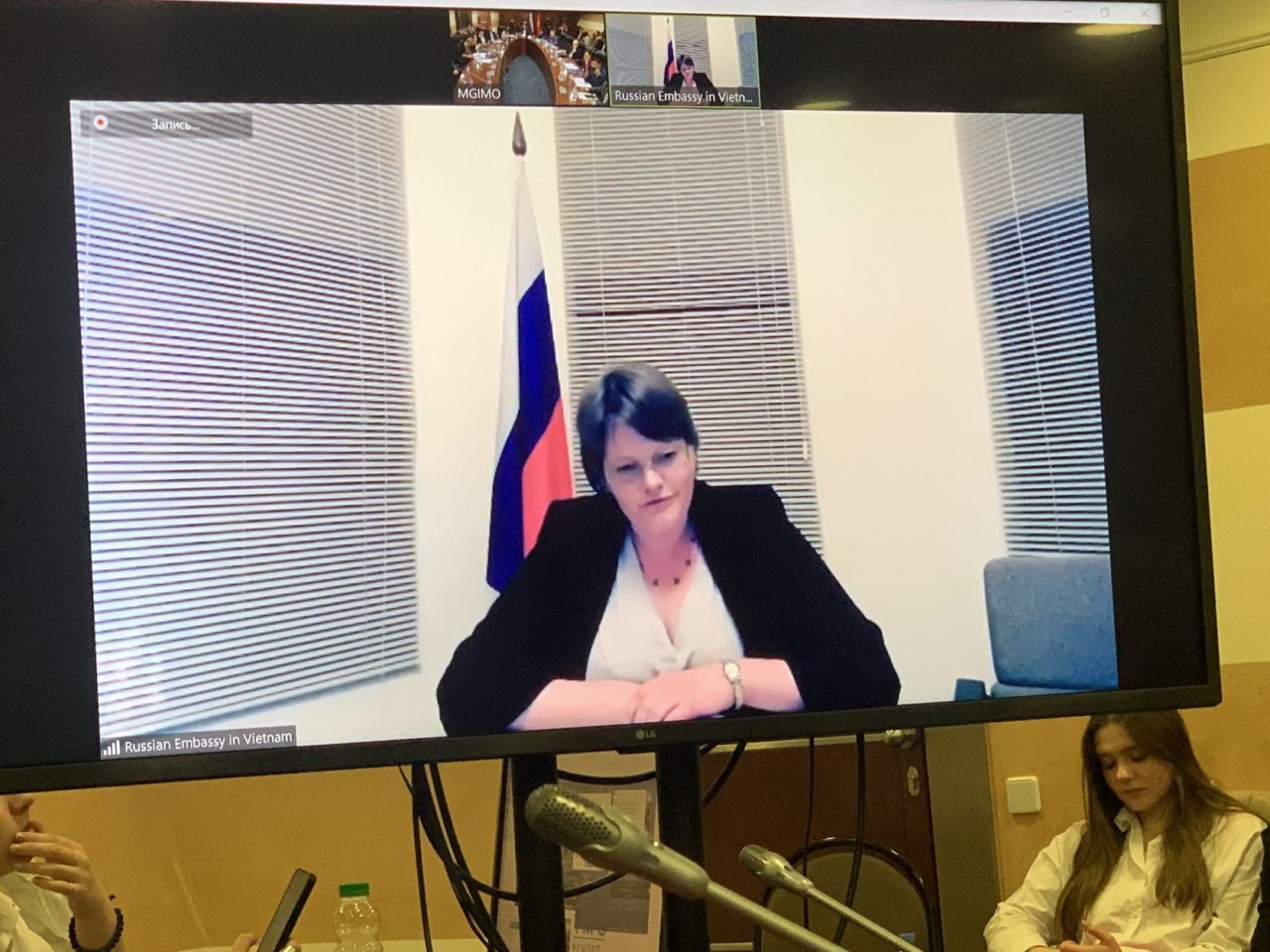 Ekaterina Bakeeva, Counselor of the Russian Embassy in Vietnam, attended the event online. (Photo: Thoi Dai)
According to Nguyen Quoc Hung, Director of the Fund for Promoting Russia-Vietnam Cooperation "Traditions and Friendship", member of the jury, this year's contest has made a step forward in quality and quantity. Participants of the contest outnumber last year's. In addition, there is a clear improvement in knowledge of international relations, so contestants use richer and better vocabulary and word processing.
The contest was followed by a roundtable discussion about the "History of diplomatic relations between Vietnam and the Russian Federation". In this discussion, diplomats shared their experiences in using Vietnamese language in translation and interpretation for diplomatic missions, as well as their experiences in studying Vietnamese for translation.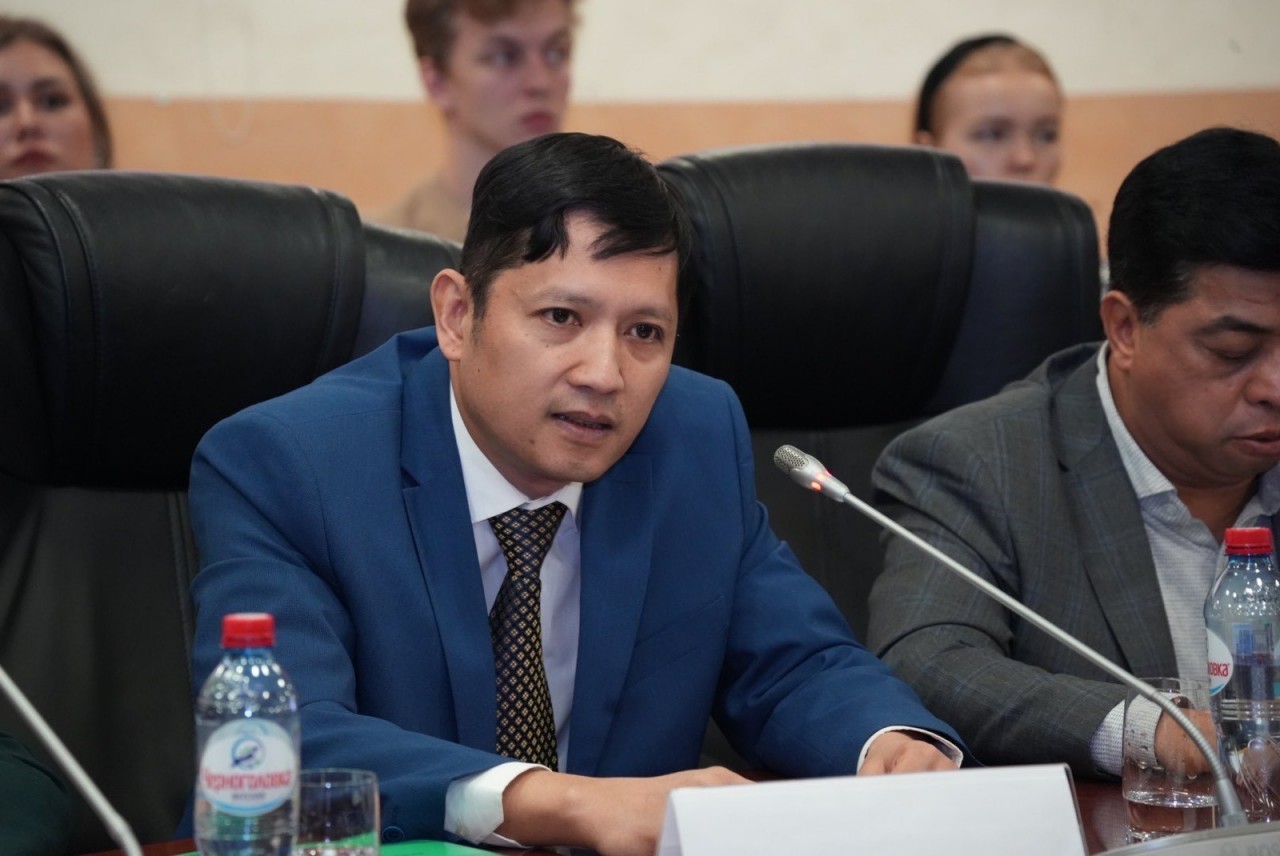 Nguyen Quoc Hung - Director of the Fund for promoting the development of Russia - Vietnam cooperation "Tradition and friendship" spoke at the contest. (Photo: Thoi Dai)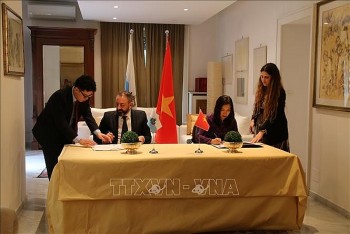 Friendship
The two countries will continue promoting cooperation to enhance growing ties between the two countries based on the good friendship since they established diplomatic relations in 2007.