Saigon House Wins World Architecture Festival Award
The design creates connections between the spaces so that natural elements can be present and carried through each corner of the house.
"Sky House", a construction designed by MIA Design Studio, has been named as the winner of the House & Villa (Urban/ Suburban) category at the World Architecture Festival (WAF).
Built-in 2019 in District 2's An Phu Ward, Sky House is surrounded by skyscrapers and houses tightly packed together. It has a floor area of 433 square meters.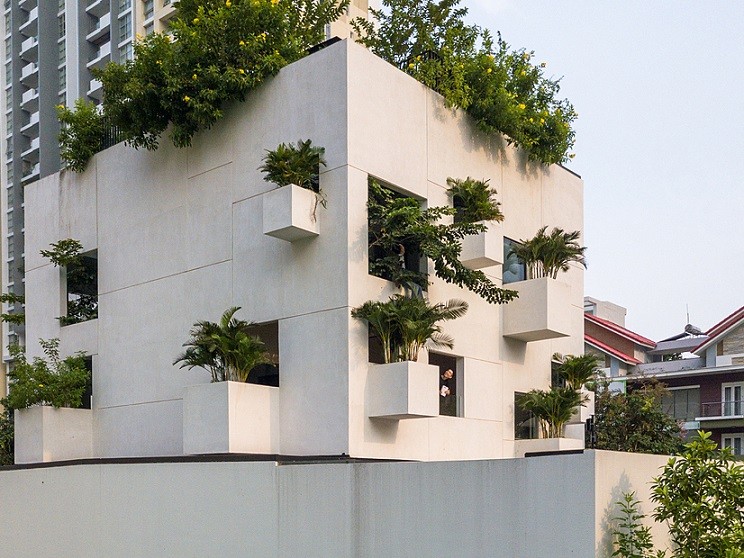 Sky House by MIA Design Studio. Photo courtesy of the architecture firm
According to the site's architect, amid an urban context the Sky House location is characterized by numerous skyscrapers that surround the building and have been developed close together. This, therefore, creates an uncomfortable scale between people and buildings, whilst also presenting difficulties when trying to design an "open" and "airy" project.
MIA Design Studio found the solution to this issue was to create connections between the spaces so that natural elements can be present and carried through each corner of the house. The design process started by dividing the house into two parts with the intention of maximising areas without creating unnecessary rooms,
The first half is purely devoted to the sun, wind, water, and trees and features plenty of empty spaces, while the other half is dedicated to family activities and is made up of necessary utilities.
From the outside, its gardens with bellflowers, areca palms and orchard trees seem to float in the air.
As an alternative to the common approach of opening each of the four sides of the house, the architect instead created a vertical connection between the house and the sky. This approach, therefore, allowed the house to receive natural sunlight from above, whilst also seeing changes that occur in the weather and daylight hours, according to VOA.
Originally established in 2003 by Nguyen Hoang Manh, MIA Design Studio represents an innovative Master planning and Architecture - and Interior design studio in Asia.
WAF is the world's leading architectural event and has been held annually since 2008.
Its theme in 2021 was: 'Resetting the City: Greening, Health and Urbanism'. It was held online from Dec. 1 to 3 and received thousands of entries from 62 economies. The jury comprised 150 experts from 70 economies.
Besides the awards in 33 categories, it also gave away the World Building of the Year 2021 to Bjarke Ingels Group's CopenHill, a waste-to-energy power plant in Denmark that also serves as a ski slope, climbing wall and rooftop bar.
Several Vietnamese architectural firms have won WAF prizes.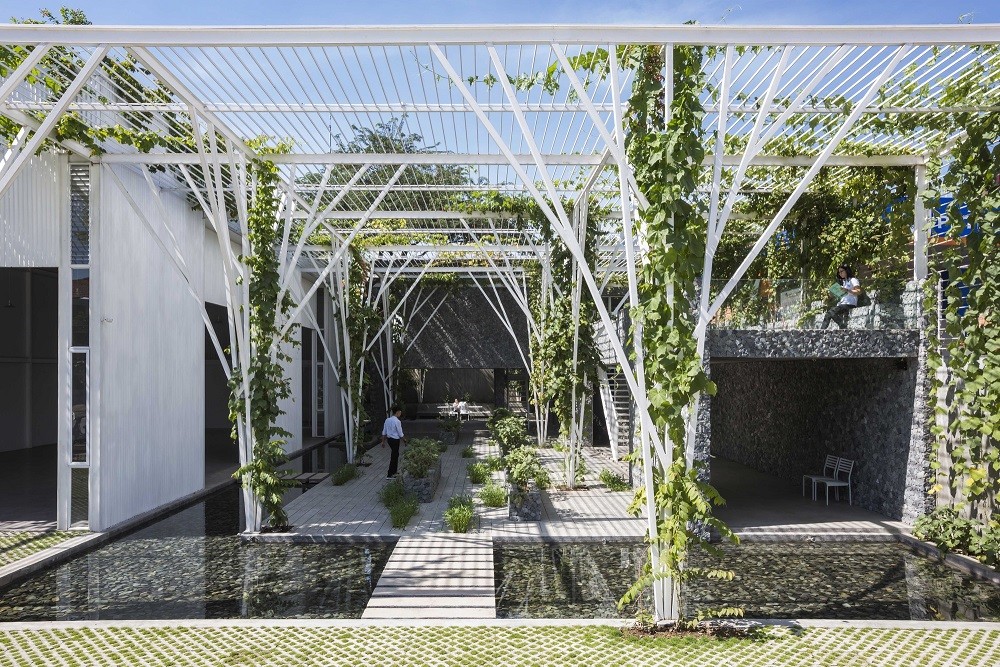 Vegetable Trellis by Cong Sinh Architects. Photo: ArchDaily
In 2017 the Vegetable Trellis in Saigon by Cong Sinh Architects won in the 'Completed Buildings – Hotel & Leisure' category.
Vo Trong Nghia Architects' Viettel Offsite Studio in Hanoi and Binh House in Saigon won in the 'Future Projects Winner – Office' and 'Completed Buildings – House' categories the same year, reported by VnExpress.
Source: VOV/ VnExpress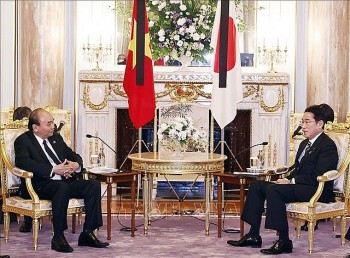 Friendship
Vietnam always treasures the extensive strategic partnership with Japan and views Japan as an important and long-term strategic partner, President Nguyen Xuan Phuc told Japanese Prime Minister Kishida Fumio in Tokyo on September 26.