Saigon Tet images of 100 years ago recreated
On January 30, 'Dau An Saigon' - a special event organized by a group of young people, bringing back the memories of a beautiful traditional Tet through century-old antiques.
Tết Nguyên Đán, more commonly known by its shortened name Tết, is the most important and popular holiday and festival in Vietnam. It is the Vietnamese New Year marking the arrival of spring based on the Lunar calendar. The name Tết Nguyên Đán is Sino-Vietnamese for Feast of the First Morning.
The dates of Lunar New Yeardiffers every year but it generally takes place around late January or February. Because of the fact that Vietnamese families are so close-knitted, Tet Holiday is considered the best occassion for family members to return home and get together. During Tết, Vietnamese spend time shopping for the New Year, go to Pagodas and Temples. The items of shopping range from food to clothing to decorations for the house. The Vietnamese believe that Tet Holiday is an occasion to enjoy life after a full hard-working year, thus people forget their struggles and focus on making the celebration as festive as possible. Due to the high regard in which people hold it, Tết, as often as not, is consumed with unique, distinctive colors and flavors.
A group of young culture aficionados in Saigon have displayed their century-old collection of traditional Tet items.
On January 30, two weeks before Tet (Lunar New Year), people were drawn to an event organized by a group of young people to showcase Saigon's heritage.
'Dau An Saigon' (Impression of Saigon) at the National Archives Center 2 on Le Duan Street, District 1 had a display of items traditionally used during the festival, lion dancing, traditional calligraphy, and discussions about Tet in southern Vietnam.
Candy Nguyen, the group leader, said: "We have collected more than 100 antiques from Vietnamese and people of Chinese descent to recreate old-style Tet in Saigon. Group members are present to provide explanations so that visitors can get a clear idea of how things used to be in the old days."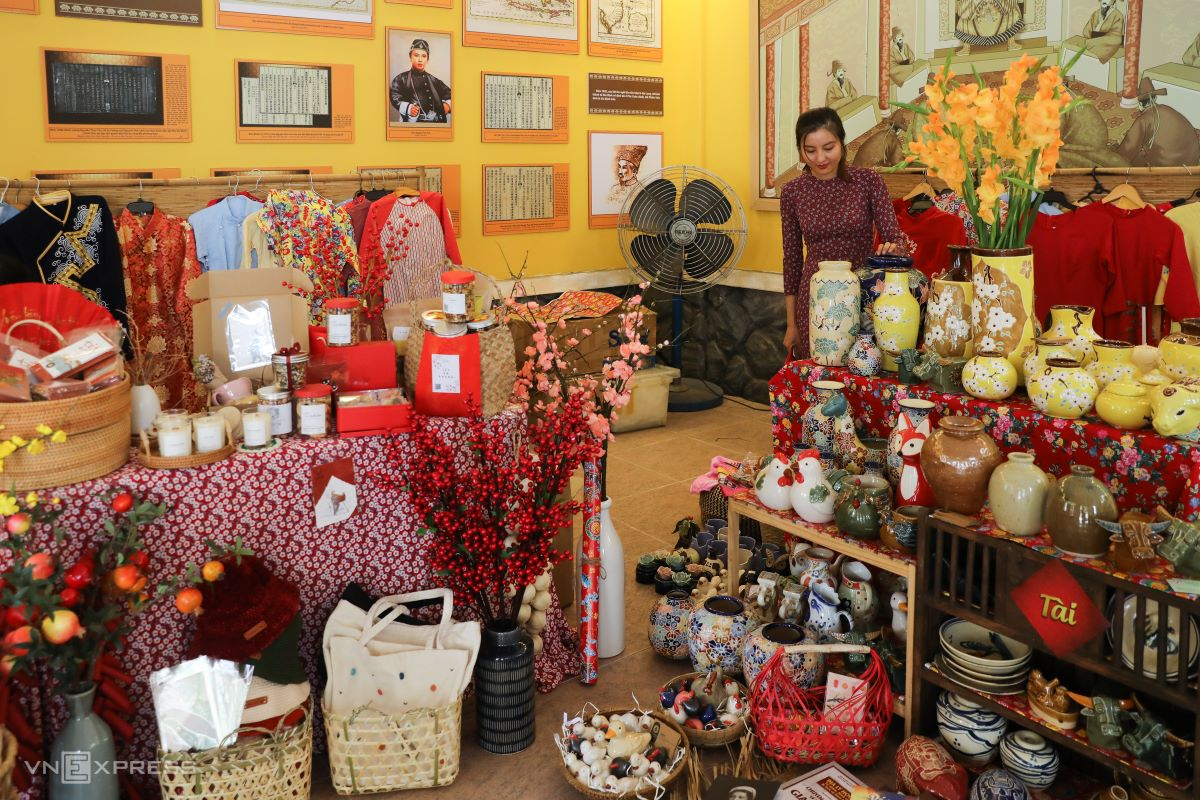 Photo: VnExpress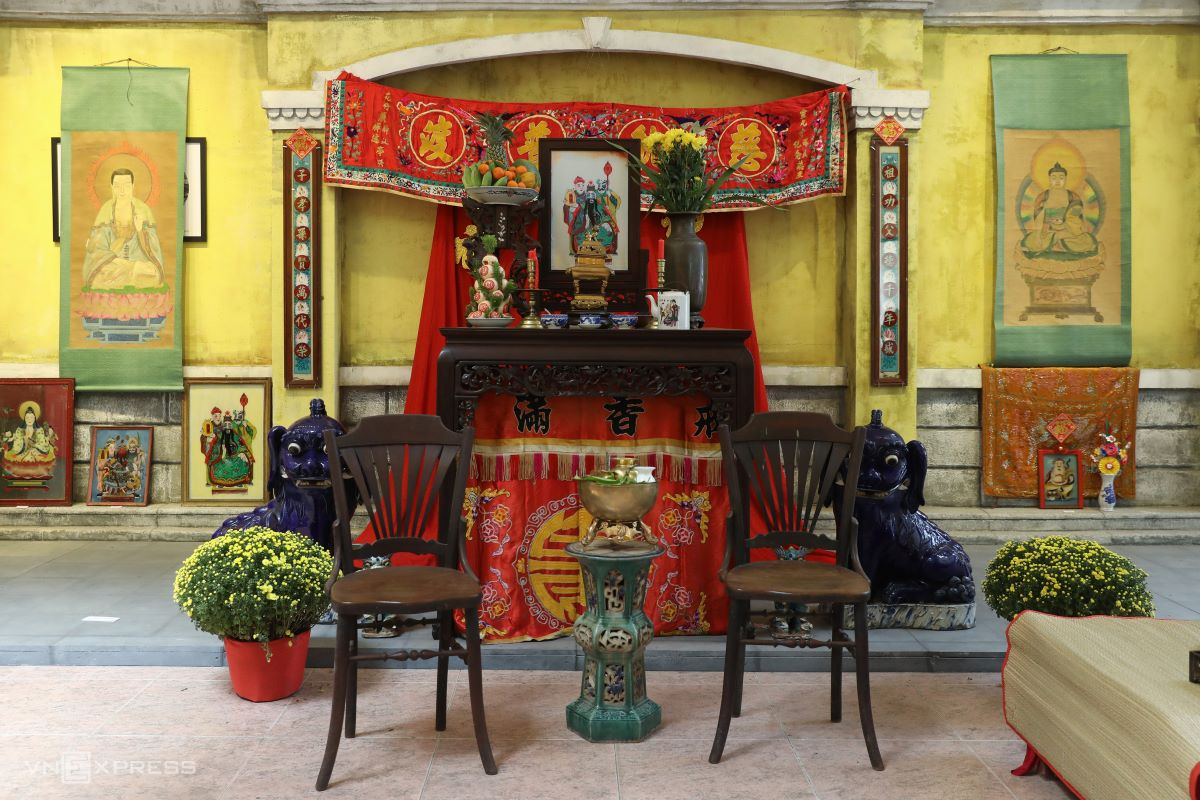 An altar with incense holders, a flower vase, table and lamps all more than a century old. Nearly half the space is taken up by an exhibition of Tet decorations at the dawn of the 20th century. A Vietnamese history and culture geek might notice the subtle differences between northern and southern style altars. A typical Saigon altar consists of two incense holders in the middle and two lamps on either side. A flower vase is in the left corner and fruit offerings are put on a three-legged plate c
The house owner welcomes guests to a space near the altar. Yellow flowers such as daisy and apricot are displayed in the living room. Guests are offered sweets, tea and 'trau cau' (betel leaf and areca nut). (Photo: VnExpress)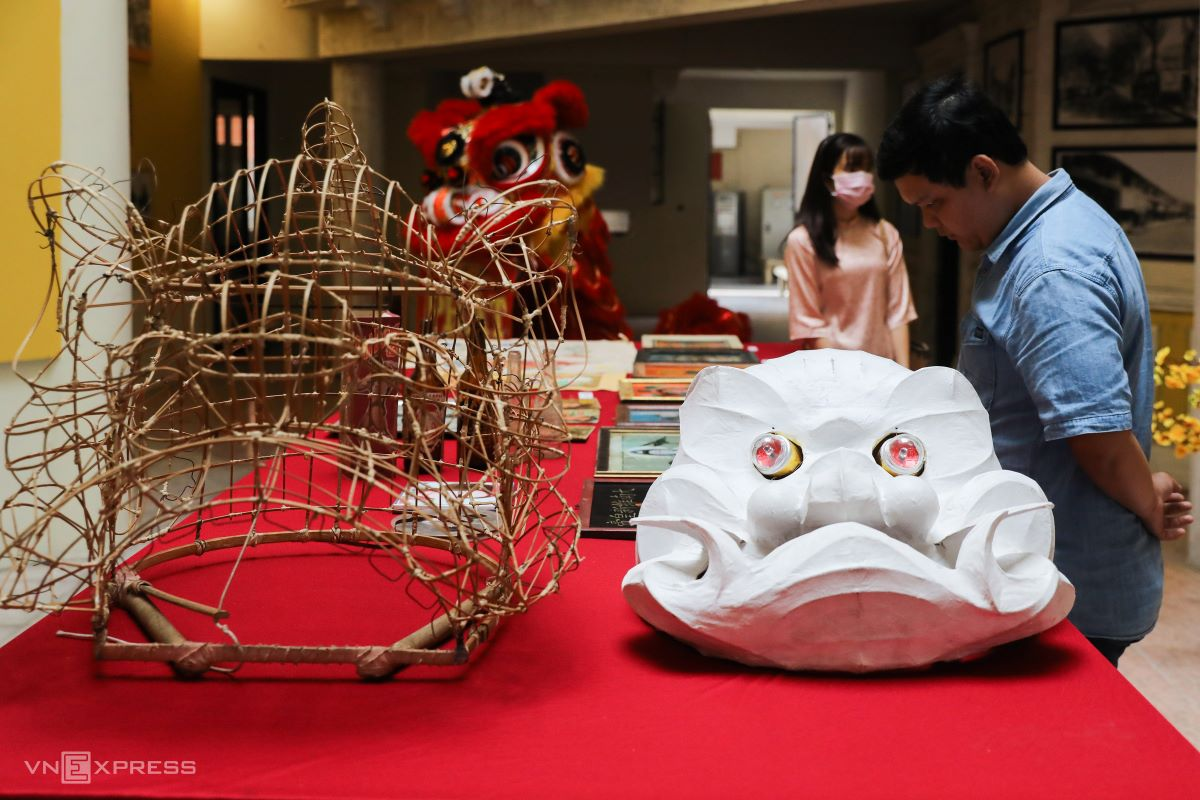 A lion head used for dancing at Tet. In Vietnam, the lion head dance symbolizes peace and prosperity. (Photo: VnExpress)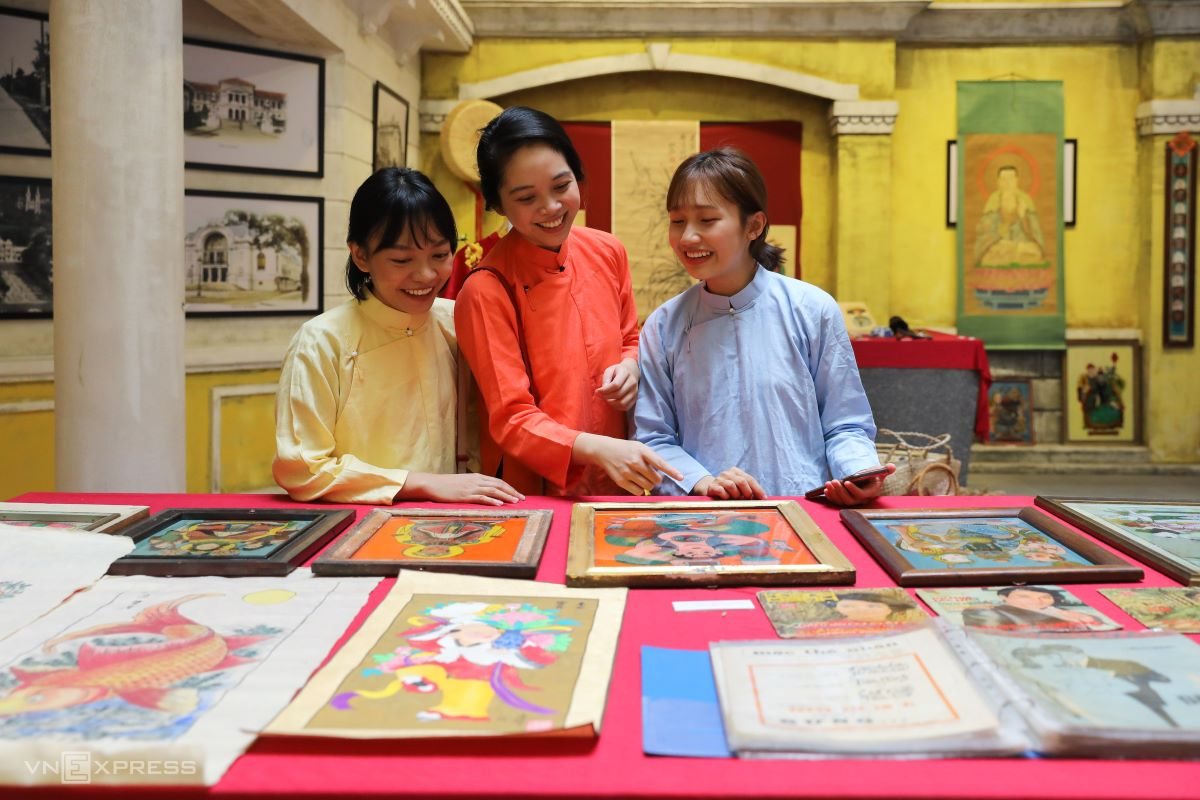 Dong Ho woodblock printed paintings, 'tranh kieng Nam Bo' (reverse glass paintings of the south) and spring music sheets were popular in Saigon at Tet over 50 years ago. (Photo: VnExpress)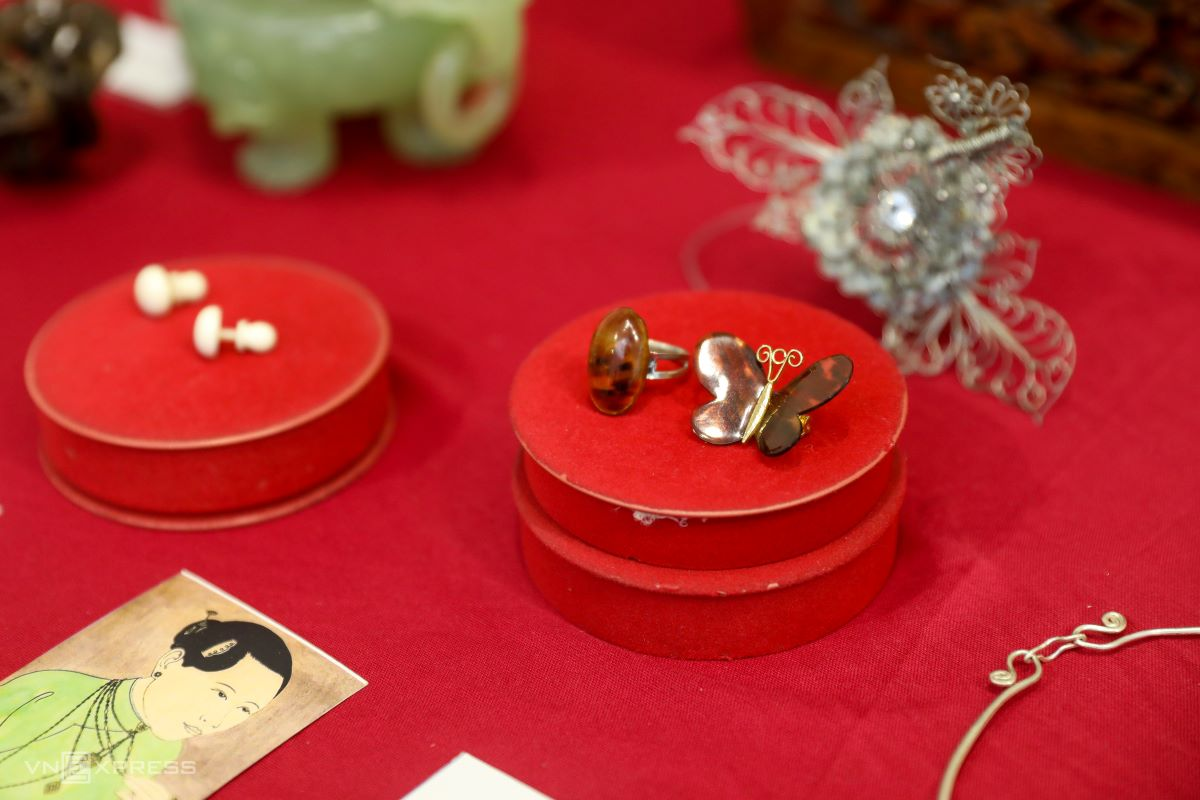 Jewelry used when going out in the first days of the Lunar New Year. (Photo: VnExpress)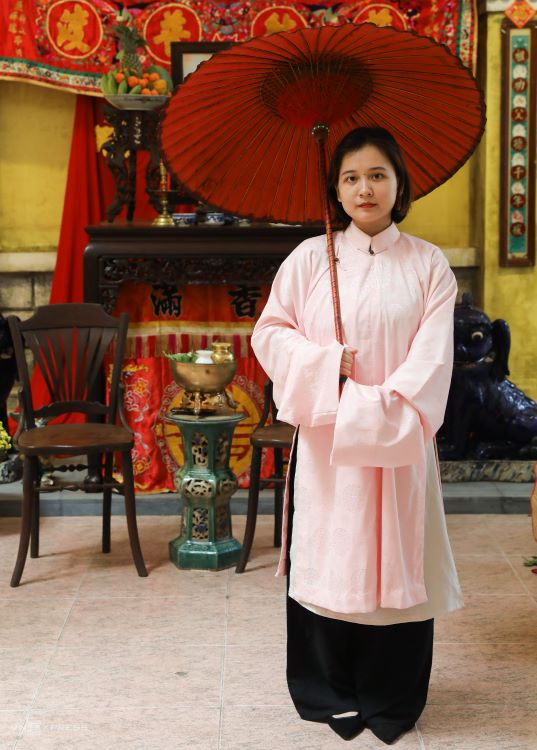 Tran Phuong Thao, 25, tries on an 'ao tac' (a loose-fitting traditional dress). The dress, which originated in feudal times, was worn on special occasions such as Tet and weddings. "The dress I am wearing used to be very popular in Saigon at the beginning of the 20th century," Thao said. "It's really interesting to wear clothes in the style of our ancestors." (Photo: VnExpress)
A collection of music sheets with songs about spring carefully preserved in a plastic-wrapped album. Collecting music sheets was a hobby of Saigonese in the 1950s. Artworks on the cover and song lyrics and music notes inside was a format that appealed to Saigonese then. (Photo: VnExpress)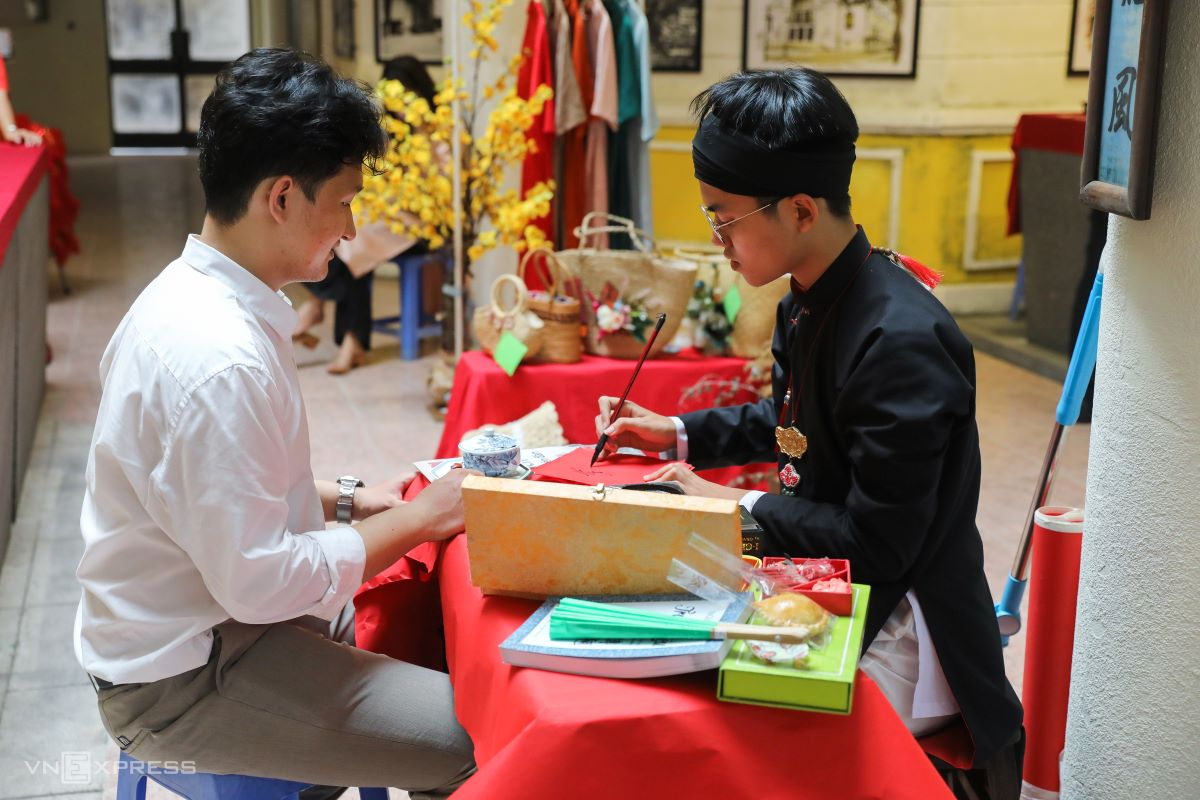 A calligrapher (in black dress) writes beautiful characters for a guest which are believed to bring about good lucks in the New Year. The event also featured a reenactment of fortune telling that used to be popular during Tet by reading straws or quoting sentences in the renowned poem 'The Tale of Kieu' by Nguyen Du. Nguyen Du, a Vietnamese poet in the 19th century, was recognized by UNESCO as a "Great Poet". (Photo: VnExpress)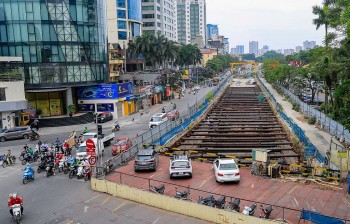 Economy
Vietnam Business & Weather Briefing (May 22): A series of consecutive increases for references exchange has ended, meanwhile, the rise in gold price slows down.