Vibrant Da Lat in pink hue of cherry blossom as Tet coming close
On the last days of Lunar Year, the streets of Da Lat mountain are glowing with cherry blossoms.
Over the past 2 weeks, everywhere around the streets of Da Lat mountain turn vibrant with cherry blossoms, citing that Lunar New Year is approaching. In the most beautiful blooming spots, hundreds of visitors come to watch the cherry blossoms and take photos the capture the moment that happens only once a year.
Along Hung Vuong Street on Highway 20 there are many cherry trees "just in range", blending in the background of French-style villas, creating a picturesque scene loved by many people.
Along Highway 20, running through the Xuan Tho commune, cherry blooms on both sides of the road. There are even people who are driving to work stopping the car to "take a selfie" with the trees. Many tourists also stop the car to take pictures and videos.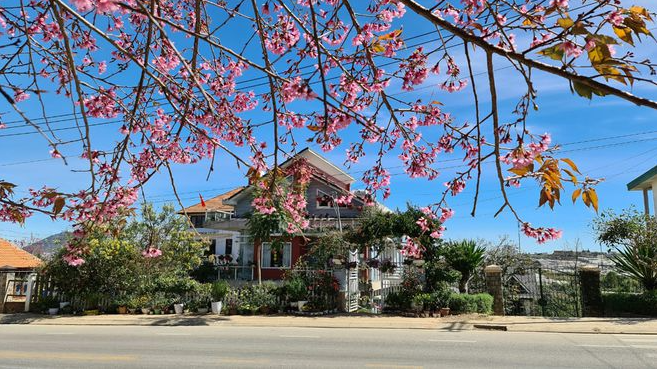 Da Lat turns vibrant as cherry booms. (Photo: Thanh Nien)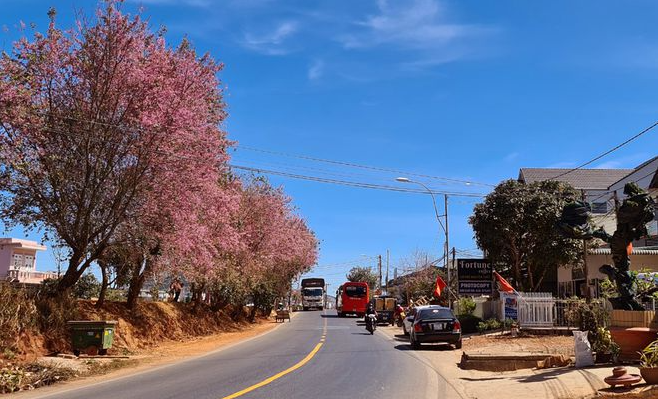 The part of Highway 20 the passes through Xuan Tho commune, where the cherries are in full bloom. (Photo: Thanh Nien)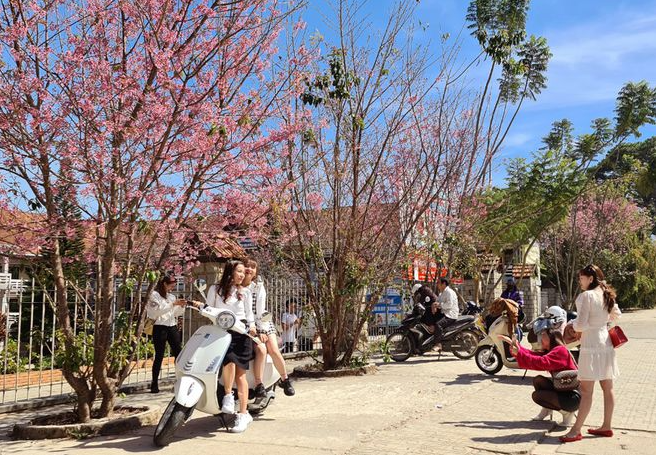 Many young people stop by SOS village, where cherry blossoms dye the whole neighborhood into pink, to take check-in photos. (Photo: Thanh Nien)
The ancient houses now become even more impressive thanks to the cherry blossoms. Da Lat cherry blossoms usually bloom in early spring, during late December or from January to February, depending on the annual weather, making the mountain town bright and attractive to visitors.
Currently, there are more than 3,000 cherry blossom trees in Dalat that are grown in different areas of the city. The beauty of this spring flower usually lasts only for about 1 month, so if you want to see cherry blossoms in Dalat, you should plan your trip carefully. This is also the period when many other flowers such as purple phoenix flowers and reed grass are blooming.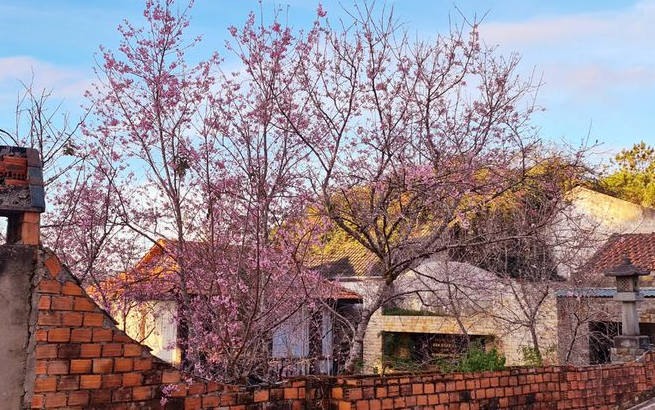 The old house even became more romantic thanks to the cherry trees. (Photo: Thanh Nien)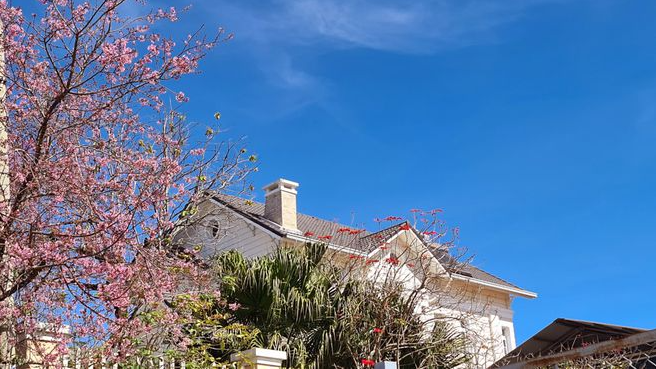 Dalat has many interesting things that can make your visit in the dreamy city surprising and exciting. The beauty of the land of thousands of flowers is worldwide famous. (Photo: Thanh Nien)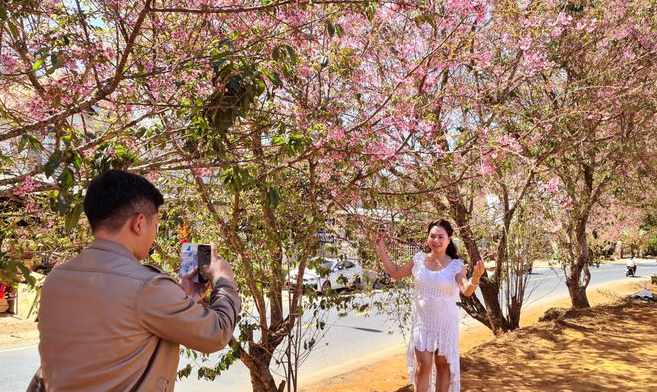 The vibrant pink colors of cherry blossoms on display throughout the streets of Da Lat have enthralled locals and visitors. (Photo: Thanh Nien)
According to Vietnam Plus, cherry blossoms in Da Lat have the shape of plum trees and the five-petal of apricot flowers. That is why local people consider Da Lat cherry flowers special and unique to the city. (Photo: Thanh Nien)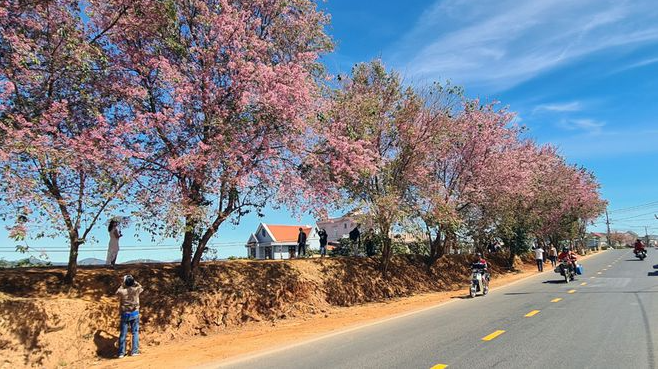 Cherry blossoms bring a spring vibe to the old villas of Da Lat. (Photo: Thanh Nien)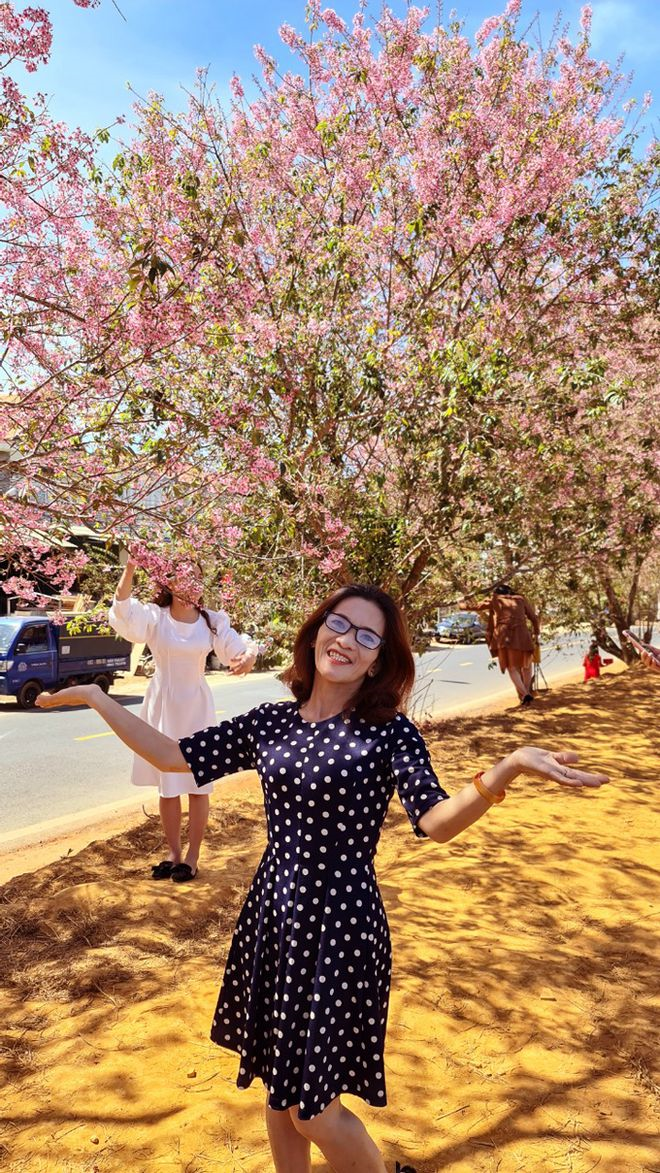 In recent years, thousands of trees have been relocated around Xuan Huong Lake and many other roads in the city, gradually creating a charming "cherry blossom space" (Photo: Thanh Nien)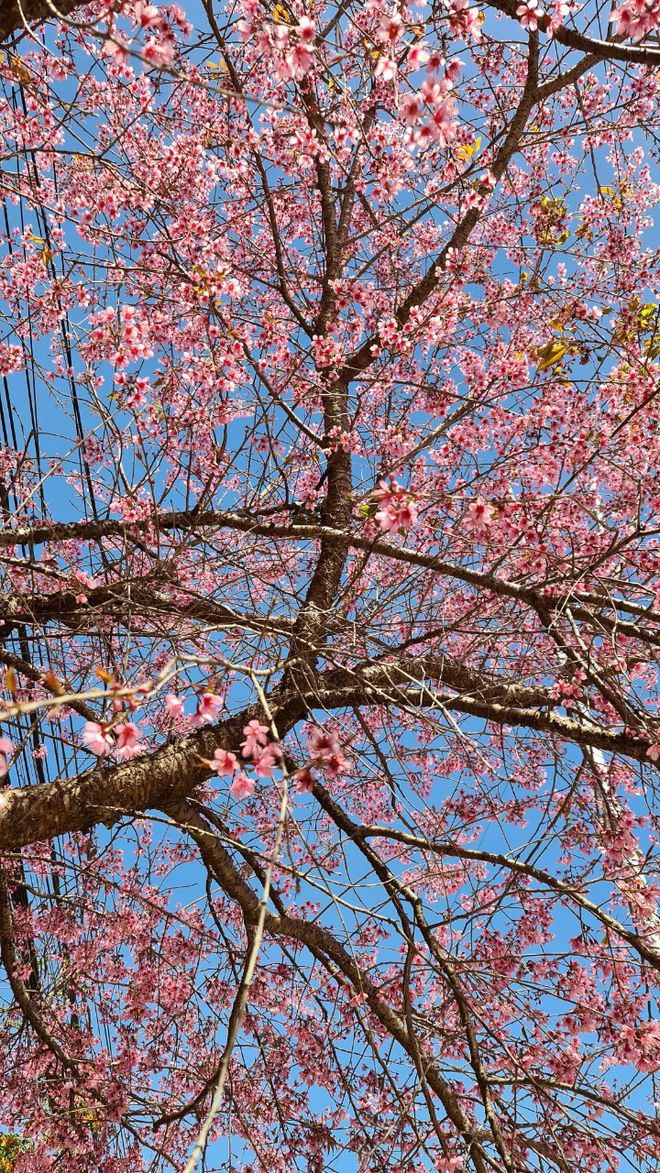 Cherry trees thrive in a temperate climate. In early winter, the trees typically shed all their leaves, then hibernate about two weeks before blooming for around one to two months. (Photo: Thanh Nien)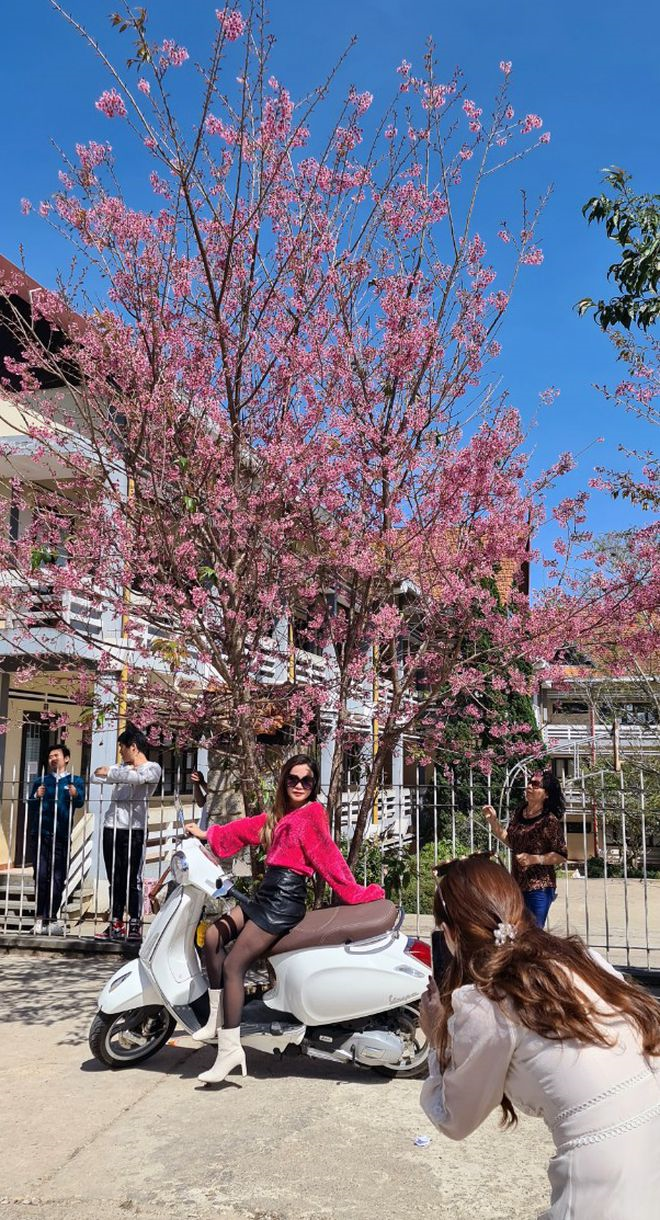 Cherry blossoms usually appear along the 500-meter-long Tran Hung Dao Street, as well as Hung Vuong, Dong Da, Ho Tung Mau, Tran Quang Dieu, Tran Quy Cap, Le Dai Hanh, and Dinh Tien Hoang. (Photo: Thanh Nien)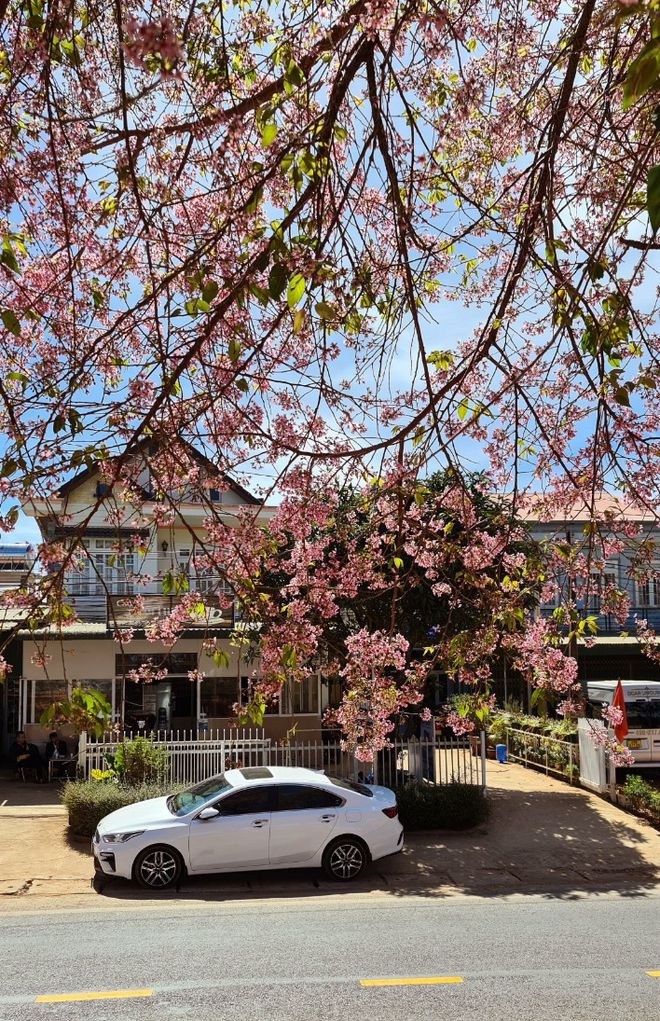 Residents and visitors in the resort town of Da Lat and its environs are enjoying a pink renaissance as many cherry trees shed their leaves and bloom in profusion. (Photo: Thanh Nien)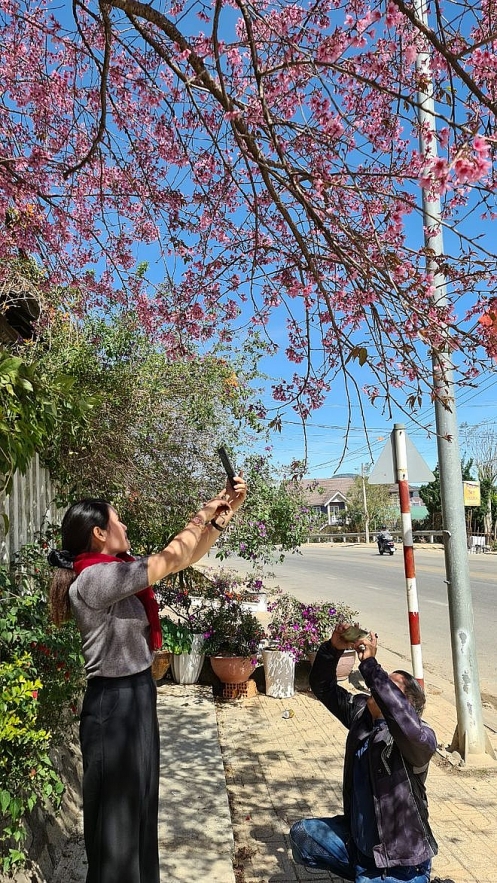 The cherry trees do not just stand on the sides of streets and roads, many locals plant them within their homes and even as fences. (Photo: Thanh Nien)