Santa Comes To Town: Most Beautiful Christmas Towns To Visit This Season
The Bells ring, the churches sing, and Christmas trees line up on the streets, Christmas time is near. If you are looking for some wonderful destinations to spend your holiday, these Christmas towns definitely make this year's Christmas bucket list.
Who else has spent afternoons dreaming of strolling around the cozy, wintery towns of your favorite Hallmark Christmas movies? These amazing Christmas towns across the country are real contenders for top-notch holiday spirit. With some of the best Christmas light displays, holiday decorating, holiday craft fairs, and other festive family activities on their calendars, these towns should definitely make this year's Christmas bucket list.
Top 7 Most Beautiful Christmas Towns To Visit This Season
1. Lahaska, Pennsylvania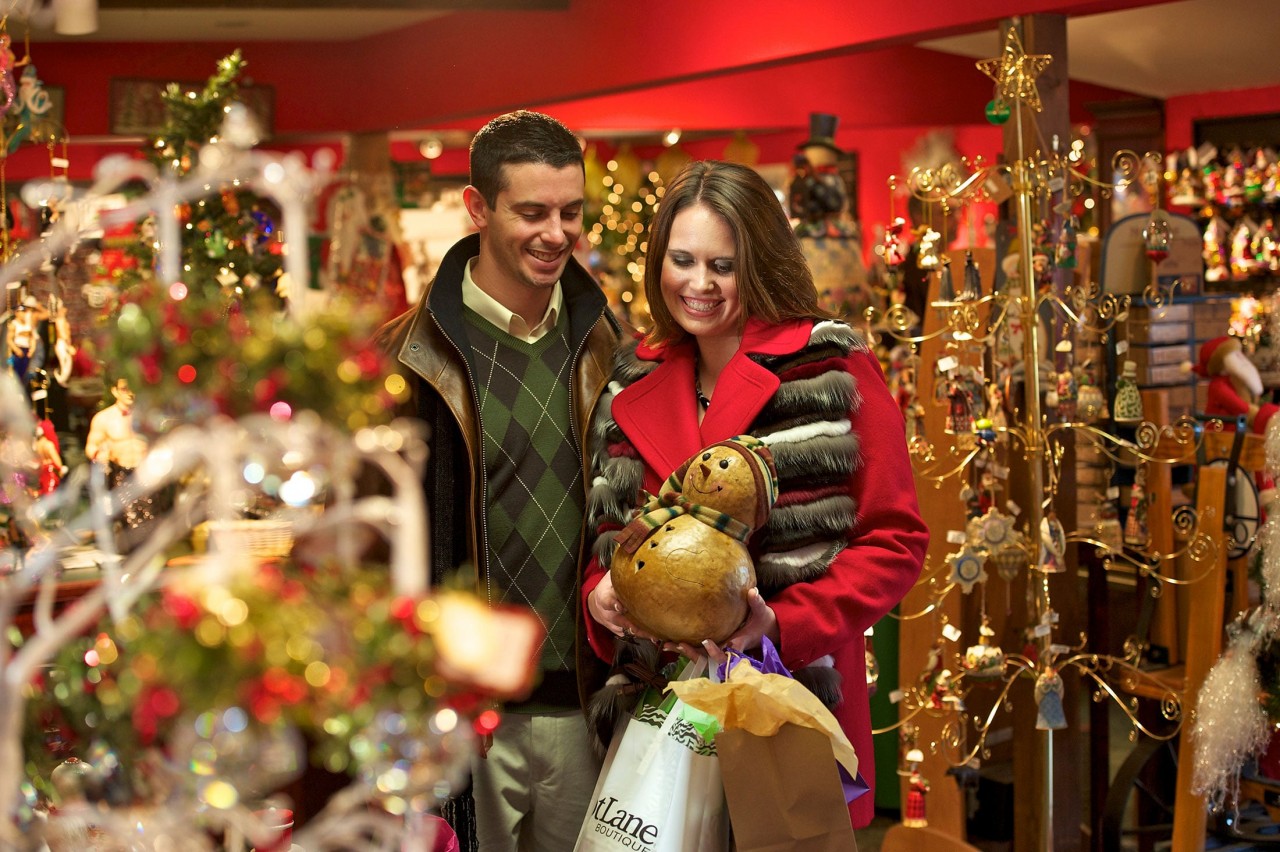 Photo: peddlersvillage.com
Lahaska is an unincorporated community in central Bucks County, Pennsylvania, United States. It lies just east of Buckingham and west of New Hope on Route 202 and Route 263. While most of it is in Buckingham Township, it also extends into Solebury Township.
While the village has its own box Post Office with the ZIP code of 18931, surrounding areas use the Doylestown ZIP code of 18902 or the New Hope ZIP code of 18938. Lahaska is home to one of the most popular shopping areas in the region, Peddler's Village, as well as Buckingham Friends School, a private Quaker school for grades K-8.
Lahaska is also the southern terminus for most New Hope Railroad excursion trains from New Hope.
Peddler's Village in Lahaska is home to a host of unique specialty shops that all light up for the holidays in a dazzling display. There are plenty of festive events throughout the season, too, including Santa visits, parades, and an annual gingerbread house competition.
2. Oxnard, California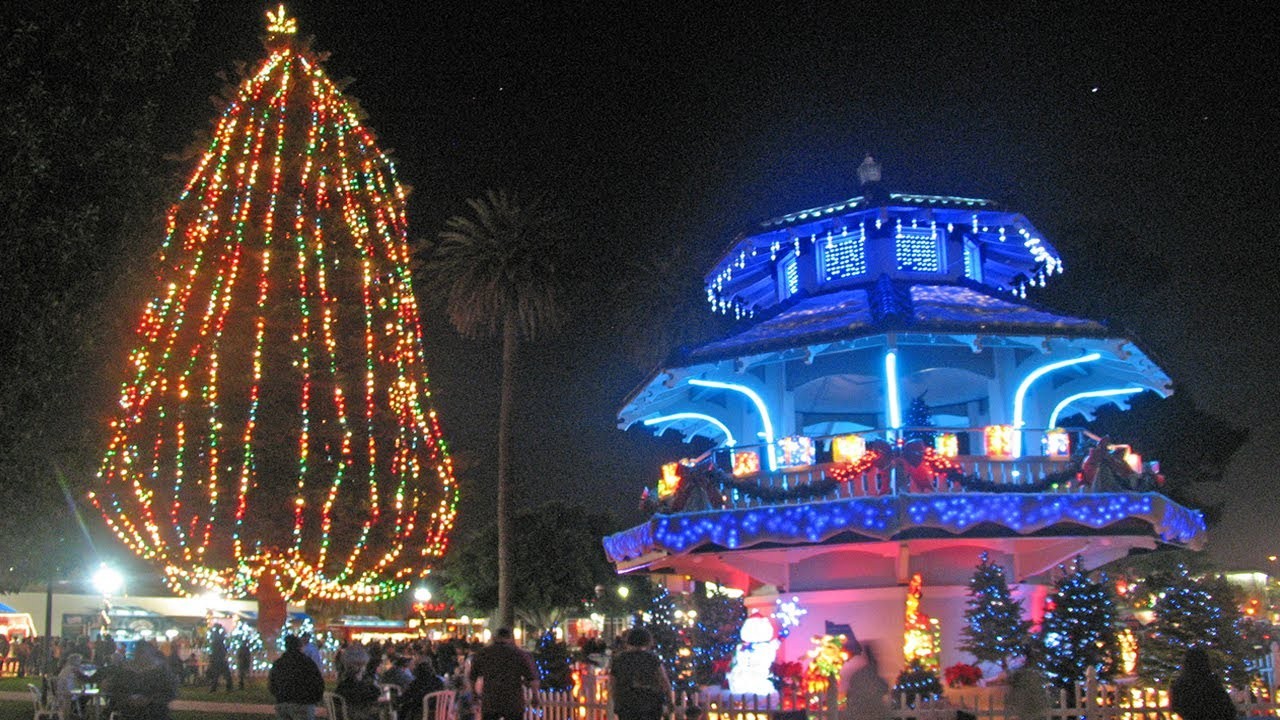 Photo: DowntownOxnard
Oxnard is a city in Ventura County, California, United States. On California's South Coast, it is the most populous city in Ventura County and the 22nd most populous city in California. Incorporated in 1903, Oxnard lies approximately 60 miles (97 km) west of downtown Los Angeles and is part of the larger Greater Los Angeles area.
It is at the western edge of the fertile Oxnard Plain, adjacent to agricultural fields with strawberries, lima beans and other vegetable crops. Oxnard is also a major transportation hub in Southern California, with Amtrak, Union Pacific, Metrolink, Greyhound, and Intercalifornias stopping there. It also has a small regional airport, Oxnard Airport (OXR).
This beach town is brimming with yuletide excitement from multiple tree lightings – including the tallest Christmas Tree in Ventura County to the glimmering Christmas Tree Lane, a decades-long tradition of festively lit houses along several streets in Oxnard's National Historic District. Take the Oxnard Holly Trolley down Christmas Tree Lane and to other local holiday attractions while sipping hot cocoa for an outing you won't soon forget. There's also a Parade of Lights with decorated boats at the Channel Islands Harbor, tours of the decorated Victorian homes in the historic Heritage Square, a tamale festival, and more.
3. Long Grove, Illinois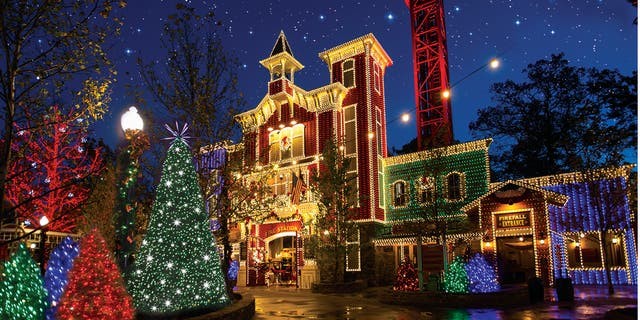 Photo: Fox News
Long Grove is a village in Lake County, Illinois, United States, approximately 35 miles (56 km) away from and a northwest suburb of Chicago. As of the 2010 census, the village had a population of 8,043. The village has strict building ordinances to preserve its "country atmosphere".
Charming, historic downtown Long Grove is the destination for the holiday season. Visitors will enjoy a variety of family fun beginning Thanksgiving weekend through Christmas Eve. Weekends enjoy caroling, Santa strolling around for photo ops, horse-drawn carriage rides, and more! Plus, the Free Gift Program continues through December 24th.
This inviting Chicago suburb has a yearly "Vintage Holidays" campaign, a seasonal tribute to the small-town holiday market experience complete with picture-perfect shops, horse-and-carriage rides and strolling holiday carolers in historic costumes. From Nov. 19 through Dec. 19, you can expect all this, along with appearances of Santa and Mrs. Claus, village merchants participating in a "Christmas Tree Parade" and more. The Long Grove Vintage Holidays event is organized annually by the Historic Downtown Long Grove Business Association.
4. Burlington, Vermont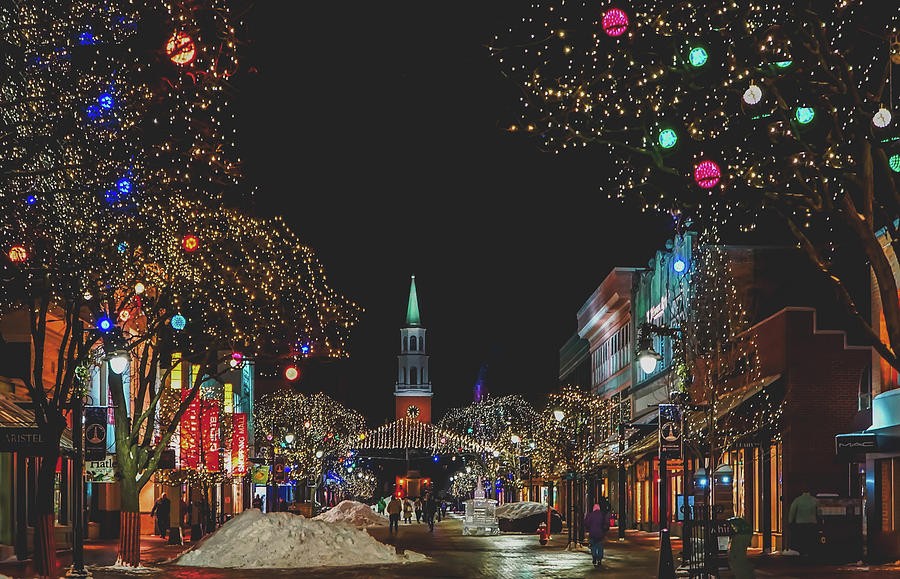 Photo: Pixels
Whether it's a restaurant opening, a great event, or an art show, there is always something new to discover in Burlington. Compact and beautiful, Burlington is home to a thriving arts scene, museums and educational opportunities, great shopping, three colleges, and a university, as well as a full range of four-season outdoor pursuits. It's no wonder this small, friendly city consistently earns national awards. Fountains, a brick-paved pedestrian mall, and historic buildings provide the backdrop for the Church Street Marketplace, where specialty shops and national retailers mingle with restaurants and cultural venues. Outdoor cafes, street vendors, and entertainers keep things lively long after sundown. Festivals are held all year long with events like New Year's First Night Celebration and the Burlington Discover Jazz Festival attracting visitors from throughout the northeast. A short walk from Church Street takes visitors to nearby Burlington Waterfront Park, offering ferry crossings, excursion boats, and a 12.5-mile walking/bike path that connects to the Lake Champlain Islands via bike ferry in summer. Bicycles, rollerblades, kayaks, and sailboats are all available for rent, and the views across the lake are spectacular.
5. Essex, Connecticut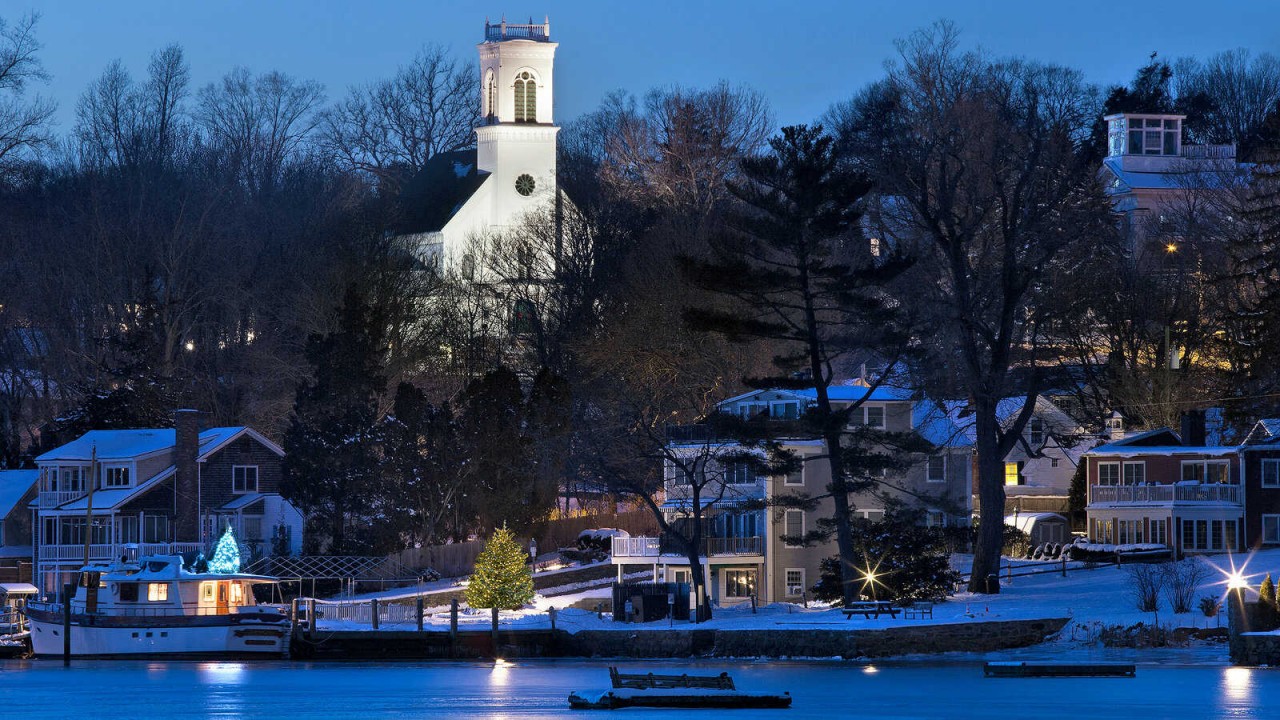 Photo: The New York Times
Surrounded on three sides by water, the historic Essex Village in Essex, CT – the perfect small town – juts into the Connecticut River like a stubby thumb. A few miles south of here, the river empties into Long Island Sound in Old Saybrook, Connecticut.
While in Essex, all roads lead to the Town Dock and the adjacent Connecticut River Museum, which was once a historic 1878 warehouse. Today the museum remains a touchstone for the town, hosting exhibits, eagle tours, and special events that draw young and old to its sprawling lawn at the water's edge.
On Main Street, village shops and early Colonial and Federal-era homes jostle side by side. A short stroll quickly reveals why Essex was named the "Perfect Small American Town" in 1,000 Places to See Before You Die. Another guidebook names Essex, CT #1 on its list of "The 100 Best Small Towns in America."
There's no shortage of things to do in Essex during Christmastime. You can ride the North Pole Express, attend the annual Holiday Train Show, or catch a magical light display at the holiday village. If you're having too much fun to go home, book a stay at the historic Griswold Inn, where parts of the Hallmark Channel movie Christmas at Pemberley Manor were filmed!
6. Branson, Missouri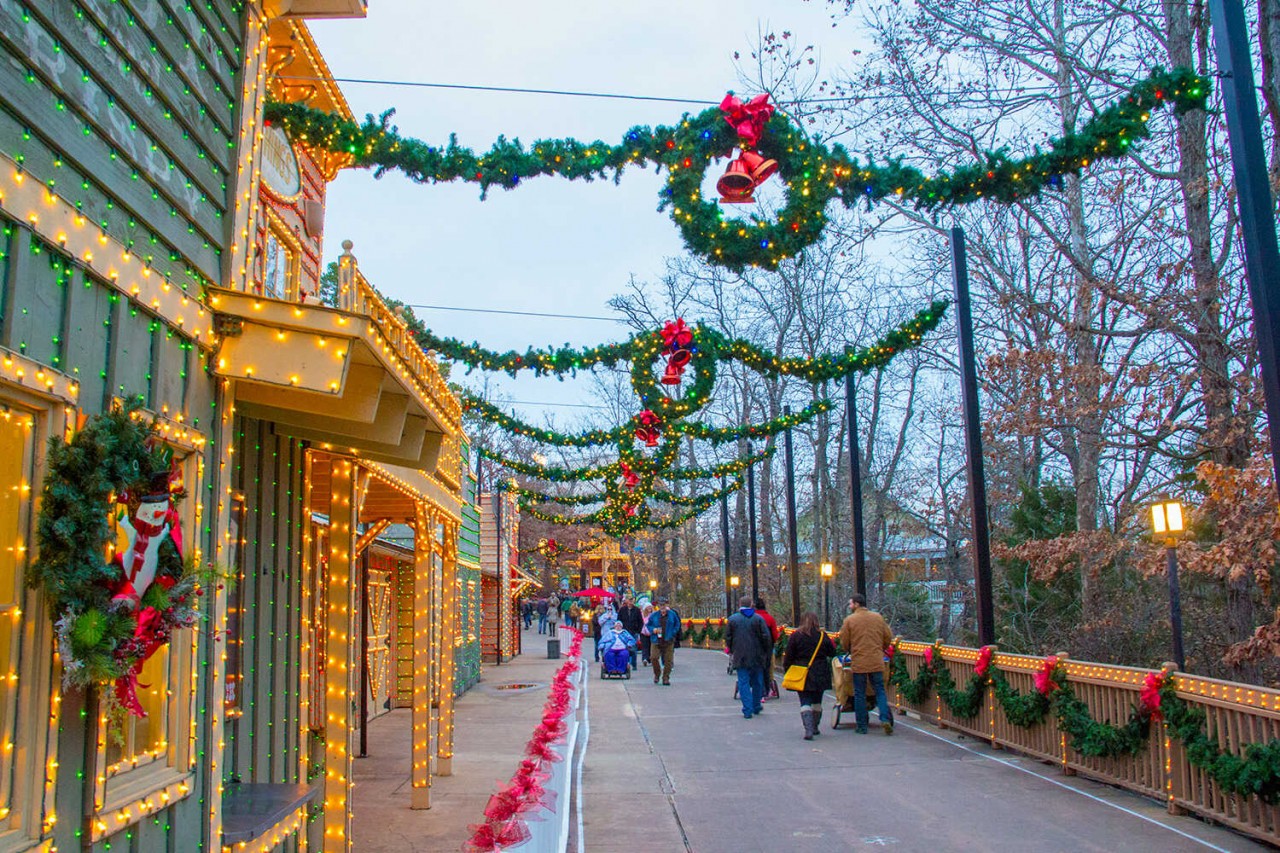 Photo: Branson Christmas
Branson is a city in Taney and Stone counties in the U.S. state of Missouri. Most of the city is in Taney County, with a small portion in the west extending into Stone County. Branson is in the Ozark Mountains. The community was named after Reuben Branson, postmaster, and operator of a general store in the area in the 1880s. The population was 12,638 at the 2020 census.
Branson has long been a popular destination for vacationers from Missouri and around the country. The collection of entertainment theaters along 76 Country Boulevard (and to a lesser extent along with Shepherd of the Hills Expressway), including Dolly Parton's Stampede, has increased Branson's popularity as a tourist destination.
Ready for a very Ozark Christmas? In this small town of some 11,500 residents, visitors to famed Silver Dollar City, an 1880s-inspired theme park a few miles outside downtown Branson, are in for a veritable holiday treat. Within: "An Old Time Christmas" event that has 6.5 million lights on display, an eight-story Christmas tree, several musicals, and a much-beloved light parade. Need more convincing? It's the four-time reigning champion of America's Best Theme Park Holiday Event in the USA Today's 10Best Readers' Poll. With 6.5 million lights around town, there's also much to explore outside the theme park, including approximately 100 shows at 37 theaters, such as Christmas shows by families like the Haygoods, five brothers and one sister who play 20 instruments between them, melding rock, country, and high jinks, and the Celtic fiddling Dutton family performing orchestral versions of Christmas tunes.
7. Kennebunkport, Maine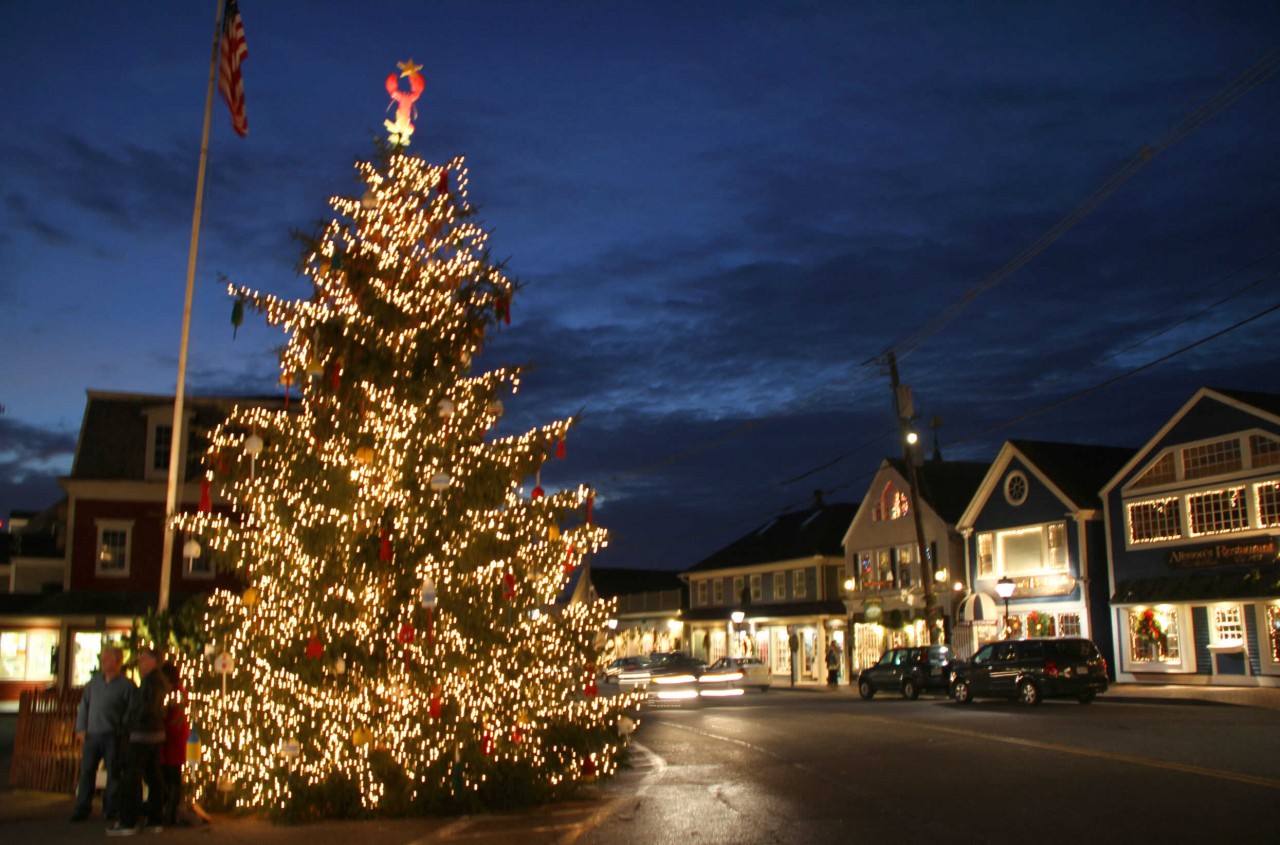 Photo: VisitMaine.net
Kennebunkport is truly a year-round vacation destination, with visitors enjoying lots of fun in every season. There is so much to do and see that visitors often come back throughout the year to enjoy every aspect that Kennebunkport has to offer. From gorgeous beaches and scenic lighthouses to boat tours and unique shopping boutiques, and the best restaurants in Southern Maine, there is something for everyone!
In the winter, Kennebunkport's Christmas Prelude kicks off the Christmas season with the annual tree lighting in town, caroling at the Franciscan Monastery, and a weekend filled with local craft fairs, shopping, and entertainment - Santa even makes an appearance, arriving on a lobster boat! They say that February is for Lovers here in Kennebunkport, and it is the perfect time for that romantic getaway. Several local inns, resorts and bed, and breakfasts offer special packages at this time to fit your budget, candlelight dinners and chocolate fests add something extra special to your Valentine's getaway to Kennebunkport. Winter in the Port is quiet and relaxing, a great time to browse through quaint shops and art galleries like Morning Walk and the Hive or enjoy an intimate and romantic dinner at a Kennebunkport cafe or Wine Bar.
Best Christmas TV To Watch In 2021

Christmas is just around the corner, and there also come the best Christmas TV specials that promise to bring you the best and most entertaining ...
.