Satisfy Your Sweet Tooth: Discover The Biggest Chocolate Festivals Around The World
Chocolate is one of the most favorite deserts in the world, and these wonderful, delicious chocolate festivals will satisfy your sweet tooth and your love for this lovely treat.
Chocolate, one of the most famous sweets in the world, is loved by many people for its sweetness and nutrition values. Dark chocolate contains powerful antioxidants. Among the most beneficial is a flavonol called epicatechin. Flavonols are compounds found in plants that fight inflammation and protect against cell damage caused by free radicals. Thus, there are festivals around the world that celebrate these wonderful sweets.
1. Eurochocolate, Perugia, Italy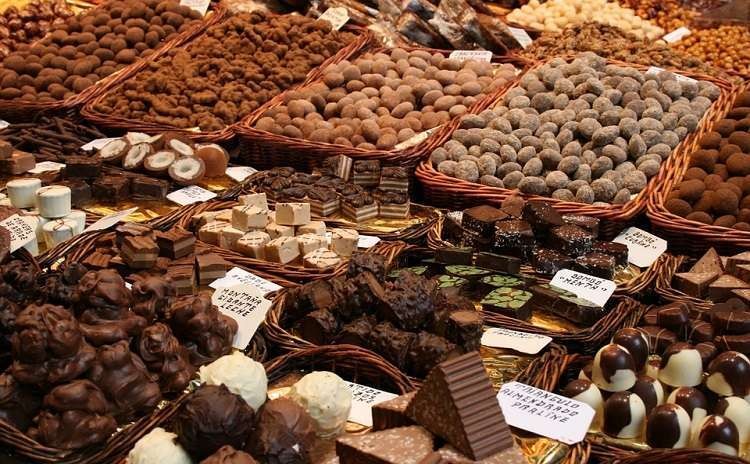 Photo: Italy by Events
Eurochocolate is the event dedicated to chocolate par excellence, the most important of Umbria if not even of Italy. The annual event takes place in Perugia every October, exactly after Summer when is shooting at full speed chocolate consumption.
The Italian and international chocolate traditions are the real protagonists, with laboratories and food stands of chocolate producers that are set up during the manifestation; moreover, for each edition, many themed events, tasting tours, shows, cultural events... animate and involve the streets and the squares of the historic center of the Umbrian capital city.
A rich and welcoming frame as that of Perugia is one of the key factors for the success of this event, together with the ability to engage the audience by introducing him to the world of chocolate in a professional and funny way.
The origins of this exhibit dates back to 1994, thanks to the creative intuition of the architect Eugenio Guarducci; since then, Eurochocolate has been able to confirm itself year after year, recording a successful event and continuous growth of public. In the collective imagination, by the time Perugia is "The Chocolate City", turning for the 9 days of the event in a real open-air chocolate factory and shop.
2. NYC Chocolate Fashion Show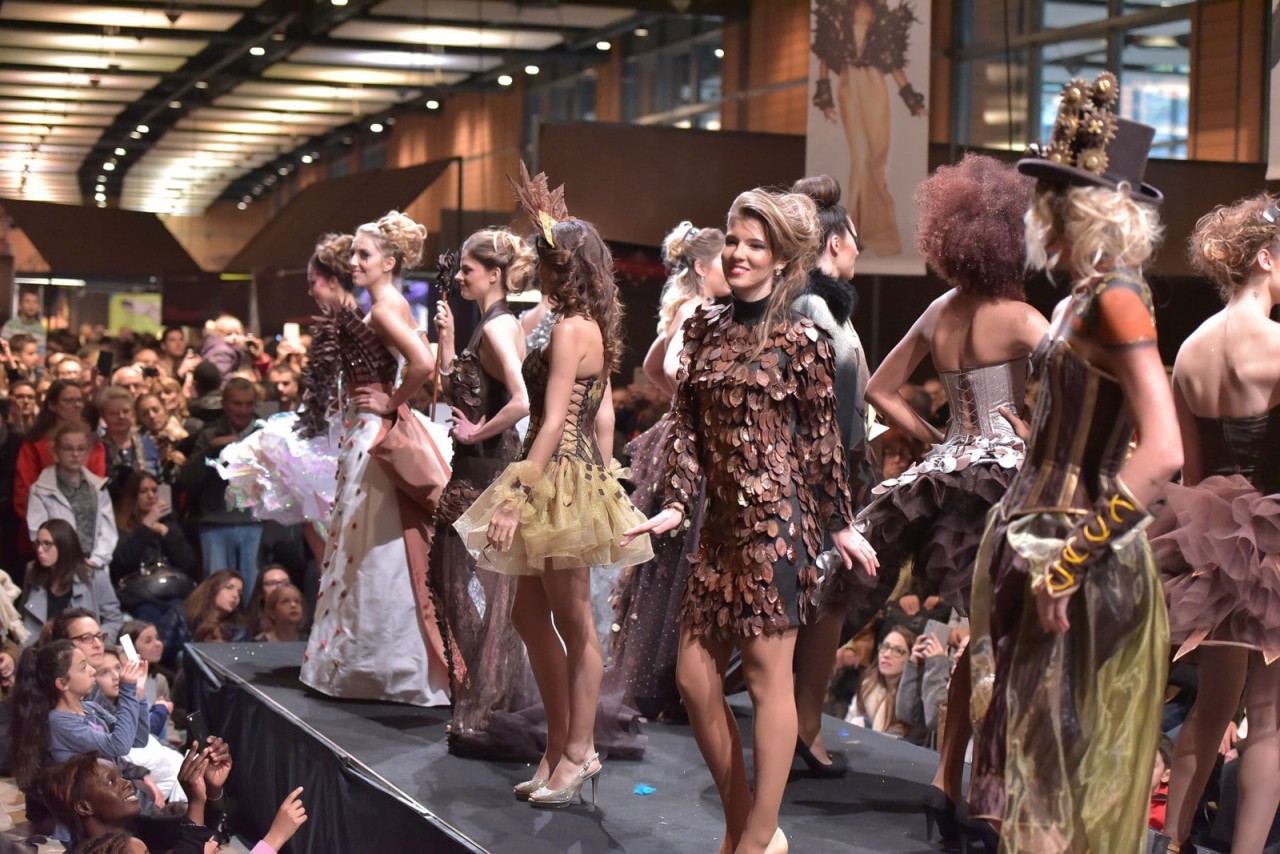 Photo: CulEpi
North America's biggest chocolate festival happens in New York. Every November, well over 15,000 visitors, journalists, and culinary professionals gather at the Metropolitan Pavilion, with its 4,000 m2 exhibition arena. There top international chocolatiers and pastry chefs present live demonstrations, and audience members sample their chocolate creations.
During the festival, kids and parents can visit the Barnes & Noble bookstore, which offers regular storytimes and even the chance to meet some food fundis in person.
3. Chocoa Festival, Amsterdam, The Netherlands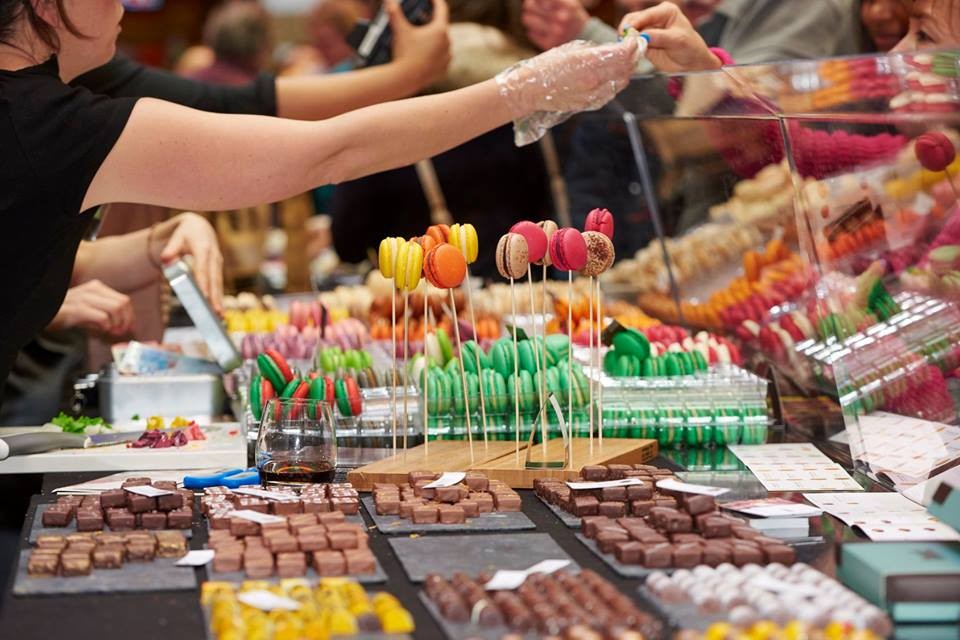 Photo: Heavenly Holland
For the connoisseur who cares about sustainable chocolate, the Chocoa Festival in Amsterdam is quite a treat. Here you will not only learn the intricacies about making chocolate but you can also attend talks on understanding where your chocolate comes from, and what are the challenges its makers face today.
Discover new flavors and learn to recognize the qualities of good quality cacao under the guidance of master chocolate makers who come from all over the world, from the Netherlands and Hungary to Brazil, Peru, and Mexico. There are free chocolate tastings and delightful wine and food pairings to go with it. The festival is usually held in February. 2019 dates will be announced soon.
4. Choco-Late Festival – Bruges, Belgium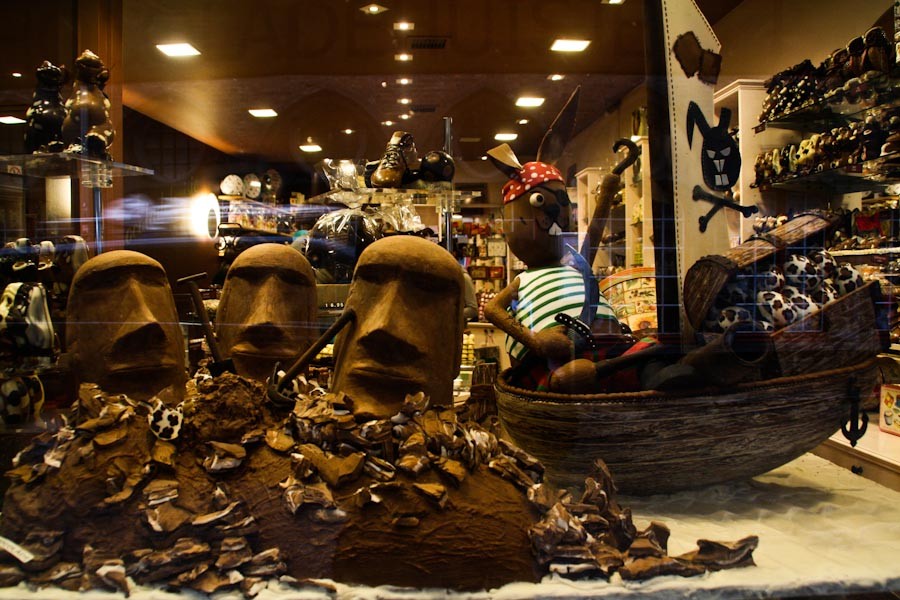 Photo: Travinspire
From November 6th to December 8th, at Choc'in Brugge, you can meet the best master craftsmen, visit the Chocolate Museum, enjoy themed menus in high-class restaurants, participate in workshops and tastings, sign up for a chocolate beauty treatment, or take a tour to discover the history of the love affair between the city of Bruges and everybody's favorite sweet temptation.
The links between Bruges and cocoa go way back: it all began in the late Middle Ages when some of the city's families started to look for new products in which to trade. They already traded in sugar cane from Madeira, and when the Spanish brought cocoa from the New World in the sixteenth century, they soon learned to mix it with sugar. And so began the first chapter of a long story to which new pages continue to be added today as master confectioners create new treats for the sweet-toothed and new ways are discovered to enjoy and use the age-old delight. Visit the beautiful chocolate-box setting of Bruges while Choc'in Brugge is underway, and let yourself be tempted.
Bruges is a true chocolate lab thanks to over 50 expert chocolatiers, some long-established as well as other exciting new talents. So many experts in one place mean there are a thousand ways to enjoy chocolate in the city, from traditional crafts to the most innovative creations. Just take a stroll around and look at the confectioners' windows and you'll see that no other city in the world offers more choice or higher quality chocolate products. Depla (Mariastraat, 20), Dumon (in Simon Stevinplein square), or it's smaller, more traditional sister establishment in Eiermarkt Street will set your mouth watering. Don't miss others such as Guillaume (Grasdreef, 19), Roose (Steenstraat, 47), Spegelaere (Ezelstraat, 92), and The Chocolate Line, one of just three chocolate shops that rate a mention in the Michelin Guide.
5. Toronto Chocolate Festival – Toronto, Canada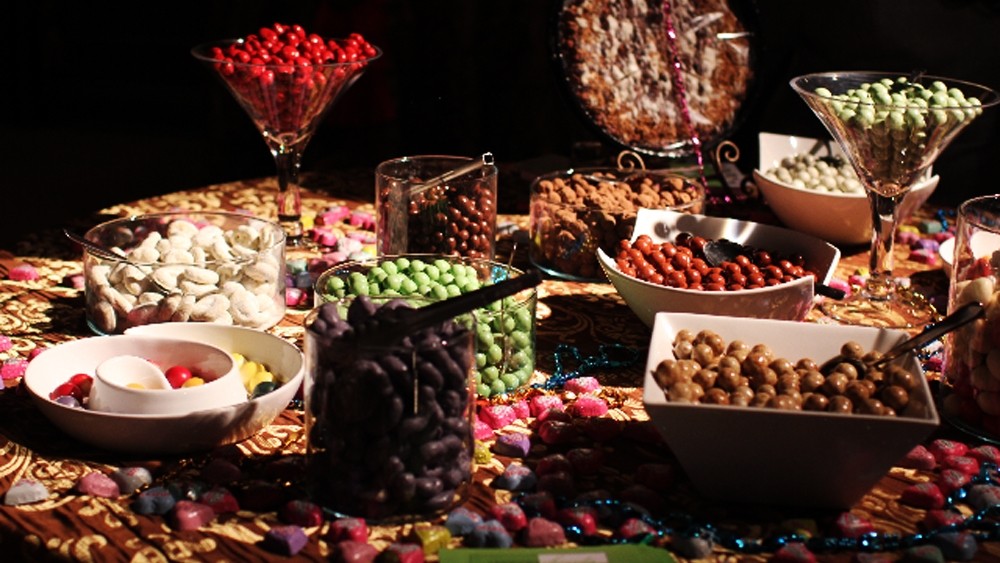 Photo: CarniFest.com
This annual city-wide festival will be held in 2013 from 18th October to 3rd November. Returning for its eighth year, this festival has become a favorite among locals and visitors alike. A highlight of the festival is the Chocolate Ball, during which live entertainment and a dazzling array of chocolates assure that all your senses are satisfied. The Tour de Chocolat offers chocoholics the chance to download coupons to redeem at participating Toronto chocolatiers, who open their doors once a year for free samples. Another tradition of the festival is the "9-1-1 Chocolate Relay", in which firefighters, police, and paramedics compete to see who can eat the most chocolate in a minute, to raise funds for prostate and breast cancer projects. This coveted position is currently held by the Metropolitan Toronto Police.
6. Le Salon du Chocolat, Paris, France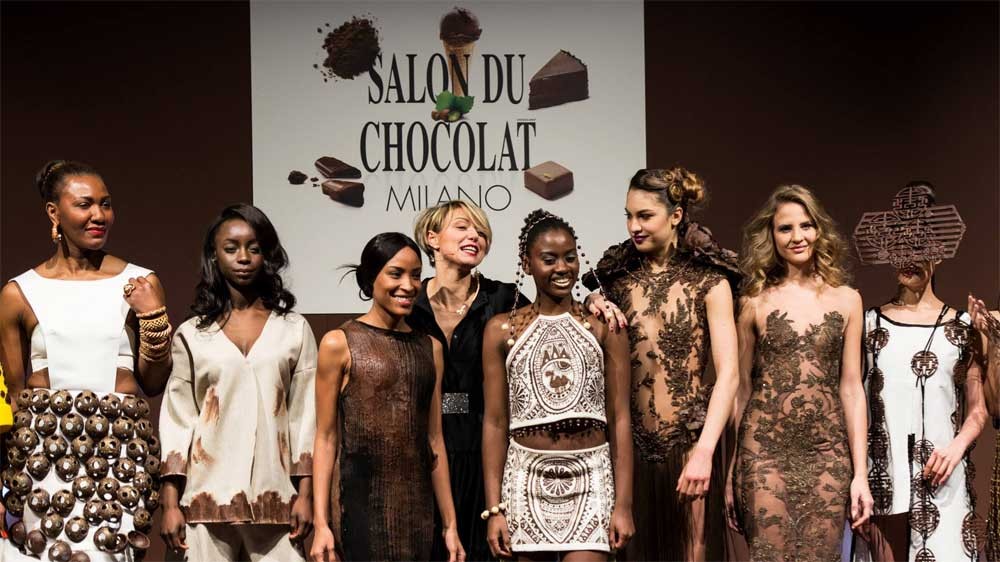 Photo: CarniFest.com
Salon du Chocolat is a five-day trade show held every year at the end of October in Paris, France. More than 500 manufacturers of chocolate and cocoa from around the world display their latest products at Porte de Versailles. In addition to sampling the finest chocolates and cocoa-based delicacies, visitors can learn more about chocolate-making and enjoy the famous chocolate fashion show.
These include designs that are not only inspired by chocolate, but some are even made from it! Of course, there are tastings, chocolate demos from renowned chefs, music and dance performances, and more during this five-day celebration of chocolate. The festival takes place from October 31st to November 4th this year.
7. chocolART, Tübingen, Germany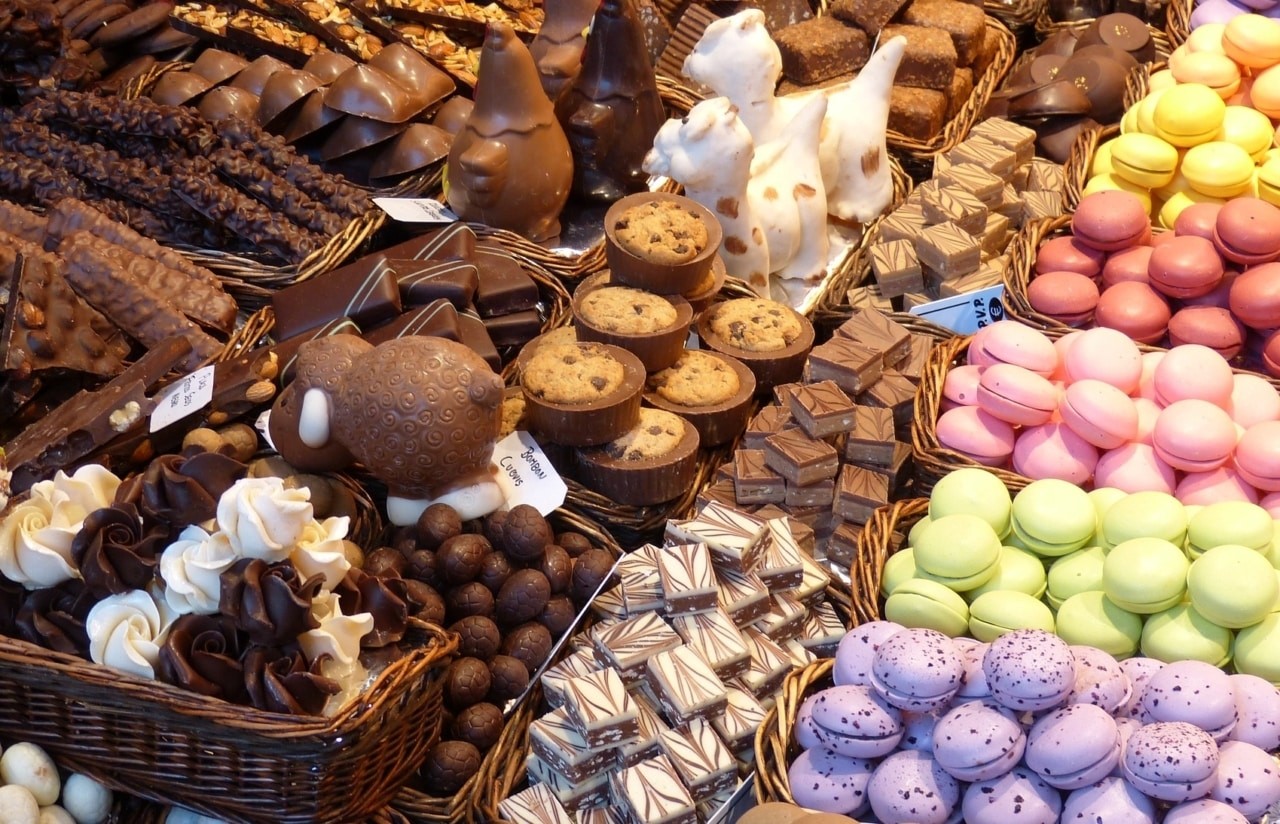 Photo: Moving to Stuttgart
The largest chocolate festival in Germany, the Internationales Tübinger Schockoladenfestival or chocolART takes place for five or six days across the first weekend of December each year. The festival and the chocoMARKT that accompany it can be found in the town center of Tübingen.
Marvel at chocolate artwork, sign up for a guided tour, and stock up on handmade fine chocolates for yourself and as Christmas gifts. Discover new favorites at chocolate tastings, including special chocoFAIR for fair trade chocolate creations and chocoVEGAN for chocolate without animal product ingredients. The festival also welcomes kids – check out the program for this year's special children's program.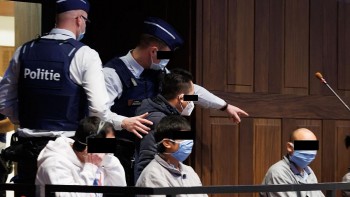 Overseas Vietnamese
Belgian court sentenced smuggler organization over 39 Vietnamese victims found dead in sealed lorry container in Essex.