Scar of Life 9 brings life-changing surgeries to 527 unfortunate children
The 9th Scar of Life event has been successfully organized on November 30 in HCM City, raised VND 14,5 billion (USD 629,769) which equals to the operation cost for 527 children with heart defects.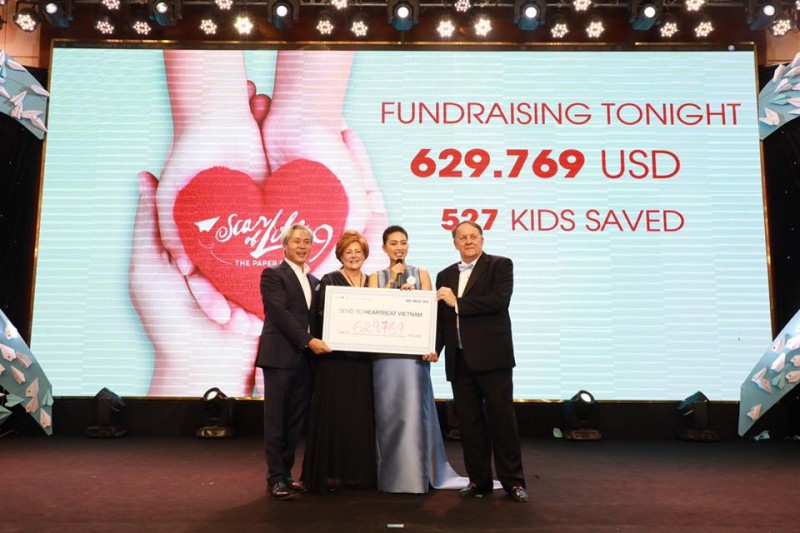 Actress Ngo Thanh Van (middle) announced the total money raised at the 9th Scar of Life event in HCM City on November 30. Photo: VCF
Launched in 2010, Scar of Life is the idea of Heartbeat Vietnam Ambassador Ngo Thanh Van and the joint effort between her Vietnam Artist Agency and The VinaCapital Foundation (VCF).
Year by year, Scar of Life has inspired thousands of people, from business executives to community leaders and artists; all have taken parts in this magical journey to give the second chance in life for disadvantaged children with congenital heart defects.
The 9th Scar of Life Gala Dinner on November 30 gathered more than 350 business leaders and artists in the premiere of the short movie "The Paper Plane" directed by Jun Pham.
The short movie is about two poor children having congenital heart defects. Both of them put their dreams into paper planes and fly them to the sky every day with the expectation that their wishes will come true one day.
The fund was raised from silent and live auctions with more than 70 valuable items related to arts, architecture, fine cuisine, and traveling. The highlight of the night was the High Porcelain Kwan Yin sculpture in the limited edition of 888 masterpieces of renowned Spanish brand Lladró. The exquisitely beautiful and noble statue implies the message of compassion and sympathy to people who are suffering.
The statue is a donation from QHome – the exclusive distributor of Lladró in Vietnam – to raise money to heal children's hearts.
Earlier, the annual charity programme, Run For The Heart, was held on November 24 at Celadon City in HCM City's Tan Phu District, with more than 15,000 people joining. It raised more than VND 6,2 billion to fund operations for over 200 children.
Founded in 2006, The VinaCapital Foundation (VCF) aims to empower the children and youth of Vietnam, by providing opportunities for growth and improvement through health and education programs for millions of Vietnamese in 63 provinces every year.
Heartbeat Vietnam, a programme of VCF, has provided heart operations since 2006 for children across Vietnam, as well as helping to improve cardiac and pediatric care in Vietnam via a telemedicine training series, equipment donations, and support for province-level pediatric outreach centers./.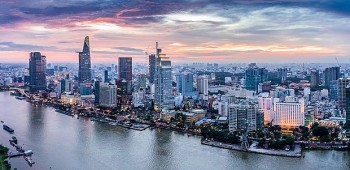 Economy
Japanese investors have been interested in the property market in Vietnam.