Children in Hai Phong City Receives Free Heart Check-Up
The Vinacapital Foundation provided free heart check-ups for more than 150 children in the northern port city of Hai Phong.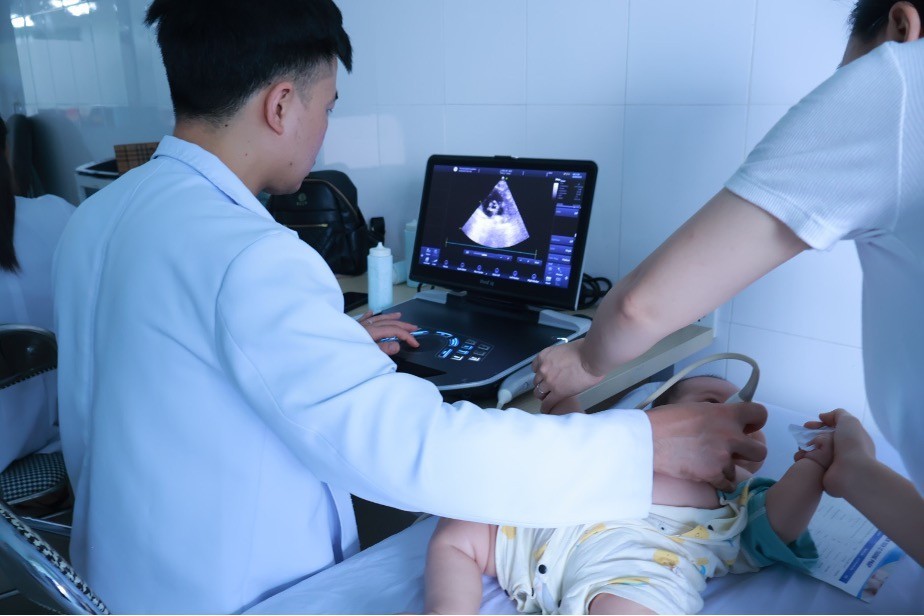 At Viet Tiep Friendship Hospital. Photo courtesy of the hospital
The Center for Social Work and the Hai Phong City Children's Protection Fund in collaboration with VinaCapital Foundation, Hanoi Heart Hospital, and Viet Tiep Friendship Hospital on June 4 conducted a program that provides free heart check-up for children in the city in 2023.
A large number of families took their children to get free examinations and consultations from doctors about cardiovascular health.
Hanoi Heart Hospital doctors offered heart examinations for more than 150 children suspected of having cardiovascular disease, in extremely difficult circumstances. After the screening, children who need heart surgeries will be connected and supported by the Social Work Center and Hai Phong Children's Protection Fund.
On this occasion, the Social Work Center and Hai Phong Children's Protection Fund also gave gifts to the children.
Founded in 2006, The VinaCapital Foundation (VCF) aims to empower the children and youth of Vietnam, by providing opportunities for growth and improvement through health and education programs for millions of Vietnamese in 63 provinces every year.
Heartbeat Vietnam, a program of VCF, has provided heart operations since 2006 for children across Vietnam, as well as helping to improve cardiac and pediatric care in Vietnam via a telemedicine training series, equipment donations, and support for province-level pediatric outreach centers.
Congenital heart defects are abnormalities at a person's heart that are present at birth, and affect the heart walls, the heart valves or blood vessels. Since the structure of the heart is negatively affected, children (and even adults) with CHD will suffer from irregular blood circulation throughout their bodies.
On average, 10,000 infants are born with CHDs in Vietnam every year. 75% of those babies will need medical intervention to prevent complications in life. Unfortunately, a large number of infants with CHDs live in rural areas with limited access to early diagnosis.
From 2007 to July 2022, the VCF coordinated with related units to organize heart exams for nearly 270,000 children in 48 provinces and cities; detected more than 10,400 children with congenital heart defects, of which more than 8,300 children received timely medical support.