Schools take preventive measures against contagious diseases
The HCM City Department of Education and Training has instructed managers of schools to take preventive measures against the spread of contagious disease among students.
Kids at Ward 1 Kindergarten in HCM City wash their hands. —VNA/VNS Photo Đinh Hằng
Managers of schools should carry out strict surveillance to detect and isolate children, teachers and other staff who have a fever, cough, runny nose, or red rash.
These patients should stay at home and only resume going to school when they are free from the symptoms to avoid transmitting the infection to others.
Students with a fever should be taken to the school's medical room and their parents will then be called to take them to a doctor for a health exam.
Schools' health officials must compile a list and report students with contagious diseases to health stations in wards and communes, and health centres in districts.
Kindergarten teachers are required to ask parents about their children's health before they leave for school each morning.
School managers should ensure hygiene on their campus and disseminate preventive measures to teachers and students.
According to the city's Preventive Health Centre, 347 children contracted hand-foot-mouth disease from September 21-29, an increase of 114 against the previous four weeks. Thirty-two people contracted measles, an increase of 17 compared to the previous four weeks.
The city's Department of Health is working with the Department of Education and Training to monitor contagious diseases at schools, especially hand-foot-mouth diseases in kindergarten and nurseries.
Late last week, the health department carried out an unannounced inspection about hygiene and other preventive measures against the disease among several kindergartens in the city.
At Ward 1 Kindergarten in District 10, where two children were diagnosed with hand-foot-mouth disease, the school's managers took preventive measures, including disinfection.
The two children, who had a fever and sore throat, stayed home and did not attend school.
Dr Nguyễn Hữu Hưng, vice director of the Department of Health, instructed kindergarten teachers to urge children to wash their hands more regularly.
Toys and other devices in the kindergarten should also be disinfected.
The neighbouring province of Bình Dương has also seen an upward trend of hand-foot cases since August.
In August and September, the province saw more than 2,400 incidences of the disease, accounting for nearly 70 per cent of the total since the beginning of the year.
The provincial Department of Education and Training in co-operation with health officials have improved communication among teachers and staff about the need for preventive measures./.
( VNF/VNA )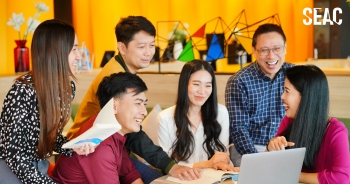 Economy
SEAC, a leading corporate and lifelong education innovator, is shaking up the Thai and ASEAN education market with significant investment to expand its SMART learning solutions across the ASEAN region.