2023 Nobel Prizes
Scientists Behind COVID Vaccine Win 2023 Nobel Prize in Medicine- Who Are They?
The 2023 Nobel Prize in Physiology or Medicine has been awarded to Katalin Karikó and Drew Weissman for their contributions to RNA biology, which helped to the unprecedented rate of vaccine development during the COVID-19 pandemic. The two scientists share the £823,000 prize announced by the Royal Swedish Academy of Sciences in Stockholm.
The Nobel Committee awarded the prize for their discoveries concerning "nucleoside base modifications that enabled the development of effective mRNA vaccines against COVID-19".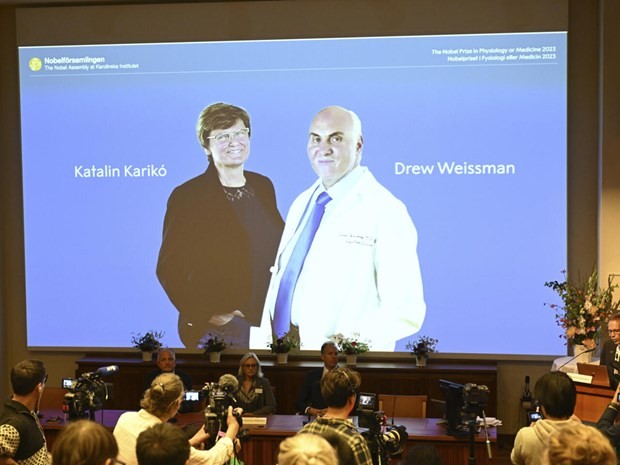 Katalin Karikó and Drew Weissman win the 2023 Nobel Prize in Physiology or Medicine. Photo: AP/VNA
Speaking at the announcement of the prize in Stockholm on October 2, Prof Gunilla Carlsson, Chair of the Nobel Committee, stressed that their discovery was critical for making the mRNA vaccine platform suitable for clinical use, rapidly, when it was most needed.
"I think in terms of saving lives, especially in the early phase of the pandemic, it was very important," she said.
A "groundbreaking findings" on mRNA Covid-19 vaccines
Karikó and Weissman's findings were published in a 2005 publication that drew little attention at the time but ultimately established the groundwork for critically crucial advances that served humanity during the COVID-19 pandemic.
These vaccines function by smuggling the genetic instructions for generating viral proteins into human cells, allowing them to produce vast quantities of this protein and ready the immune cells to combat the virus.
Early prototypes of these synthetic mRNAs caused inflammatory reactions, rendering them unsuitable for medical usage, which was a key barrier in the development of such vaccines.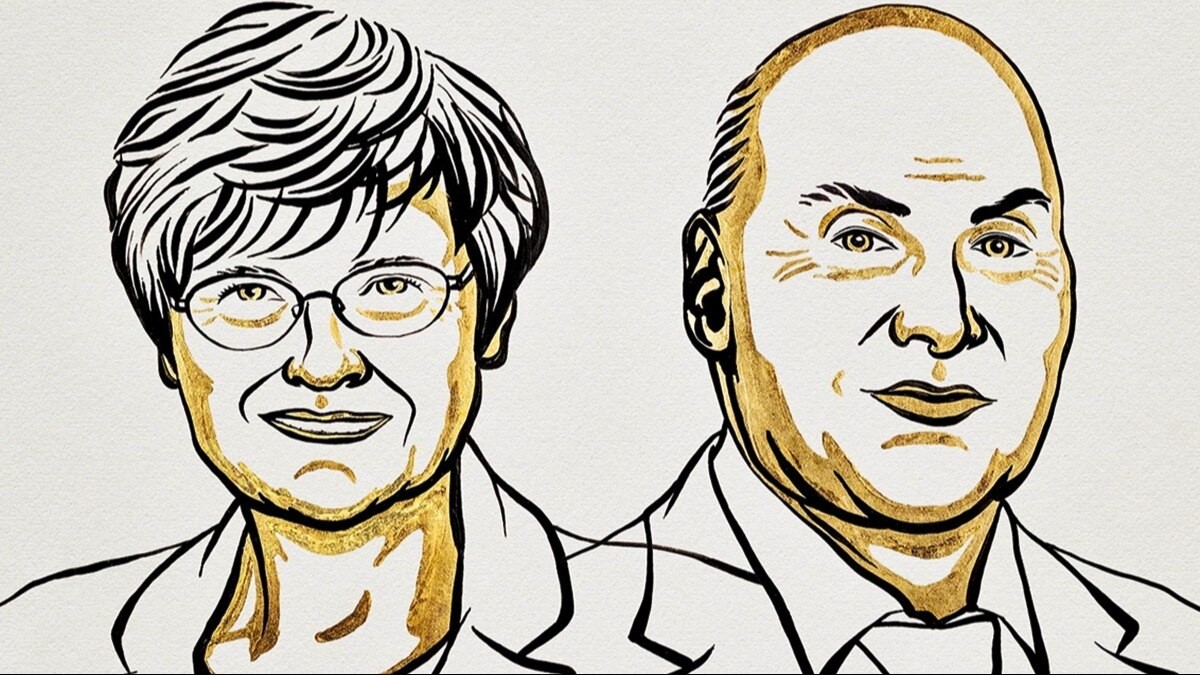 Katalin Karikó and Drew Weissman. Photo: Nobel Prize
Karikó and Weissman found that by making minor chemical changes to the mRNA molecules, they could not only eliminate these undesirable inflammatory responses but also significantly increase the production of the target protein. This strategy served as the foundation for the Pfizer and Moderna vaccines.
The innovative technology has ushered in a new era in medicine. It has the potential to be used to generate vaccinations against additional diseases such as malaria, RSV, and HIV. It also provides a novel approach to infectious disorders such as cancer, with the possibility of tailored vaccines.
The Road to the Nobel
Katalin Karikó, who was born in 1955, began her work in her native Hungary in the 1970s, when mRNA research was still in its early stages. Her family lived in a single room in a rural town in central Hungary, with no running water, refrigerator, or television.
She completed her research at Temple University, Philadelphia before joining the University of Pennsylvania School of Medicine. However, the early euphoria surrounding mRNA research had begun to fade by then. Hope gave way to cynicism when Karikó's proposal of using it to fight sickness was deemed too radical - and too financially hazardous to fund.
She filed for grant after grant, but after a spate of rejections, she was demoted from her post at UPenn in 1995. At the same time, she was diagnosed with cancer.
Katalin Karikó and Drew Weissman (Photo: Peggy Peterson Photography for Penn Medicine)
Drew Weissman was born in 1959 in Lexington, Massachusetts in the US. He did his BA in biochemistry and MA in Enzymology from Brandeis University in 1981, then received his MD in immunology and Ph.D. in microbiology degrees from Boston University in 1987.
He then did his clinical training at Beth Israel Deaconess Medical Center at Harvard Medical School and postdoctoral research at the National Institutes of Health.
Karikó met Drew Weissman, now a professor of vaccine research at the Perelman School of Medicine, by chance in 1997 while printing research papers at the University of Pennsylvania's departmental photocopier.
They formed a collaboration and began researching mRNA as a potential therapy, first utilizing Weissman's funds to pay for their experiments.
For their vaccines, BioNTech and Moderna licensed Karikó and Weissman's modified mRNA technology. Weissman went on to create RNA vaccine candidates for flu, herpes, and HIV.