Vietnam News Today (Feb. 25): Vietnam to Produce Covid-19 mRNA Vaccines through WHO Initiative
Vietnam News Today (Feb. 25): Covid-19: Daily count skyrockets to 69,128, tally surpasses 3 mln; Vietnam, Chinese province eye to building safe export process at border gates; Vietnam to produce Covid-19 mRNA vaccines through WHO initiative; Vietnam-WEF partnership helps reduce plastic waste, develop a circular economy.
Vietnam News Today (Feb. 25) notable headlines
Covid-19: Daily count skyrockets to 69,128, tally surpasses 3 mln
Vietnam, Chinese province eye to build safe export process at border gates
Vietnam to produce Covid-19 mRNA vaccines through WHO initiative
Vietnam-WEF partnership helps reduce plastic waste, develop circular economy
Vietnam sets four more world records
Fast-growing e-commerce fuels delivery service boom in Vietnam
Quang Ninh strengthens pandemic prevention to safely welcome tourists
US to intensify cooperation with Vietnam in realizing COP26 commitment: envoy
Kien Giang's export revenue up 55 percent in first two months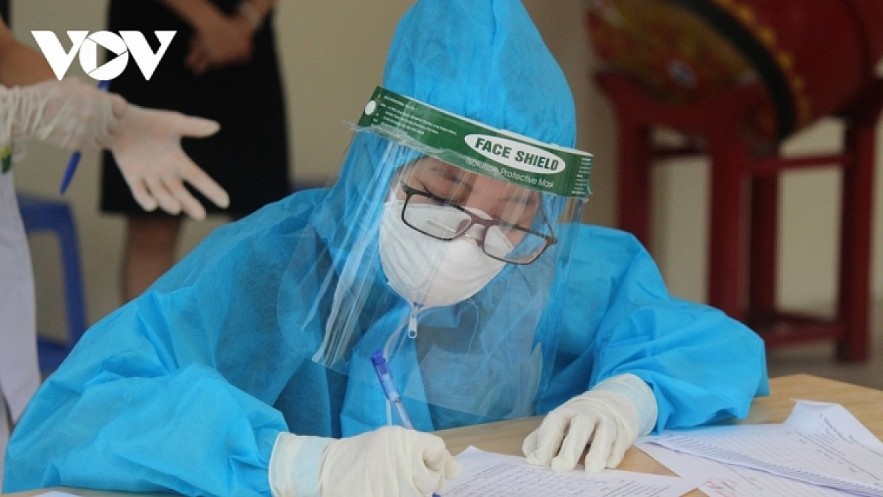 Photo: VOV
Covid-19: Daily count skyrockets to 69,128, tally surpasses 3 mln
Daily coronavirus infections hit a new record high of 69,128 in Vietnam on February 24, an increase of nearly 9,000 cases compared to the previous day, the Ministry of Health said in its coronavirus update at 6 p.m.
These cases were detected in 62 out of 63 cities and provinces across the country, with 48,179 diagnosed in the community, or roughly 70% of the total.
Only nine people tested positive upon their returning from overseas, and the remainder were recorded in the lockdown or quarantine areas.
Like previous days, February 24 saw most of the cases reported in the north. Official data from the Ministry of Health show Hanoi capital topped localities in infection number, registering 8,864 new cases - the highest figure in a single day.
Other northern localities that recorded between 1,000 and 5,000 cases each include Bac Giang, Hai Duong, Son La, Phu Tho, Nam Dinh, Hoa Binh, Bac Ninh, Vinh Phuc, Hung Yen, Hai Phong, Ninh Binh, Yen Bai, Lao Cai, Ha Giang, Thai Nguyen, Lang Son, Thai Binh, and Tuyen Quang.
The same day, the Ministry of Health also announced an additional 19,062 recoveries and 111 more coronavirus related deaths in localities across the country, cited VOV.
As of 06pm on February 24, Vietnam has detected 3,041,506 Covid-19 cases since the start of the outbreak, ranking 30th out of 225 countries and territories worldwide.
Of the infected patients, 2,339,784 have been discharged from hospital after making a full recovery from the disease, and 39,884 patients have died of the virus.
The country has so far confirmed 205 Omicron cases in 18 localities, including 97 cases confirmed in Ho Chi Minh City, 27 in Quang Nam, 20 in Quang Ninh, 18 in Hanoi, and 11 in Khanh Hoa.
More than 192 million vaccine doses have been administered nationwide, with over 75 million people getting their second shot and approximately 37 million people receiving their additional shot/booster jab.
Vietnam, Chinese province eye to build safe export process at border gates
Representatives of the Ministry of Industry and Trade has coordinated with authorities of China's Yunnan province in holding a teleconference on customs clearance of goods and pandemic prevention and control cooperation at border gates between the two sides.
During the event, they agreed to study a safe export process, and coordinate in building "green (safe) zones" at the border gates.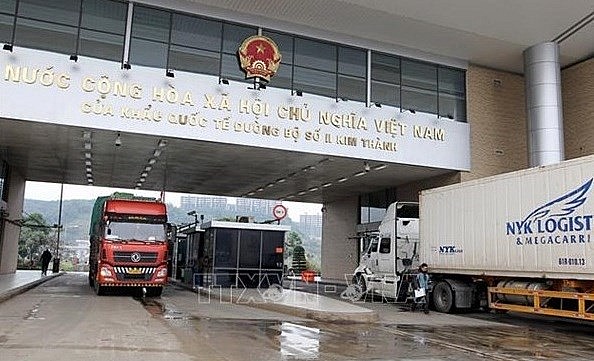 Illustrative image. Photo: VNA
Efforts will be made to facilitate customs clearance by increasing personnel at the border gate area, raising the capacity of border infrastructure, investing in the construction of quarantine zones to increase the number of border gates designated to the import of agricultural products, and speed up pre-arranged customs clearance.
A mechanism for information exchange between border localities of Vietnam and Yunnan province will be created.
The ministry proposed permitting a third party to conduct Covid-19 tests using the RT-PCR method for Vietnam's vehicles and exports, according to VNA.
It also asked the Chinese side to resume and extend the customs clearance time at several suspended border gates, and speed up the signing of a memorandum of understanding on cooperation between it and Yunnan authorities to create a framework for comprehensive collaboration in bilateral trade and economics.
The Yunnan side stresses the need for both sides to maintain efforts to ensure pandemic prevention and control for the safety of both peoples.
Vietnam to produce Covid-19 mRNA vaccines through WHO initiative
Vietnam will benefit from Covid-19 vaccine and drug production technology transfer to produce mRNA vaccines for domestic use on an initiative put forward by the World Health Organization (WHO).
WHO General Director Tedros Adhanom Ghebreyesus said on February 23 five more countries - Bangladesh, Indonesia, Pakistan, Serbia and Vietnam - will receive the knowledge and technological know-how from the South Africa mRNA vaccine technology transfer hub to produce vaccines.
WHO last week said six African countries, namely Egypt, Kenya, Nigeria, Senegal, South Africa and Tunisia, would receive support from the hub.
Last June WHO decided to establish an mRNA vaccine technology transfer center in Cape Town (South Africa) to support low- and middle-income countries to produce mRNA vaccines. The hub has received support from the European Union, especially Belgium, Germany and France, reported VOV.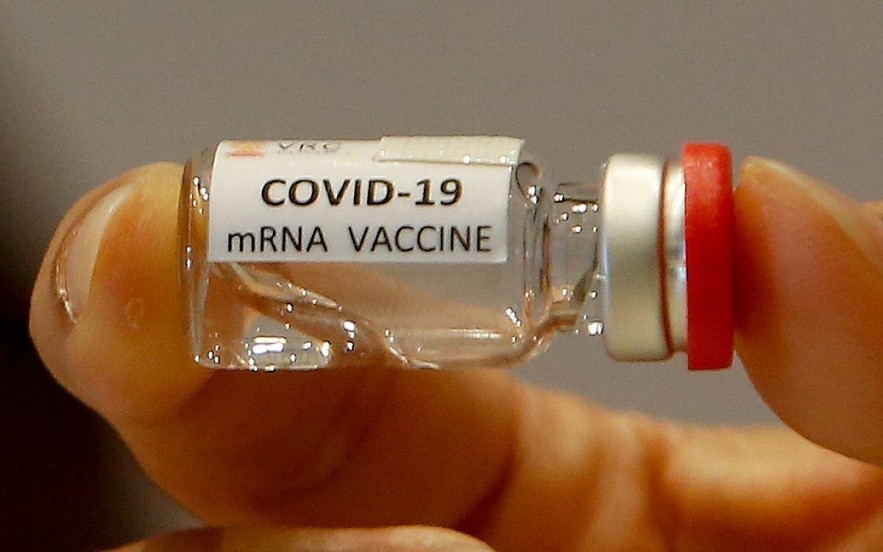 WHO supports developing countries, including Vietnam, in acccessing mRNA COVID-19 vaccine technology. Illustrative photo: AARP
According to WHO, the center successfully developed the Covid-19 vaccine based on the mRNA technology by sequencing the Moderna vaccine in February 2022. WHO said it is ready to transfer this technology to other countries.
Both Moderna and Pfizer-BioNTech which have developed mRNA Covid-19 vaccines have so far declined to share their vaccine recipe or technological know-how.
Addressing a press briefing in Geneva on February 23, WHO General Director Tedros Adhanom Ghebreyesus said WHO is establishing a new global training centre to help poorer countries produce vaccines, antibodies and cancer treatments using the messenger RNA technology that has successfully been used to make Covid-19 vaccines.
The new centre due to take shape in in the Republic of Korea (RoK) will share mRNA technology developed by WHO and partners in South Africa, where scientists are working to recreate the Covid-19 vaccine made by Moderna Inc.
WHO expected the shared technology would not only to create Covid-19 vaccines, but also be useful in making antibodies, insulin and treatments for diseases including malaria and cancer.
While speaking at the online event, Vietnamese Minister of Health Nguyen Thanh Long noted that by joining the initiative, Vietnam will be capable of producing mRNA vaccines on a large scale to meet domestic demand and also to supply countries in the region and the rest of the world, contributing to redressing inequality vaccine access.
Vietnam-WEF partnership helps reduce plastic waste, develop circular economy
Minister of Natural Resources and Environment Tran Hong Ha on February 23 had a working session with Joo-Ok Lee, Head of the World Economic Forum (WEF)'s Regional Agenda – Asia Pacific, to discuss cooperation in coping with plastic waste and developing the circular economy.
Lee thanked the Ministry of Natural Resources and Environment (MoNRE) for backing activities of the Vietnam National Plastic Action Partnership (NPAP) implemented by the WEF in recent times, and expressed his hope to continue receiving its support in the coming time. He also shared information related to plans of the NPAP in the future.
The official revealed that, in 2022, the WEF will host major conferences which are expected to attract the participation of political leaders, entrepreneurs and academic researchers around the world, to outline agendas at the regional and global levels. He hoped that Vietnam would attend and share cooperation models and initiatives on reducing plastic waste, and developing the circular economy.
Minister of Natural Resources and Environment Tran Hong Ha (R) and Joo-Ok Lee, Head of the World Economic Forum (WEF)'s Regional Agenda – Asia Pacific. Photo: baotainguyenmoitruong.vn
For his part, Ha spoke highly of the WEF's support for the MoNRE in recent times, especially in the fight against plastic waste and developing the circular economy through various activities of the NPAP.
Launched in December 2020, the NPAP has greatly contributed to communication activities on plastic waste in the Southeast Asian nation, helping raise public awareness of the use of plastic bags and other single-use plastic products.
The program has also called for the involvement of many international organizations and businesses in supporting the implementation of projects and plans of the MoNRE in managing and reducing plastic waste.
It has also provided technical experts to help make adjustments and supplements to regulations on circular economy development in a decree detailing a number of articles of the Law on Environmental Protection, and build a national action plan on circular economy development, cited VNA.
Ha expressed his hope that the partnership program will continue to promote connection among public, private, and societal stakeholders in a common approach in order to tackle plastic waste and plastic pollution, and help Vietnam's plastic industry with transition to a sustainable circular economy model.
He suggested the WEF further foster cooperation with Vietnam to address plastic waste, including marine plastic waste, by supporting the country to implement its approved national action plan.
The two sides should also continue their coordination in investigating and assessing arising issues in this regard, and in collecting, recycling, and treating plastic waste; organize policy dialogues and conferences to map out relevant strategies and plans, and promote investment and mobilize resources to support the effective implementation of plastic waste management and treatment, and micro-plastic management in producing commodities, and accelerate circular economy development in Vietnam, he said.
Vietnam sets four more world records
WorldKings has just announced and awarded four new world records to Vietnam.
The Vietnam Record Association and the Vietnam Records Organization (VietKings) held the 45th Gathering of Record Makers with the theme "Vietnamese record-holders – Aspiration for a mighty Vietnam" in Ho Chi Minh City on February 22.
At the event, the organizers presented the Certificate of Record Holder to individuals, including:
- Ngo Duc Manh, former Vietnamese Ambassador to Russia, who is a collector and editor of the bilingual book "70 years - The glorious journey of Vietnam - Russia relations";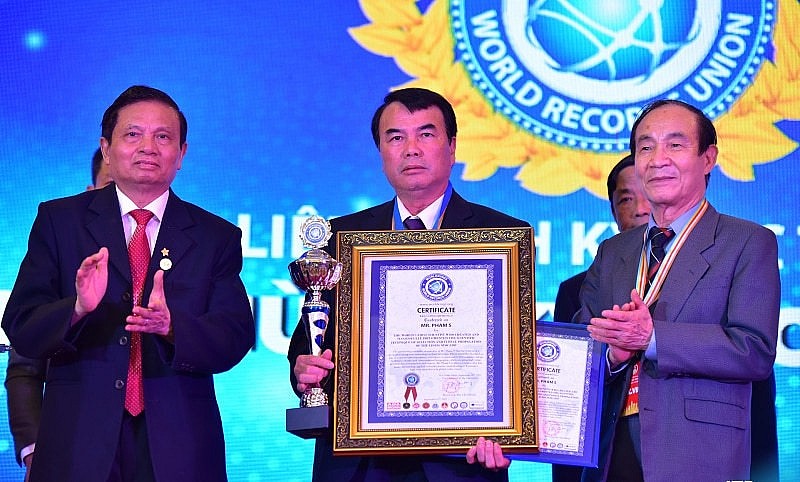 Dr. Pham S. Photo: VNN
- Priest Ta Huy Hoang, who compiled and published the CIVEL linguistic data series;
- Poet - culinary artisan Ho Dac Thieu Anh, who has made many contributions to the preservation and development of Vietnam's culinary culture, whose 70 poems have been put into songs by musicians;
- Photographer Nguyen A, who worked at Covid-19 hotspots to make two Vietnamese-English bilingual photo books, which honor the humanistic values of the Vietnamese spirit in the fight against the Covid-19 pandemic in 2020-2021.
At the event, the World Records Union (WorldKings) awarded four world records to Vietnam, VNN reported.
Dr. Pham S, Vice Chairman of Lam Dong province, was honored as the first scientist in the world to create and successfully implement the science of selection and method of clonal propagation of avocado LD 034.
Dr. Pham S is also a scientist with many outstanding applied scientific works, contributing to Vietnam's high-tech agriculture entry to the global value chain.
WorldKings also honored Dr. Nguyen Van Xang, who owns a unique collection of pens, which is diverse in type and size.
Xang's collection includes 4,473 pens, which are classified as those used by world leaders - politicians; used at international conferences; used as medical instruments, to play sports; or pens with shapes of fruit, food, animals, wine bottles. This collection has been gathered over 30 years.
Vu Duc Dong set a world record for his collection of 10 unique yellow apricot trees in Vietnam and the world.