Security relationship is all about US - Vietnam cooperation: Secretary of State Mike Pompeo
"In the past, we are enemies on the battlefield, but today, our security relationship is all about cooperation",  Secretary of State Mike Pompeo said on a new video to celebrate 25 years of Vietnam - US relations. 
On December 18, the official Facebook of the US Embassy in Vietnam posted a special video, conveying the message of the US Secretary of State Mike Pompeo on 25th anniversary of Vietnam – US relations.
Pompeo began his speech by recalling the diplomatic milestones of the two countries
"2020 marks a quarter of century since the US and Vietnam established diplomatic relations. It is a historical step, a first step that requires us to face the legacy dark of war between our two nations.
I, like so many others of two countries, remember living through that era of conflict, as a young boy. We began our work to overcome the devastation of war in the 1980s when we worked together to repatriate the remains of American soldiers in Vietnam. This led a better tie and the former reestablishment of our relationship."
Pompeo emphasized "Since then, we've built friendship on common interests, mutual respect, and bold resolve to overcome the past and look forward to the future."
"The United States is proud to have been contributing to Vietnam's extraordinary economy convalescence. In the past two decades, bilateral trade has grown incredibly 7,000%. Vietnam is now one of the fastest growing economies in Southeast Asia, lifting millions of people out of poverty and American companies are also actively supporting by investing billions of dollars in Vietnam."
Vietnam and the United States have also expanded people-to-people ties including education with nearly 30,000 young Vietnamese citizens currently studying at US Universities.
"In the past, we are enemies on the battlefield, but today, our security relationship is all about cooperation. Under President Trump, the USS Carl Vinson visited Da Nang, the first US aircraft carrier to the country since the end of the war. Following the lifting of the US's weapon embargo three years ago, our two militaries are working out ways to increase security cooperation even further."
"In the coming years, the United States and Vietnam must focus on the future, building our cooperation in areas from as cybersecurity, education, energy to defense."
"As we celebrate 25 years of the partnership in 2020, we reaffirm our commitment to supporting a strong and independent Vietnam as well as a peaceful and prosperous Indo-Pacific region.", Pompeo said.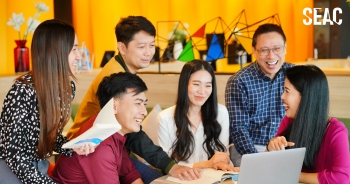 Economy
SEAC, a leading corporate and lifelong education innovator, is shaking up the Thai and ASEAN education market with significant investment to expand its SMART learning solutions across the ASEAN region.