Vietnam, US agree to beef up defence cooperation
Vietnam and the United States will increase bilateral defence cooperation, with priority to be given to addressing wartime legacy, improving law enforcement capacity at sea, and combating COVID-19.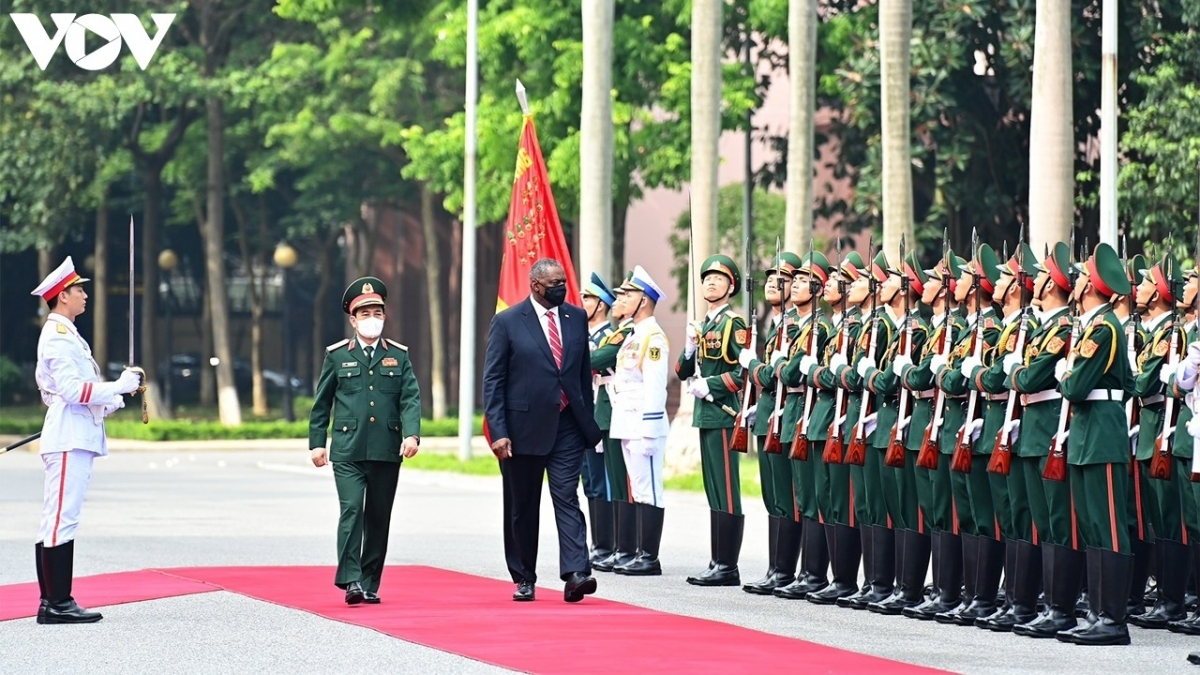 Minister Phan Van Giang and Secretary Lloy Austin review the guard of honour in Hanoi on July 29
The agreement was reached during talks between General Phan Van Giang, Minister of National Defense of Vietnam, and Lloyd Austin, visiting Secretary of Defense of the United States, in Hanoi on July 29.
The two ministers highly appreciated the defense cooperation between Vietnam and the US in recent times which they said has brought about practical results in line with the well-developed Comprehensive Partnership between the two countries,
Both sides have cooperated well in addressing war aftermath, including search for lost and missing soldiers, land mine clearance, and in dealing with the consequences of Agent Orange/dioxin.
They have also strengthened cooperation in settling non-traditional security issues, with a primary focus on COVID-19 prevention and control, search and rescue, humanitarian assistance, and disaster mitigation.
The US side has supported Vietnam in joining the United Nations peacekeeping missions and improving its law enforcement capacity at sea as well as in military medicine training.
On this occasion, Secretary Austin announced the US support of equipment for Vietnam's ongoing fight against COVID-19.
Minister Giang and Secretary Austin agreed to promote the Vietnam – US cooperation as per the 2011 Memorandum of Understanding on Defense Cooperation and the 2015 Joint Vision Statement on Defense Relations, with priority given to the aforementioned areas of cooperation plus the defense industry.
Austin assured his host that the US will speed up the Bien Hoa airport dioxin remediation and other humanitarian projects in Vietnam, while cooperating in military medicine and providing support packages for law enforcement agencies at sea in Vietnam.
Minister Phan Van Giang and Secretary Lloy Austin (C) pose for a group photo in front of the Headquarters of the Defence Ministry in Hanoi.
Both host and guest exchanged views on international and regional issues of mutual concern, especially traditional and non-traditional security challenges that directly affect the region. They affirmed ASEAN's central role in promoting cooperation within the framework of the ASEAN Defense Ministers Meeting Plus (ADMM+) in order to maintain a peaceful and stable environment in the region and the world at large.
They underlined the importance of respecting the legitimate rights and interests of coastal states, peacefully resolving disputes as well as maintaining the environment of peace, stability, security, safety, order and freedom of aviation and navigation at seas and oceans in accordance with international law, especially the 1982 United Nations Convention on the Law of the Sea (UNCLOS 1982).
At the end of the talks, Minister Giang and Secretary Austin witnessed the signing of a Memorandum of Understanding on cooperation in searching, collecting and identifying the remains of Vietnamese martyrs, while exchanging a number of war memorabilia.
Secretary Austin is scheduled to pay courtesy visits to Vietnamese President Nguyen Xuan Phuc and Prime Minister Pham Minh Chinh.
Secretary Lloyd Austin is visiting Vietnam on July 28-29 at the invitation of Minister Phan Van Giang.
VOV