Vietnam, US look to further defence ties: Spokesperson
The visit to Vietnam by US Secretary of Defence Mark Esper on November 20-21 aims to deepen the bilateral defence ties in a practical and effective manner, said Vietnamese Foreign Ministry spokesperson Le Thi Thu Hang.
Vietnamese Foreign Ministry spokesperson Le Thi Thu Hang. Source: VNA
The visit looks to promote the implementation of defence cooperation agreements signed between the two defence ministries and officials of the two countries, towards strengthening the Vietnam-US Comprehensive Partnership, Hang said at the ministry's regular press conference on November 21 in Hanoi in response to reporters' questions about results of the Vietnam-US cooperation.
She said that the comprehensive partnership has developed in many fields in recent times, including security and defence cooperation.

The two sides have continued promoting bilateral defence link, including maritime security cooperation and enhancement of maritime law enforcement capacity, contributing to maintaining peace, stability, cooperation and development in the region and the world, Hang stressed.

This is the first official visit to Vietnam by Esper as US Secretary of Defense at the invitation of Defence Minister General Ngo Xuan Lich.

During his stay, Esper held talks with Defence Minister Lich, during which the two sides agreed to step up cooperation in accordance with the contents of the memorandum of understanding on promoting defence collaboration signed in 2011, the joint vision statement on defence cooperation inked in 2015 and the cooperation plan for 2018-2020 between the two defence ministries, focusing on delegation exchange, consultation and dialogue mechanisms and joint work to address post-war consequences.

Hang said the US is one of Vietnam's main partners in efforts in settling post-war consequences along with other countries such as Canada, Japan, the Republic of Korea and the UK, as well as international organisations like the UN Development Programme and the UN Children's Fund.

The Defence Ministry of Vietnam and the US Agency for International Development (USAID) completed detoxification at Da Nang airport, and the US pledged to continue funding for dioxin remediation at Bien Hoa airport.

Vietnam and the US will also further promote cooperation in searching for missing-in-action (MIA) servicemen, said Hang./.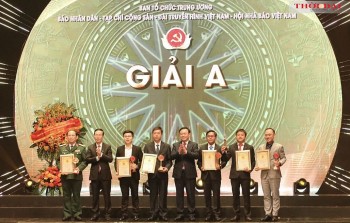 Viet's Home
The 7th National Press Prize on Party Building (named Golden Hammer and Sickle) - 2022 has been bountiful with thousands of entries on a variety of topics, rich in genres, closely following hot topics, outstanding events, key tasks of the political system and the country. Content relating to party building process was clarified and further exploited compared to previous years.